There comes a time in every Austin restaurant patron's life when he or she must make choices. Torchy's or Tacodeli? Inside the restaurant or out on the patio? Craft beer or cheap-ass Lonestar? Going through the Whataburger drive-through at 3am or opting not to hate yourself the next morning?
With great decision-making power, comes great responsibility. Use it wisely and don't make these 15 Austin restaurant mistakes.
1. Failing to ask for grilled onion and jalapeños at P. Terry's
Will your burger still taste good without them? Yes it will. Will you be giving yourself the best possible burger experience? No, you will not.
2. Tackling an entire 18in Sicilian from Homeslice
The (possibly chemically enhanced) appetite came first. The regrets came later.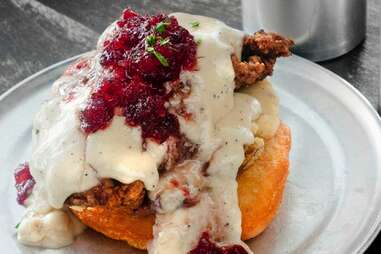 3. Getting a salad at Gourdough's
Seriously? Out of all the hot, fluffy donut entrees at your disposal, you choose now to load up on spinach?

4. Splitting your burger at Hopdoddy
That is strictly a solo mission.

5. Thinking you'll just waltz into Qui and order the big tasting menu
You need tickets, and you won't find scalpers outside. Gotta plan this one ahead.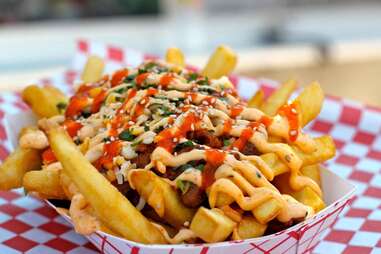 6. Going anywhere but Chi'Lantro for french fries
Once you've had fries topped with caramelized kimchi, cheddar, cilantro, onions, monterey jack, Sriracha, and "magic" sauce, you'll accept nothing less.

7. Banking on Alamo Drafthouse for dinner
The place is inarguably fantastic. The menu is not the main reason.

8. Choosing not to order queso
When you have the opportunity to start your meal with a socially acceptable excuse to shovel liquid cheese into your mouth, you take it.
9. Waking up criminally early to get in line at Franklin Barbecue
You could've slid into La Barbecue's much shorter line, guzzled free beer, and still walked away plenty happy.

10. Waiting anywhere, because you could be at Lucy's Fried Chicken already
And you'd already be getting down on your third fried deviled egg by now. Or your third fried oyster, fried chicken liver, fried gizzard, fried spaghetti casserole, etc., etc.

11. Not getting an ajitama egg in your Ramen Tatsu-Ya
Your steaming bowl of perfect noodles needs as many animal proteins as possible, and this means you need one of these egg-tastic treasures with your pork belly.
12. Skipping the pretzel at Easy Tiger
Where else are you going to get an authentically twisted, Bavarian-style piece of dough perfection? Don't you dare say Auntie Anne's.

13. Not getting beer cheese with that pretzel
Beer. Cheese. This isn't complicated.

14. Sitting inside Weather Up on a beautiful day
You're doing it wrong. You could be eating those sweet potato waffles -- with duck confit and brandy soaked, cherry maple syrup -- outdoors in full view of the sun.

15. Instagramming the Pollo con Mole at Curra's Grill
It just... doesn't photograph well.
Sign up here for our daily Austin email and be the first to get all the food/drink/fun in town.