The Weekend Playbook: Texas Tiki Week, pancakes plus booze, and shadow healers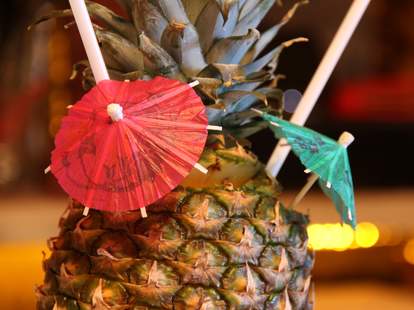 Event of the Week: Texas Tiki WeekThe Austin chapter of the US Bartenders Guild celebrates all things tiki this week with flavor-bursting, unapologetically gaudy cocktails available during events ranging from a Thursday night rum tasting bar at Twin Liquors Hancock Center, to a badass happy hour on Friday at the Four Seasons with complimentary custom tiki mugs, to a Saturday night Eastside pool party hosted by Treaty Oak. See the full schedule, including a Four Roses brunch, right hereThursday, June 27thRevered cobblers Helm Boots host leather workers Bexar Goods for an in-store get-together where they'll be making their signature bags. Of course there's gratis Hops & GrainFriday, June 28thElysium's turning into an international house of unlimited flapjacks with their Pancakes & Booze Art Show, a late-night rager complete with a batter-heavy buffet, DJs, and live body-painting. Not even IHOP sells pancakes this cheap!Saturday, June 29thEnjoy the great outdoors at the Red White & Blue Ball, an Independence Day camping pre-party in Dale, TX (WIN TICKETS by tweeting us your fave patriotic flick!). They'll have music from the likes of Hard Proof Afrobeat and eats from Brown's Bar-B-Que and Yeti Frozen Custard. You best believe the rest of the bands come correctShadow Healer is a serialized comic from the Monofonus folks that's chock-full of equal parts psychedelic new-age crystal magic and 20-something sexuality. They're unleashing the second issue with performances from Love Inks and Marriage. Buy the issue here, or just hit up the event for free drinks (!)Sunday, June 30thThe North Door's calling all vinyl junkies for a record swap where anyone's welcome to bring their collection to sell or trade. There will be a ton of local DJs, and also a strong showing from the newly opened Exploded Records. Duh, they're showing True Blood afterwardsMonday, July 1stBadass Digest presents a special screening of the 1954 version of Godzilla. The city is under attack!Did we miss anything? Aside from all this awesomeness, what're YOU getting up to this weekend? Tell us in the comments below -- especially if it involves filibustering for 11hrs straight.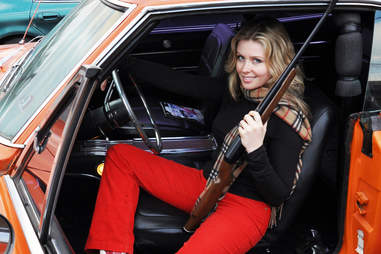 Local Lady We Love, and Where to Meet HerMeet Georgia Pellegrini. Author, hunter, cooker of lion meat, adventure getaway hostess (see photos of her bacon adventure). Her weapon of choice is a custom 20 gauge Beretta Silver Pigeon Grade 5, and she is known to harvest the warm heart of a deer from the forest floor, but she also enjoys spa treatments and watching Homeland!

So aside from a blood-splattered forest floor, where can you find her? "An Eastside girl minus the tattoos", look for her wearing her favorite raccoon penis necklace to haunts like Yellow Jacket Social Club, Papi Tino's, and Eastside Showroom.