10 things we learned at the Austin Food & Wine Festival
This past weekend, celebrity chefs flooded into our fine city for the Third Annual Austin Food & Wine Festival, and Austinites who attended did what we do best: gorge ourselves with food and drink despite extreme levels of heat. But we can safely say we also learned a thing or two...
1. Rising temperatures give us all the more reason to get creative with outdoor cooking. Bryce Gilmore (Barleyswine, Odd Duck) roasted a goat on the multi-grill "fire truck rotisserie palace" that his father, Jack Gilmore (Jack Allen's Kitchen), debuted on Sunday. How appropriate that it also dispenses Real Ale's Firemans #4!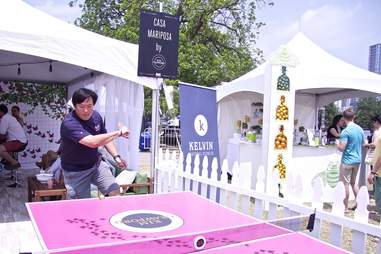 Veronica Meewes
2. Wine slushies can only improve your ping-pong game.Paul Qui and Ming Tsai were a couple of the chefs who stopped by Kim Crawford Winery's Casa Mariposa to sip on prickly pear wine slushies over table tennis.
Veronica Meewes
3. Frito pie is totally acceptable at a high-end food fest in Texas. After all, it wouldn't be the Grand Tasting without Frito pie outta the bag from Ranch 616.
Veronica Meewes
4. Don't ever accept a shot of tequila from Tim Love while wearing a blindfold. Because, as per his tradition of alcoholic Russian roulette, one of those shots inevitably contains vegetable oil.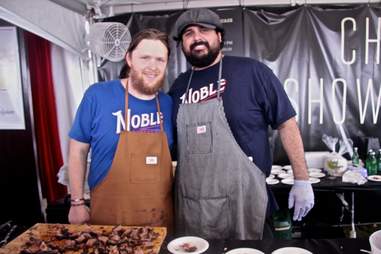 Veronica Meewes
5. The best new brisket in town is actually from a sandwich shop. Watch out, Franklin and La Barbecue -- Noble Sandwich Co. sliced up a mean pecan-smoked brisket topped with kimchi and sambal mayo at the Chef Showcase.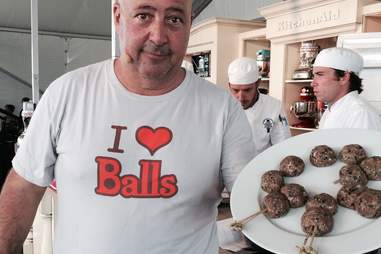 Molly Mogren
6. Andrew Zimmern loves balls... and he has the shirt to prove it, thanks to Love Balls, Austin's one and only takoyaki food trailer. He appropriately sported it during his demo on Japanese duck tsukune.
Veronica Meewes
7. Diego Galicia has a "sick, twisted macaron fetish." His words, not ours. "I don't like to eat them, but I like to make them because they're so hard to make and they look like little crabby patties," says the chef behind Mixtli in San Antonio, whose savory "Quesadilla" macarons included organic blue corn shell, requeson (Mexican ricotta), and squash blossom with dehydrated jalas and micro cilantro.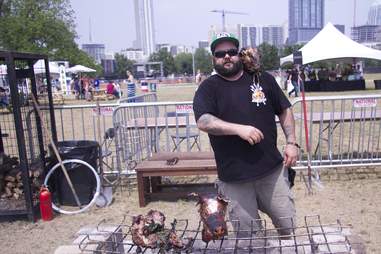 Veronica Meewes
8. Texan chefs aren't afraid to get real up close and personal with their meat... as shown by Chef James Canter of Victoria Country Club.
Veronica Meewes
9. Chefs really are the new rock stars. Girls were literally lined up to get their sweaty limbs signed by Tim Love at the end of the fest.
Veronica Meewes
10. Save room for dessert because, when the official fest ends, the party's just getting started. This beauty peddling treats from the confines of a cake dress was just one of the sweet surprises at a circus-themed after party hosted by Trace.