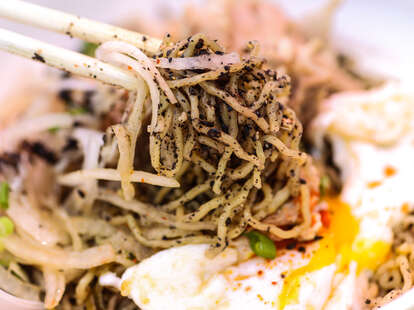 Despite Austinites' adoration of ramen, it's hard to stick your head into a bowl of steaming broth during the Summer. Or ever, actually, 'cause your head is, like, giant. Luckily, Yoshi over at East Side King has got you covered with their first-ever selection of cold ramen dishes. Oh, and also: BACON BALLS.
Since its opening, the walls of Hole in the... Wall have been decked out with ramen-tastic murals showcasing noodle fiends, skeletal diagrams giving slurping lessons, and a caution against the dangers of take-out.
Here, noodle-master Yoshi walks us through the creation of his Black Sesame Ramen -- one of three new cold ramen dishes. These guys're tossed in sesame and yuzu kosho sauce, then topped with sake-steamed chicken, fresh yellow onion, fake ponzu sauce (vinegar + soy sauce + salt + Bernard Madoff), negi sesame oil, and a pan-fried egg.
This is cold ramen No. 2: Hiyashi Thai Chuka, which blends flavors of Thailand like green papaya and crushed peanut with tomato, tamagoyaki, carrot, bean sprouts, lime, cilantro, toasted dried shrimp, and a side of water frozen into cube form created by a traditional process known as "making ice".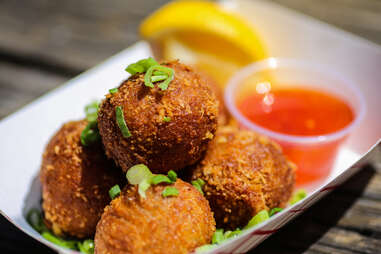 And since cold ramen dish numero tres has tofu in it (yum!...?), we skipped right to dessert: a $3 happy hour special of panko-fried bacon balls, because there's nothing more Summer-y than really hot balls.