Vote for Brian Malarkey's filet mignon & lobster hot dog in our Search for the Most America-est Hot Dog!
There's nothing more American than a hot dog, except, of course, letting the NSA know exactly where you're eating it and with whom and if you prefer ketchup or mustard. Wrong answer, terrorist: real Americans use both! So in honor of both America and the NSA (hi guys!), Thrillist has tapped some of the nation's top chefs to design the most patriotic sausages ever to grace a bun, and we're asking readers to exercise their inalienable voting rights to help decide the ultimate red, white, and blue dog. Get your vote on here, but first, check this baby out: Standing proudly in Austin's corner is Brian Malarkey -- judge of ABC's The Taste, former Top Cheftestant, and head honcho behind the newly opened Searsucker -- who's dreamed up a bigger-is-better, wayyyy-over-the-top, All-American surf-and-turf flavor firecracker.
The process starts with a house-ground mixture of filet mignon and pork belly.
Just like you before you hit the grill, this link gets poached in a healthy dose of Shiner.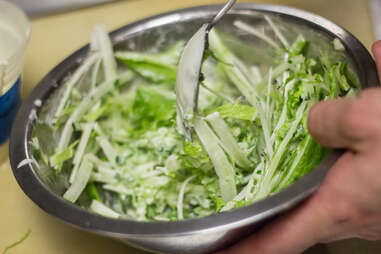 Slaw is the most American of all salads, even if it derives from a Dutch word.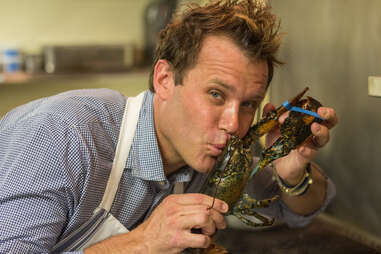 Malarkey is prepared to claw his way to the top of the voting.
This hot dog can now hit unlimited 3-pointers in a row, because it's ON FIREEE!!! with spicy onion jam.
And here she is in all her glory: a 16oz house-made link of pork belly and filet mignon topped with lobster claws, slaw, corn, crispy shallots, and habanero pickle on a buttered brioche bun. Boomshakalaka.

As beautiful as this beast may be, chefs form 15 other cities think they have it beat with dogs of their own creation. So check out the complete list to ensure that you're an impartial voter, and then vote for this one, which is objectively supreme.