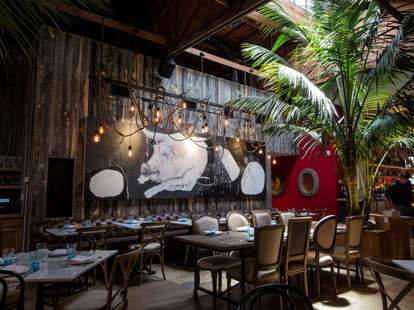 Named after the most appropriate Summertime fabric aside from jorted denim, Searsucker is an unpretentiously fine dining concept from San Diego-based Top Chef alum Brian Malarkey, who -- when not busy running a half dozen fabric-themed restos -- is hanging with taste buds like Anthony Bourdain as a judge on ABC's The Taste.
The former Maria Maria space in the Warehouse District is split into a late-night lounge boasting a top-of-the-line Funktion-One sound system (the only one in Austin) and a dining area outfitted with palm trees, skylights, and somewhat morose paintings of the animals you're about to eat.
Their "bacon and eggs" is actually pork belly topped with an egg cooked at 63 degrees, a temperature that we won't see again until November (take that, cold parts of the country!).
You'll want to suck this marrow bone-dry.
Spicy shrimp with bacon grits, the truest of all grits.
Or you can chop into Malarkey's Tomahawk ribeye.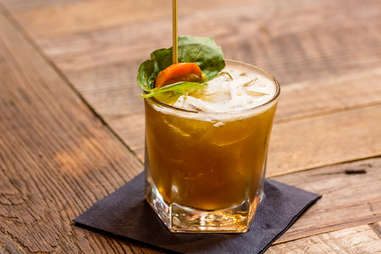 The bar's got five infused liquors (cinnamon bourbon FTW!), plus 11 signature tipples, including The Peter Rabbit -- Pimm's #1, bruised basil, pressed lemon, and a wascally wedge of pickled carrot.
And for dessert: The Pretzel Bar. It's topped with Shiner ice cream, so you know it's a taste worth your hard-earned bocks.