7 of Austin's best Mexican meals paired with 7 tequila cocktails
Mexican food's traditional foundation is strong enough that a skillful chef can tweak/modernize/interpret/play with it without losing what it means to be Mexican food. We rounded up seven mouthwateringly progressive Mexican dishes from Mexican joints throughout Austin. And to wash it all down, we got Tequila Herradura to hook us up with seven cocktails, each paired to its own dish by Thrillist's bartender in residence Nick Bennett.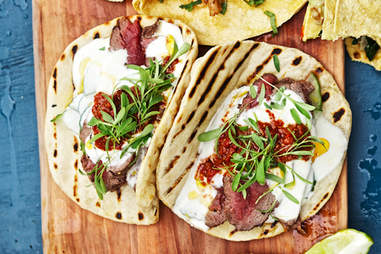 Courtesy of La Condesa
Arabicos Taquitos
La Condesa
If you take a taco and roll it up tighter, you get a taquito. If you take a bacon fat tortilla and fill it with seared venison, pickled cucumber, chipotle harissa, fennel pollen yogurt, and cilantro, you get this absurdly tasty take on a Mexican staple.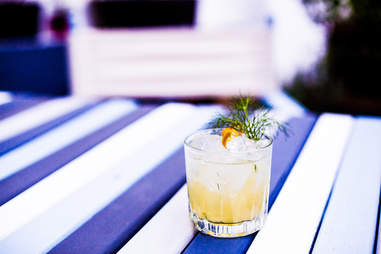 Courtesy of Herradura
What You're Drinking: Reposado Ramirez
Reposado, Damiana liqueur, fresh lemon juice, simple syrup, ginger, dill, orange
The richness of the venison and bacon fat tortilla require a substantial drink like the Ramirez, but the bright, herbal qualities of the fennel pollen and cilantro go nicely with the dill and ginger.
Jin C./Foursquare
Pan Tostado Con Platanos
Takoba
There's no way we could leave brunch food off this list even if we tried, and this Mexican French toast sets up a Sunday way better than your basic huevos. Think: zesty French toast with guajillo honey, vanilla whipped cream, and tropical fruit.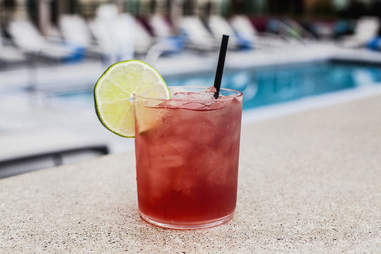 Courtesy of Herradura
What You're Drinking: The Brisa
Herradura Silver, lemonade, pomegranate juice, lime
Because a honey-vanilla-cream-topped slice of Mexican goodness is so rich, you're going to want the tartness of the lemon-lime-pomegranate that the Brisa brings to your glass.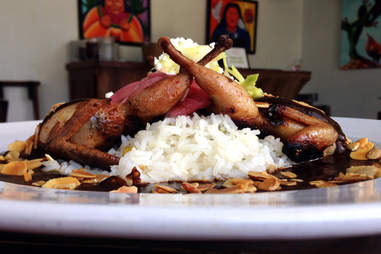 Courtesy of El Alma Cafe
Codorniz de Mole
El Alma Café
This upscale take on mole enlists two grilled quail in a pasilla sauce and tops things off with almonds and escabeche onions.
Courtesy of Herradura
What You're Drinking: Añejo Old Fashioned
Añejo, Angostura bitters, orange, sugar, brandied cherries
This rich, oaky drink will fit the depth of the quail mole, and the cocktail's fruity sweetness will round it out.
Kassi L./Yelp
Tuetano Corn Flatbread
Licha's Cantina
This dish takes pizza, makes it Mexican, and tops it with bone marrow. Yep. It's a classic Mexican masa flatbread with the aforementioned bone juice, plus black beans, salsa fresca, herb salad, and queso parmesano.
Courtesy of Herradura
What You're Drinking: Herradura Seleccion Suprema Neat
Herradura Seleccion Suprema, straight up
Just like ordering bone marrow on top of corn flatbread, ordering the well-paired richness of Suprema's vanilla-ness is a serious power move. Your mouth will thank you.
Courtesy of Fonda San MIguel
Angels on Horseback
Fonda San Miguel
This Mexican take on the bacon-and-date Devils on Horseback swaps in shrimp, white cheese, and jalapeño for the date but (obviously) keeps the bacon. 
Courtesy of Herradura
What You're Drinking: Petróleo
Reposado, lime juice, salt, pepper, Maggi sauce, Worcestershire sauce, Serrano chile
This savory, salty, somewhat Asian-inspired drink will go well with the shrimp, and it will also complement the jalapeño's zest.
Courtesy of Curra's Grille
Veggie Chorizo Empanadas
Curra's Grille
Anyone can make a house chorizo. These folks make a vegetarian (but still meaty flavored) sausage, throw it into an empanada, and cover it in chipotle cream sauce.
Courtesy of Herradura
What You're Drinking: Herradura Luxe
Herradura Silver, agave nectar, water, lime, lemon
While the Luxe is light and bright, it isn't super acidic, so the citrus bite will accent the chorizo's spice rather than overpower it.
Fattys/Facebook 2
Refried Soul
Little Fatty's
Don't look it up, that's not a southern Metal band (we thought so too). Refried Soul at Little Fatty's is actually a Mason-Dixon spin on refried beans, using black-eyed peas, onions, tomatoes, jalapeños, pork chorizo, queso fresco, and cilantro to make a pretty-damn-hearty appetizer.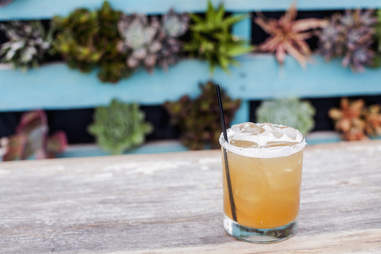 Courtesy of Herradura
What You're Drinking: Margarita
Reposado, Cointreau, agave nectar, fresh lime juice
The classic Margarita flavor will pair pretty predictably with the cilantro in the dish, but the salted rim sets off the chorizo and tomato in a big way.