Where to Pick Up Austin's Most Take-No-Prisoners Super Bowl Party Snacks
Paid Content For
Budweiser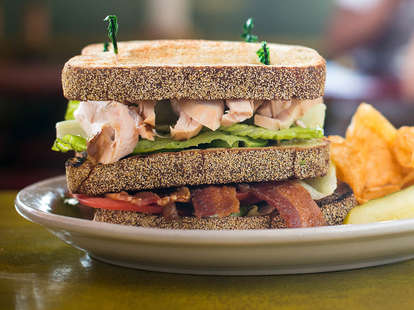 Courtesy of Lucy's Fried Chicken
Courtesy of Lucy's Fried Chicken
While the Super Bowl result won't please everyone, you can make sure the snacks you serve do. Sure, you could slave away in the kitchen yourself, but we say save that energy for yelling at the TV and hit Austin's awesome takeout joints instead. We've rounded up the best across the city, along with what to bring home.
West End
If you really want to save up your energy for the game, note that you don't even have to get out of your car at Fresa's Chicken al Carbon. This drive-through and walk-up Mexican joint features special game day menu items like Wood-Grilled Wings (served with poblano ranch and salsa bruja), Jalapeño Poppers and 7-Layer Dip. Pre order or grab it all on Super Bowl Sunday, should you and your crew want to take a vote first.
East Austin
This East Austin food trailer -- because we love food served out of trailers -- is a go-to for Austinites with a clue. People wait for hours for the gargantuan Beef Ribs (one rib alone weighs 1.5 lbs) and Chipotle Slaw. The ribs melt off the bone and in your mouth, which is why they don't last forever -- you've got until 9pm to get them (earlier if they sell out), so take them up on the pre-order option.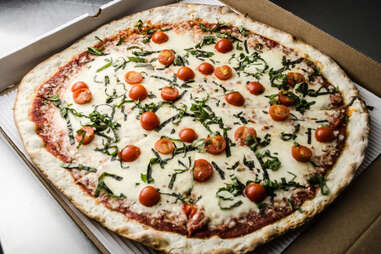 Crestview, North Loop and Rosewood
If you haven't been there in a while, check out the 15 new pizzas and two new sauces they just added to the menu. Their 18-inch large pizzas should mean there is plenty to go around, and The Pac Man pizza, with spinach curry, pulled pork, sweet potatoes and jalapeños is a solid bet. Be sure to call ahead; they open at 11am.
Multiple Locations (620 and Burnet Road)
Noble Sandwiches is known for their Whole Hog Roast, which serves upwards of 50 people (not a typo), so feel free to invite everyone you know, just be sure to order two weeks prior. It may sound a little over-the-top, but as soon as you munch on that smoked pig -- split and smoked with an apple cider vinegar mop -- you'll be glad you got enough to prevent a brawl. Also, be sure to schedule that next-day meat coma.
Zilker and North Loop
What started as a food truck is all grown up as two brick-and-mortar locations, serving up some seriously worth it Asian Fusion. If you haven't tried their Kimchi Fries, run there immediately. On Super Bowl Sunday, feed your friends easily with a 40-count order of their Korean Fried Chicken Wings, plus an order of those fries to hoard for yourself. Be sure to grab several sides of Gangnam Sauce to spice things up.
You've got the noshables, now all you're missing is the real MVP on the playing field of snacks -- an ice-cold Budweiser.
Downtown
If you've ever been to Chicago, chances are you've heard of Gino's East (and maybe even added your name to their famous graffiti wall). It's made its way south, for pizza lovers looking for a bit more "depth" from their slice (we won't get into that debate). The Gino's Family Platter has appetizers covered, and the loaded large pizza comes with 8 slices. Bear in mind that each pie takes about 45 minutes to 1 hour in the oven, so call early.
East Austin
You really should eat in at Gourmands Neighborhood Pub at least once (it was a Tejano night club and looks it), but for the big game, take home an appetizer, salad, or sandwich platter from the Large Orders menu. Our top sandwich pick is the Julia Family Platter for 8-12 people, with smoked turkey, chicken, ham, bacon and a vegetarian option for that friend who doesn't eat meat or like football.
West Campus
If seafood is more your jam, this Campus favorite is a great alternative Super Bowl option to wings, wings, and more wings. For a hard-to-please crowd, go for the chef's choice Party Tray B, with 10 nigiri sushi (that's the rice with the slice of fish on top) and 5 rolls. Whatever turns out to be a hit? You picked it, of course.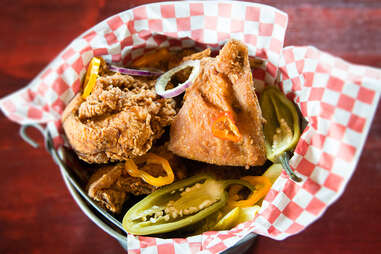 South Congress, Burnet Road and Lake Travis
Lucy's Fried Chicken, chef James Holmes' Southern counterpart to upscale newbie Olivia, has comfort food, aka game day food, down. Their Bucket O' Chicken serves four with minimal shoving, especially if you throw in side orders of Black Eyed Peas and Mexican Coke Sweet Potatoes. The chicken just keeps coming here, so staff assure us that game day orders are no biggie. Go on, get that extra bucket.
Multiple Locations (Oak Hill, Round Rock and 360)
Southern meets Southwestern at Jack Allen's Kitchen, all from locally sourced ingredients. The House Made Pimento Cheese will pass the time before that first down, and if you can't get enough, it shows up in the BLT Sliders -- along with pork belly, slaw and fried green tomatoes. On Sundays, Jack Allen's opens up the regular menu at 2 pm, so go in for the brunch buffet (liquid brunch qualifies as a meal, right?) and leave with Super Bowl snacks.