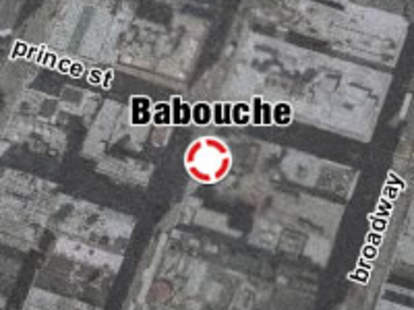 Until now, there has always been one reason to go to Murray Hill: the vaunted Moroccan restaurant Barbès. Bad news, Murray Hill: thanks to Babouche, you suck anew.
Babouche is Barbes' little brother -- but much like Stephen Baldwin ultimately proved an even more accomplished Bio-Dome resident/anti-porn crusader than Alec, Babouche promises to surpass its sibling's greatness. The entrance is equal parts grand and oddly covert: ceiling-high double doors in the back of frilly toiletry store L'Occitane. Inside, you find a loungey first floor atrium marked by ottomans and latticed arches -- ideal for casually taking down small plates/large drinks. Upstairs is an airy dining room, where you can impress a date by bashfully admitting that you're a sucker for Ingrid Bergman in Casablanca (when you actually mean Brigitte Nielsen in Red Sonja).
A sampling of the chow:
Steak Tartar w/ Pears and Harissa Sauce
Grilled Lamb Chops w/ Almond Cinnamon Crust in Prune Sauce
Stuffed Whole Sea Bass w/ Shrimp in Oregano and Paprika Broth
Traditional Moroccan Couscous w/ Shrimp, Sea Scallops, Halibut, and Seafood Merguez
While you're eating/drinking/fabulizing, be sure to admire the restaurant's build-out, as everything from lanterns to tiles comes straight from Morocco. The overall effect's transporting -- a good thing, because even though Soho's no Murray Hill, it's hard to forget you walked in here past a shelf-full of sandalwood-scented guest soaps.