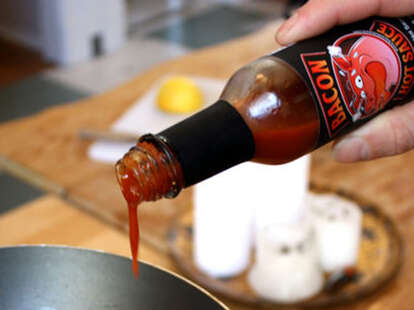 The morning after a night of heavy partyin', many people experience that moment of clarity, and, accepting full responsibility for their actions, decide not to listen to Jay-Z again 'til at least the afternoon. Or, more profoundly, decide to create Bacon Hot Sauce
One morning, three hungover college friends were bickering about what was more important to have with their eggs -- bacon or hot sauce -- when the clouds opened, God winked, and from that day forth each friend knew his destiny: to bring the world Bacon Hot Sauce, then make a pact to lose his virginity during the post-prom party at Stifler's mom's house. In order to learn the industry before blowing its mind, they spent months traveling to hot sauce festivals and communing with the field's "thought leaders", ultimately creating five different iterations of their sauce, before settling on the sixth prototype and selecting a humble co-packer in...Pittsburgh, CA, a town whose previous claim to fame was ending a BART line, and being confused with a place even worse. Onto that sauce: BHS's vinegar based, with a Carolina-style BBQ first bite, followed by not-too-heavy hints of cayenne pepper and New Mexico chilies, before finishing with a solid burst of bacony goodness and a whisp of liquid smoke, also the by-product of an effective electric slide.
Because why not, they're also selling BHS tees, and are gonna be hittin' foodie events like this weekend's Bacon Camp, where people from all over'll be able to experience that moment of clarity, right before their hearts explode.