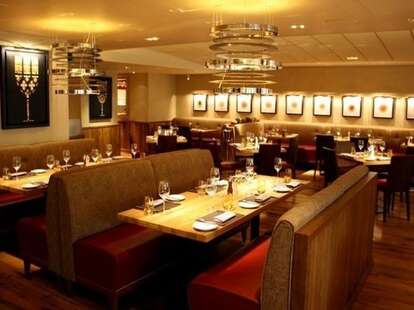 An artist's masterpiece weaves together themes from all his previous work -- for instance, with Avatar, James Cameron crafted a film about technology run amok (Terminator), the calculated cruelty of capitalism (Aliens), and the sanctity of the natural world (The Abyss), all from a script that was a massive sinking pile (Titanic). For a man weaving together delicious past successes, try Bar Boulud
Opening today, BB's the first European venture from multi-Michelin'd Frenchman-turned-New Yorker Daniel Boulud, who, with the help of a manager pulled from Woolsey, aims to offer London-pleasing highlights from all five of his NYC restaurants; outfitted with an open-kitchen, the space itself is meant to evoke a wine cellar, with a vaulted ceiling, stained oak tables, red leather banquettes, and oak walls decorated with tablecloth squares stained by Boulud's favourite vinos -- over-fete his tastes, and you'll match his decor by dessert.
The menu kicks off with warm white and green asparagus w/ poached egg dressing, the "Poulpe Grille" (octopus/ baba ghanoush/ tomato/ chickpea cake), bangers including truffled white sausage w/ mash, and DB Bistro Moderne-style charcuterie like the carrot/ courgette/herbs "Provençal Pulled Rabbit", which should teach bar-hopping single bunnies to beware smooth-talking men in toques.
Bigger bites, many Daniel-influenced, include a butter-poached halibut (w/ asparagus, spring chantrelles & paprika mousseline), grilled lamb chop & spiced merguez (w/ lemon-mint tabouleh, chickpea-pepper stew), and DBGB-referencing burgers like the grilled beef patty + bbq pulled pork, bibb lettuce, green chili mayo, red cabbage slaw, & cheddar roll number called the "Piggie", though it prefers "Big Bunned".
For illumination, there's a vast 340+ wine list, and cocktails including the sparkling "Mayflower Reviver" (Plymouth gin, cointreau, lemon, absinthe), the "London Calling" (gin, Qi black tea liquor, lemon, honey, egg white, soda), and the Lillet Blanc, G'vine nouaison, rhubarb syrup, aperol & lemon "Rachel en Rose" -- get caught ordering this pink cocktail, and get ready to tell some True Lies about how it's for your girlfriend.