Italian dining & drinking hits 13th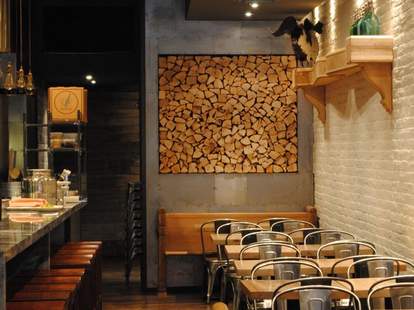 Taking control of a street can be a battle, requiring drive-bys, regular shakedowns, and taking out Mr. Hooper, cause that's where the money is. Solidifying their power over 13th St, the folks behind Barbuzzo.
Barbuzzo ("buzzo" meaning Italian for belly, bar meaning...bar) is a narrow Mediterranean-looking joint with metal seating surrounding an Italian marble bar/counter and a wall made rustic-chic with a light blue barn door and a bunch of raw wooden chunks, but not a wooden Chunk, cause dude can't do a Truffle Shuffle without being limber! They make as much with local ingredients and in-house procedures as possible: mozzarella, pastas, and even charcuterie like dry-cured Tuscan salami and Spanish chorizo, aged Portuguese chourico, and Lomo rubbed with espelette chili and cacao nibs, which aren't nearly as good as the strawberry kind, but who even cares, cause it's all about Pull n' Peels these days. Big plates include a hearty selection of brick oven pizzas plus dishes like Chive Pappardelle w/ summer squash, sheep's milk ricotta, and mint; a mixed rabbit grill using lemon, olive oil, and garlic-marinaded saddle, leg, and thigh pieces; and Paccheri w/ Sunday Supper Pork Ragu made with San Marzanos, shredded pork shoulder, bacon, and trotters, so Jeremiah apparently has a brother who also isn't playing much football.
Because they kinda like making people happy, they're also serving up brews from Hennepin and Allagash along with plenty of reds and whites, and they've got outdoor seating, so their future lunch and brunch plans'll have you enjoying a sunny day, until Mr. Hooper comes back, and it starts raining bullets.