A Spanish-themed nightclub... plus more!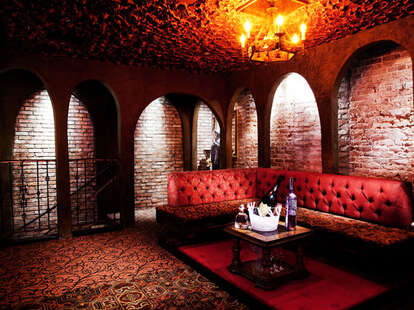 Clubs offer the man on the hunt a lot of options, especially if you're looking for a seven pound tub of cheeseballs, and the proprietor's name is Sam. For a club that's got even more stimulating options than a 64 pack of TP, hit Premiere, opening to the public Thurs.
Premiere's the new Spanish-hacienda-themed, 5000sqft nightclub from the dude behind Villa and the designer behind Five0Four, boasting bonus features including an extensive tapas menu and nightly surprise shows amid typically clubby accoutrement, like massive, dangly chandeliers, two iron-rung stairways, and a 30-foot-long bar, which hopefully was constructed with 30 of Subway's sturdier bread choices. As far as the actual food, Premiere's espana'd up, w/ grub including madjool dates stuffed w/ Cabrales cheese and smoked bacon; Peruvian ceviche w/ Mahi Mahi, lime, ginger, and aji amarillo chile, and paninis packed w/ brie, chicken, cranberries, green apples, and garlic aioli, as the garlic areoli option was nipped in the bud. Dance floor shows'll change regularly, and include everything from '70s-themed disco dancing to hottie salsa-ers, to re-creations of classic movies like Scarface, which is great, since getting girls in a club to say hello to your little friend can be tricky.
Of course, they'll have a full-bar w/ fresh-ingrediented specialty drinks, and the owner's planning on changing the theme every few months, with upcoming interiors evoking an Italian Opera house and a Japanese Kabuki theater -- a cool theme, but if you're looking for sixty gallons of pickles, the answer is Noh.