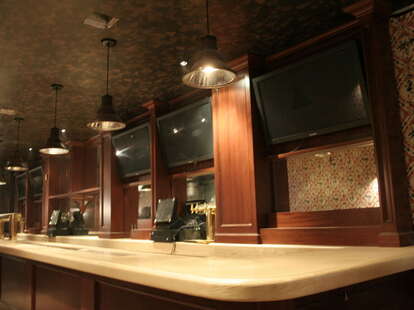 It doesn't take more than a Sunday Ticket for any old hole to claim "sports bar", but there's something ironic about watching a game at a place called McFinnernan's when few people with that last name are known for their packages. For a nonstop sports bar: SNAP.
An acronym for Sports Nightlife And Pastime, SNAP signals its allegiance upfront thanks to classic sporting figures sculpted on their mahogany entrance doors, and one-ups the usual pro-n-collegiate miscellany with used football leather upholstery on their stools & couches, a brass floor inlay resembling a bracket, 16 enormous hi-defs, and a 20ft long tricolor LED ticker along the bar (made out of the same American ash used in baseball bats) that crawls scores, news, and fantasy stats, aka how many Estonian hand models you totally hooked up with this weekend. Sporty sauce-age includes eight draughts & 20 craft bottles, classic '20s cocktails (e.g., Sazeracs, Manhattans, Salty Dogs...), and house 'tails named for bygone NYC franchises, from the Tip-Top Turn (gin, Campari, dry vermouth, Triple Sec, and grapefruit) to the Horseman's Neck, essentially a Horse's Neck with bitters (why is the man sad? Cause you know how that horse is hung). A touch of Euro flair's been added to classic game grub, with chorizo 'n' manchego skins and lardon-topped disco chips sitting next to anglicized offerings like smashed peas & ham toasts, puff pastries stuffed with bangers and mash, and deviled Scotch eggs, though perhaps they'd score a goal if they stayed off the sauce before their games.
Because apparently non-sports exist, they're also outfitted w/ a Blu-Ray rig for viewing parties, and're planning to host video game tourneys and karaoke nights -- just hope guys with last names like McFinnernan don't turn the place into a house of pain.