Old City bastion reboots with a twang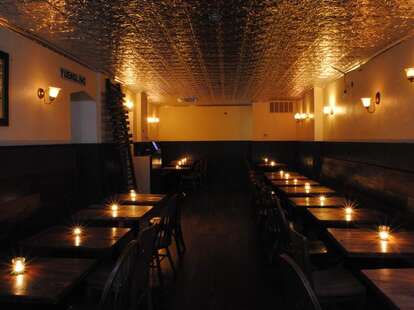 It seems like everything's going South these days, as evidenced by the new Batman filming in New Orleans, LeBron suiting up in Miami, and those geese that're fleeing here in droves...yeah, go ahead and leave, just watch: you'll be back!!! For an Old City hangout doing the same, hit the Khyber Pass Pub.
After hosting music for more than a decade, The Khyber suddenly (and inexplicably) closed shop before being reborn as the KPP, which kept the dark wood decor and memorabilia, tweaked some seating, and installed a shiny new beer tap system and kitchen serving up Southern comfort fare, but not a Southern Comfort fair, because there, everyone thinks he's the strongman. Coming out of that new kitchen're starters including popcorn topped w/ bacon grease and cornmeal-crusted gulf oysters in a pickled Tabasco pepper remoulade; sammies like the Leidenheimer-rolled po boy with roast beef, hot sausage, or fried shrimp; BBQ plates of pulled pork, ribs, and brisket; and Memphis-style fried chicken, which's battered and deep fried, cause wokking in Memphis is kinda the worst. Staking its claim as Philly's "best beer bar", they're running 20 taps (w/ serious suds like Russian River Damnation, North Coast Brother Thelonius, and Eel River Triple Exultation), two beer engines for firkins, plus bottles of German rauchbiers, Flemish sours, and Scottish wee heavies, also what Scots call the bigwigs who control the bathroom industry.
They'll be rolling out daily specials very soon, and the menu's up for changes in the coming weeks, meaning some things may be pulled but, like those geese, may return...you knew you couldn't stay away from the Franklin Mills drainage lot!