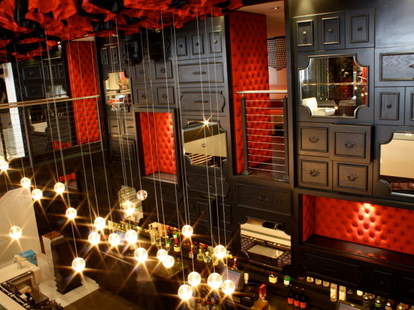 It's not everyday that you find yourself in a beautiful girl's bedroom, unless you're James Van Der Beek...as he's a rich and successful actor. For a new spot giving you all the access and non of the shy half-smiles, check out Boudoir.
From the guys behind On Broadway, Boudoir's a tri-level concept club centered around the excitement of being in a girl's bedroom, and what a girl: handcuff window-blinds, "marital aid"-chandeliers, and screen-dividers made from real horse-whips, meaning she ain't stable.
Things get interesting via:
A ground floor housing private booths, and a bar backed by a two-story wall designed to look like a massive, semi-mirrored dresser; as well as a "library" stocked with an albino bison head and books from Clinton's biography to Foxworthy's Redneck Dictionary, which you'll need to get through the former.
A top-level private room surrounded by silhouetted forms acting out the Kama Sutra, an actual glass-walled boudoir where you can freely spy on ladies getting ready, and tables where $500 bottle service grants you choice over your server's outfit, with sexy options like ballerina, schoolgirl, or "leather", proving George Hamilton's still got it.
A basement with the delightful skankyness to matches upstairs' swankiness, with a red-lit back bar, two active stripper pole platforms, and a bunch of Roman statues -- all combined, a decor that's Caligul-awesome.
For the truly brave/bizarre, they've also got a dominatrix's lair where they'll strap you to a spinning wheel o' bondage -- just make sure you know the safe word, lest you find yourself up a creek, being ferociously paddled.