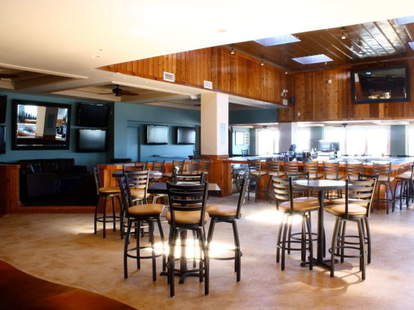 The "rule of three" posits that trios are inherently more satisfying, effective, or humorous -- and really, what's more mirthless than just a priest and a minister? Applying the rule to beachfront drinking & dining, The BeachWood.
The second venture from FleetWood's owner, BW's installed in a former Hooter's, which they've completely overhauled in developing this tri-level house of consumption whose themes grow younger-leaning the higher you climb, a Benjamin Button descending ascension where hopefully nobody poops themselves at the bookends. From ground up:
Red's Saloon: Named for the owner's grandfather, this fireplace'd "man cave" boasts taxidermied beasts (bison, boar, cougar), a fine selection of whiskeys, and cocktails from a classic Sidecar, to the jalapeno-infused vodka Red's Bloody, to the dolled-up Cherry Vanilla Manhattan -- very Sex in the City, except the cherry part.
The Eatery: The most spacious level houses a black-leather-couched lounge, two bars (one a massive, P-shaped deal), and a dining room serving everything from lobster rolls to jalapeno-bacon mac & cheese, plus margs like the sweet and soured "Li Hing Mui" and the lager-topped "Woody", who's all like, "Hey, how old is this Li Hing chick? Would my analyst approve?"
The Rooftop Terrace: The AstroTurfed top offers West-facing bench seating, picnic tables, wooden booths, and bed-like cabanas with a panoramic view of the ocean/boardwalk, plus a daytime bar with sand-pail champagne bottle service complete w/ kids shovels for ice scoops, bringing up painful memories of your 'rents totally ruining your sandcastle to hide glass bottles.
To keep you on other peoples' games, they're broadcasting every Direct TV sports package over 14 monster flat screens and three 12ft. high-def projection screens -- so as the rabbi would say, mazel TV! Yeah, where's that priest and minister?