Right now is probably the best time ever to be a foodie in Berlin (no 1896, you had your chance) -- from markets to food trucks to traditional brick-and-mortar restaurants, Germany's capital is a feasting haven. But it didn't get there overnight. Here are the restaurants that have helped to shape the city's dining revolution...
Recommended Video
Ghost Kitchen: How This NYC Restaurant Is Responding to Coronavirus
Charlottenburg
Although Lon-Men opened in 1969, you didn't need a reservation here until a couple years ago, when foodie bloggers unleashed its secret unto the masses. Since then, any conversation about local Chinese food always ends up in Lon-Men worship, whether it's the chili wontons, steamed bun sandwiches, or succulent duck in plum sauce. The noodle shop's lackluster décor and narrow seating now just adds to its charm.
Kreuzberg
Eating at Mustafa's at least once is a Berliner's rite of passage. After all, Germany's most hyped döner kebap stand is a subject of never-ending debate: is it really worth all the guidebook lip service, and is it especially worth waiting in a 30-minute-plus queue? The fun is all in forming your own opinion, and the only way to do that is biting into Mustafa's chicken and grilled veggies in flatbread, coated in secret sauce.

Mitte
When Das Lokal opened in 2012, it became an institution in Berlin for a couple reasons: 1) it was one of the first restaurants to source its meat and veggies entirely from Brandenburg, and 2) the capital was aching for delicious, yet affordable German food. Das Lokal is now the go-to spot for whenever a knödel, spätzle, or goulash craving arises. Its concept of small, locally sourced menus that change every few days has also been much emulated since.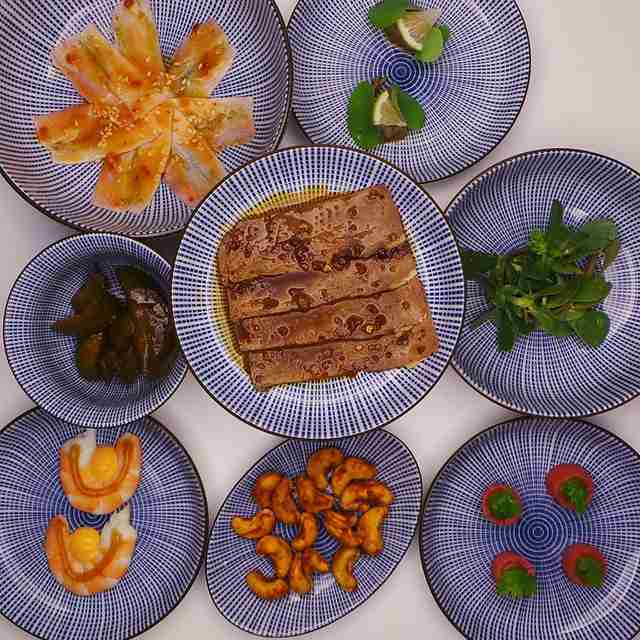 Kreuzberg
Chef Tim Raue is about as Berlin as the TV Tower. Born and bred here, he's worked his way up through kitchens over the years, eventually earning two Michelin stars in 2012. But it was his self-named restaurant where the chef really came into his own and brought something new and inspiring to the city -- inventive Asian-fusion dishes served in eight courses, exemplifying what a culinary journey is all about.
Mitte
This modern-American deli is responsible for showing Berlin the meaning of a good sandwich. When Mogg & Melzer started out, the restaurant was one of few brining and smoking meat by itself -- creating a juicy, fatty product that made its pastrami and Reuben sandwiches simply unbeatable. Even the New York Times called the creation an experience that "only a handful of delis in New York can match."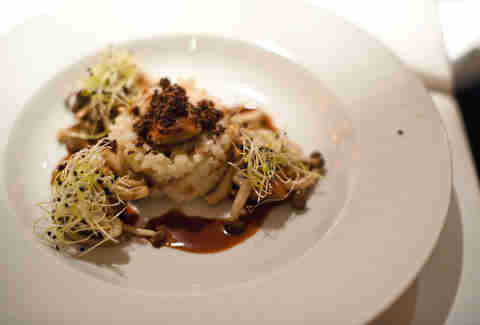 Mitte
When Cookies Cream opened a few years ago, nobody really knew how this "club restaurant" would fare. Well, Berlin's first high-end vegetarian restaurant exceeded expectations. Even after the Cookies nightclub closed last year, the restaurant's still fully booked for its milk-free, pasta-free, culinary goodness.
Neukölln
Industry Standard is proof that you can serve people bone marrow and pork tongue, and they will really dig it -- in fact, you can serve it to them in a former shisha bar in the depths of Neukölln and they will dig it even more. Industry Standard is Berlin's first restaurant to really indulge in "nose-to-tail" cuisine and become popular through word of mouth. That's even more impressive when you consider its location, in an area that's still totally ungentrified.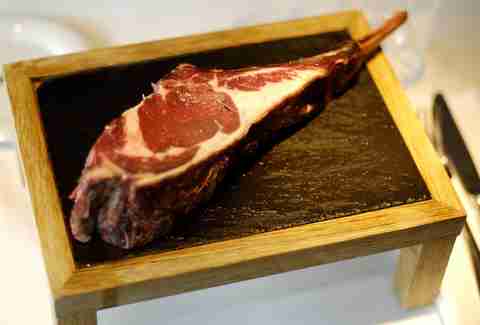 Mitte
When Grill Royal opened in all its swanky glory, it became known for serving the city's highest-grade meats. Offerings like the Temmener Queen, a 90-day dry-aged organic beef entrecote, propelled this restaurant to the top of Berlin's fine-dining scene. Celebrities from Leonardo DiCaprio, George Clooney, and Karl Lagerfeld have all tucked in here.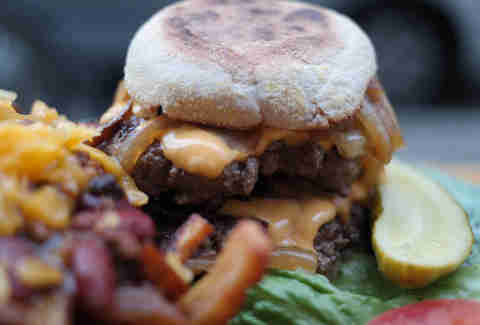 Prenzlauer Berg
These days, the last thing Berlin needs is another burger restaurant. But back in the day, The Bird was the burger restaurant and for many who live here, it still is. The American-style dive bar was at the forefront of the beef patty explosion, serving English muffins stacked with 250-gram Black Angus patties and a high-and-mighty amount of fixings.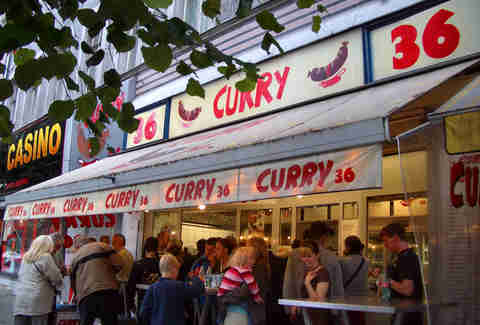 Kreuzberg
Living in Berlin without eating a currywurst is equal to blasphemy (unless you don't eat pork, because then you're excused). Coincidentally, Berlin's most raved about currywurst stand is located on the same street as Mustafa's Gemüse Kebap -- and the line is also around 30 minutes on a good day.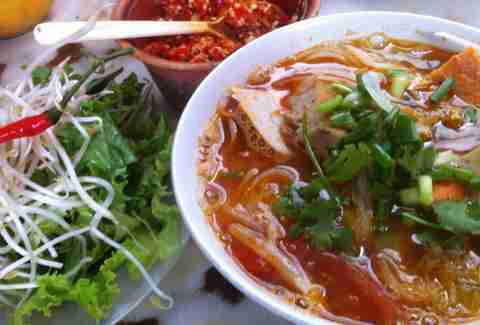 Mitte
Berlin's tradition of terrific Vietnamese cuisine goes back to immigration during Communism, and no place is more famous for soups and wantons than Monsieur Vuong. Named after the owner's father, a photographer during the Vietnam War, the restaurant's authentic taste is a piece of local history. The daily menu is always something fresh and creative, which explains why Monsieur Vuong's tables are always overflowing.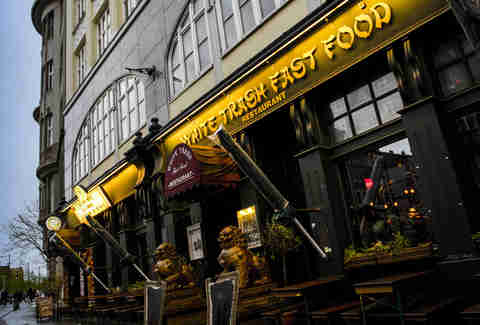 Kreuzberg
Whether the new Kreuzberg venue lives up to the old one in Prenzlauer Berg is debatable, but there's no arguing that White Trash is still a Berlin institution. The restaurant pioneered hearty American dining here, as well as the concept of combining burgers and steak with live rock music. Before White Trash, having wait staff that couldn't speak fluent German was a serious taboo -- these days, it's quite the opposite.
Kreuzberg
Berlin was a sad, sorry, and non-spicy place before Maria Bonita opened. Expats and Germans who had lived abroad had to get used to bland, heretical Mexican cuisine until this restaurant's homemade street food changed everything. Maria Bonita's quesadillas and burritos are still the most authentic you can get in Berlin, and its hole-in-the-wall aesthetic arguably makes the experience that much better.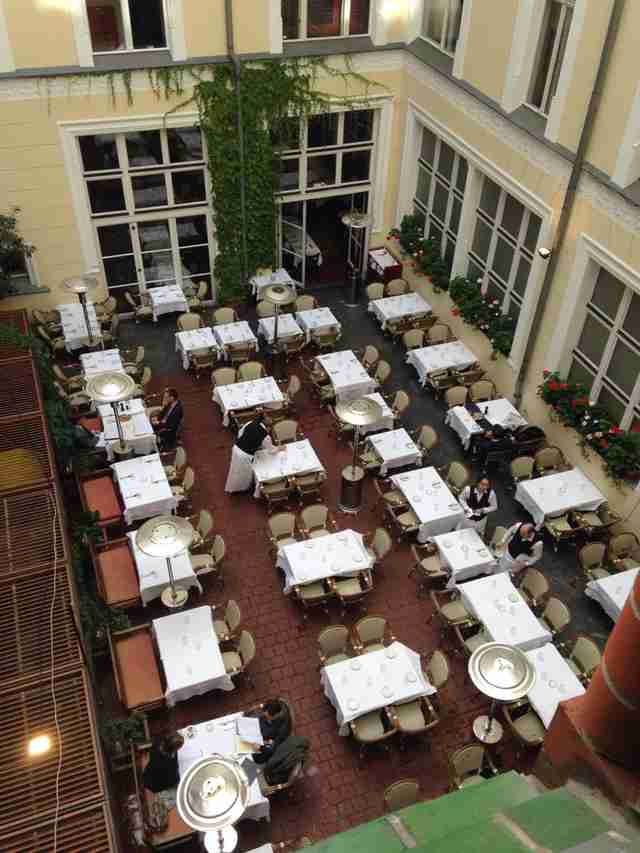 Mitte
It's impossible to flip through a Berlin guidebook without finding mention of Borchardt, the luncheon destination of the rich and powerful. Its reputation as a brasserie of politicians and celebs is long-standing, which explains why its French and German cuisine is rarely mentioned in foodie blogs. Say what you will about Borchardt's €21 wiener schnitzel, but it's arguably the most famous in the city.

Sign up here for our daily Berlin email and be the first to get all the food/drink/fun in town.