Berlin's 8 Best Burger Spots
Sure, the humble hamburger owes its name to a certain other German city, but thanks to Berlin's ongoing food revolution, this is where it'll soon owe its newfound reputation for deliciousness -- be they gourmet, organic, or even Icelandic, here are the finest burgers in the capital...

Schöneberg
What you're getting: The Mexican Heat
A contender from the other end of town, Zsa Zsa Burger has an extensive list of toppings, and since it's on the West side, expect the surroundings to be a bit more chic and the prices a bit higher. Burgers like "The Egyptian" (with figs, goat cheese, and thyme honey), "The Kentucky Burger" (with Maker's Mark-marinated beef) come on a sourdough bun along with some of the best sweet potato fries in town.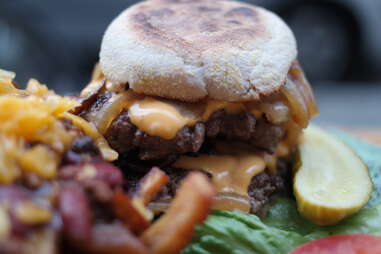 Prenzlauer Berg and Kreuzberg
What you're getting: Da Woiks
The Mother of all Berlin burger joints, this one's been around since 2006, a veritable lifetime in Berlin years. Made from premium German beef, the patties here are sky-high and wonderfully succulent (the menu actually warns against ordering a burger well done), the bun is actually an English muffin, and toppings range from the standard -- bacon, mushrooms, cheese -- to the less common, like guacamole and salsa verde.
Wedding
What you're getting: Volta Burger
This one cropped up as the Bird's best challenger a couple of years ago, and doesn't seem to be backing down anytime soon. You have less variety here, since Volta is not a burger joint, but rather a restaurant that happens to serve a burger. But what a burger. Twice as wide and half as high, Volta's 100% Angus beef patty is topped with cheddar, a crispy onion ring, and a staggeringly tasty BBQ sauce.
Mitte
What you're getting: Cheese burger
A relative newbie, Tommi's created a lot of buzz last year thanks to its Icelandic lineage. After a successful run in Reykjavik, founder Tómas Andrés Tómasson opened two outposts in London, one in Copenhagen, and now, one in Berlin. His juicy, greasy burger is just small enough that you might be tempted to call it a snack (or reach for a second to complete your meal), but it's also about as cheap as they come: €6.75 for a Black Angus beef cheeseburger.
Various locations
What you're getting: Glocke
This one wins points for sheer omnipresence, with locations in Neukölln, Kreuzberg, Friedrichshain, and even burger-starved Pankow. But even if Schiller Burger wasn't just about everywhere, it'd still be a winner for its chunky, square-cut potato and sweet potato fries and vegetarian options like the halumi cheeseburger, the tofu burger, and the good old veggie burger.
Mitte
What you're getting: De La Sauce
Not a burger place at all, but rather a colorful ode to Saigon street food, District Một has nevertheless won Stil in Berlin's Best Burger Award at the Burgers & Hip Hop party three times with its De La Sauce Burger. Though it originally only appeared at special events and street food parties, this burger was finally added after receiving such acclaim. In an ode to Vietnam, of course, its ground patty comes in a fluffy rice flour bao bun topped with pickled veggies, coriander, fresh mango, fish sauce, and chili sauce.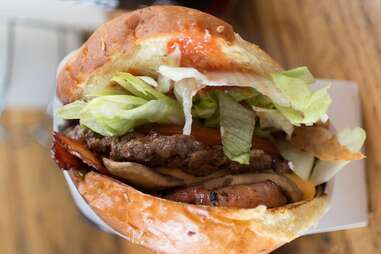 Kreuzberg
What you're getting: Chilie-Cheeseburger
Flipping patties in an ornate, 100-year-old structure that used to be a public toilet (yes, you read that right) directly underneath the U1 tracks, Burgermeister wins points just for its setting. Sure, at first you may question its sanity/sanitation, but its moist and juicy standards will quickly put all your bathroom jokes to rest.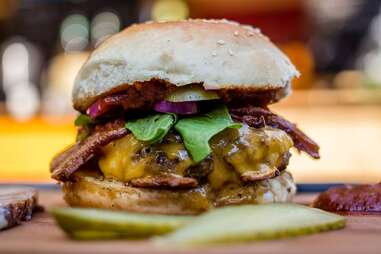 Various locations
What you're getting: Whatever's good that day
Its cute yellow truck and its bacon cheeseburgers draw crowds wherever it goes. No doubt about it, Bunsmobile has won the Berlin food truck game with its ever-changing list of burgers made with local Brandenburg beef. Named one of the top 10 burgers in the world by Twisper, Bunsmobile dishes out burgers that are pink and juicy on the inside, with a thick layer of cheese and extra-crispy bacon.