Berlin's 8 most underrated restaurants
Joshua Glazer
Ming Dynastie
Mitte
Located right across from the imposing Chinese embassy building on the Spree River, you'd expect Ming Dynastie to deliver an authentic Chinese dining experience, but when people realize that what they in fact offer is an authentic American-Chinese dining experience, they understandably think it might not be quite as good -- but it totally is, with most dishes from the Szechuan and Cantonese menu served on a lazy susan or, even better, buffet-style.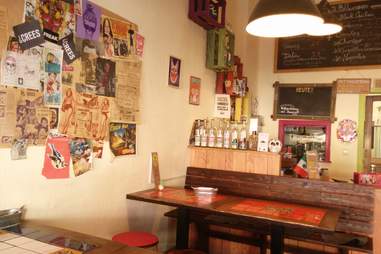 Joshua Glazer
Chaparro Cocina Mexicana
Kreuzberg
Back in the early '90s, Mexican food was so rare in Berlin that locals would literally ask visitors to bring bags of tortilla chips from the States. 20 years later, a wave of Mexi spots have popped up across the city, but the general reputation of the cuisine isn't good. Chaparro is genuinely pretty great though, with savory battered fish tacos and, in the Summer, salmon ceviche.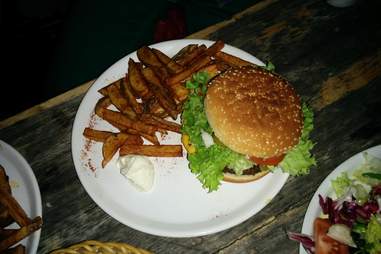 Joshua Glazer
Room 77
Kreuzberg
Nowhere near as hyped as many other burger places in town, 77 nonetheless deserves more praise than many of them, and while most places stick to the traditional toppings, they offer up delicious burger specialties like the Bluegrass, covered with sprouts, or the Jimmy Carter, which is topped w/ peanut butter. They're all consumed on well-worn couches while a Tom Waits wannabe singer wails away before passing his hat around to the diners. They also take Bitcoin, so let the crypto-anarchist in your crew pick up the tab.
Joshua Glazer
Wok Show
Prenzlauer Berg
Located right on the edge of nowheresville, at the cusp of Pankow in Prenzlauer Berg, Wok Show is small, innocuous, and easy to overlook. Doing so, however, is a mistake. It specializes in Chinese dumplings by the trayful -- the pork is hard to beat, but vegetarians can get down with the cabbage dumplings, especially if you pay the extra few cents apiece for fried instead of steamed.
Joshua Glazer
Café Datscha
Friedrichshain
A datscha is a traditional Russian country house, to which this Friedrichshain spot adds a bit of Soviet nostalgia with its communist décor and traditional dishes like Blini, Wareniki, and Pelmeni. The food's far better than Eastern-half communist cuisine is famed for however -- the appetizer plates are named Proletariat, Peasantry, and Intelligentsia, and each comes with a menu option to be served with cold vodka. Why don't more restaurants do this?!
Joshua Glazer
Ixthys
Schöneberg
Craving a Korean fix without a sit-down BBQ experience? This little alcove in Schöneberg offers traditional fare like bulgogi and bibimbap, with a very untraditional serving of Bible quotes, which cover almost every available surface of the tiny eatery, apparently replacing more traditional banchan side dishes. The obsessive religious theme might put off many a diner, but it's a mistake, because the food will convert you.
Joshua Glazer
12 Apostel
Mitte
Located inside an S-Bahn viaduct that cuts through Mitte, you almost expect the ornately painted arched ceiling of this Italian eatery to crumble every time a train passes over. Which would be a shame, since no one wants paint chips as a topping to their freshly made pasta or stone-oven pizza. Plus, three sizable dining rooms means never waiting for a table, an increasing issue as Berlin's foodie demand continues to overwhelm supply.
El Borriquito
Charlottenburg
You know those lively and colorful Italian-American restaurants in movies where former heavyweight boxers named Rocky hang out and tell tales of fights long passed? El Borriquito has that same warm traditional, and perhaps a little divey vibe, except the cuisine is strictly Spanish (and undivey), and the celebrity pugilist is a German middleweight named, uh, Graciano "Rocky" Rocchigiani. Perfect for wolfing down massive trays of tapas and paella while watching the biggest matches in Spanish soccer, uh, fütbol.