Berlin's 10 greatest food trucks
House of Flying Dumplings
House of Flying Dumplings
Berlin street food doesn't just mean the hangover-foreshadowing flavors of currywurst & doner kebab anymore. Sure, the city has traditionally frowned upon chow-hawking trucks roaming the streets, but thanks to the launch of some awesome food events this year, culinary entrepreneurs are finding even more places to park their wheels -- and don't let the oncoming winter deter you; Street Food Thursday is going strong & both Bite Club and Burgers & Hip Hop have Christmas events in the works. Whether you're looking for tacos, dumplings, or rum-spiked ice cream (and you should be looking for all three, quite frankly) we've collected the deets on how to get the city's best into your face.
House of Flying Dumplings
This food truck has become a solid Berlin mainstay thanks to some delicious traditional Beijing Jiaozi dumplings, which come in classic pork & chive or tofu & shitake. Owner Andreas picked up his VW truck from the folks who ran one of Berlin's first taco trucks (& have since flown to warmer climes), and converted it to put out more Eastern-oriented delights. A linchpin of this summer's Bite Club & FIT events, the truck also makes appearances at Berlin's music and street festivals -- check in on the FB page to see where the house lands next.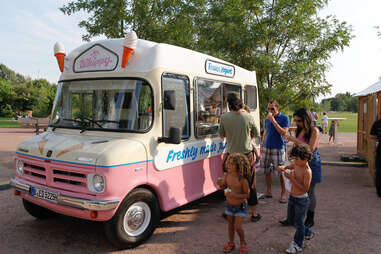 Mr. Whippy
With some help of a former racecar-driving dad, Mr. Whippy founders Eva & Deniz refurbed this old-timey ice cream truck two years ago, and now bring their frozen yogurt to events like Street Food Thursday, the Berlin Festival, and Nowkoelln Flowmarkt. They've parked the truck for the winter, but Mr. Whippy will be back in Berlin next spring w/ homemade fruit toppings like rum-spiked white currant sauce.
Hotzenplotz Berlin
This brand new food truck started slinging their 100% local beef & lamb burgers this summer at events throughout the city, as well as a prime location at Bierhof Ruedersdorf next to Berghain. They're on the down-low this winter, just popping up at events here & there, but have plans to return full-time next spring, so keep your eyes peeled on their FB page if you're craving a bun.
Die Dollen Knollen-Puffermanufaktur
The classic German potato pancake is on order here, topped w/ various offerings incl. cottage cheese or smoked fish. Their ride's just as sweet as the food, a vintage 1977 Citroën H van, outfitted w/ super hot fryers to get the potatoes extra crisp. Check them out at the Südstern Saturday market.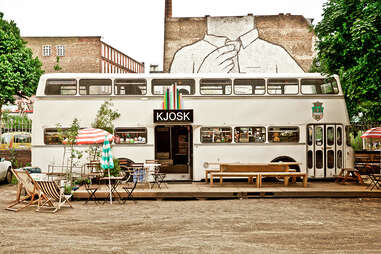 Kjosk
This truck is actually a 1970s BVG double-decker bus that owner Rosmarie Köckenberger has turned into a quasi convenience shop. You'll find everything from homemade cakes and sausages to cigarettes, magazines, and beer inside, and the second level doubles as seating. Although Kjosk is also hibernating for the winter, when the weather's nice, the bus's parking site is often frequented by other trucks, incl. Bunsmobile & Vatos Tacos.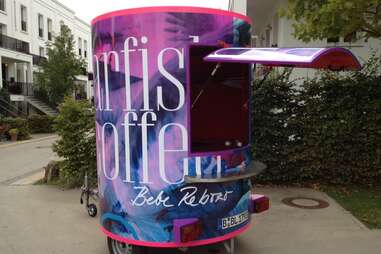 Bebe Rebozo Steaks & Austern
In the midst of moving resto locations, steakhouse Bebe Rebozo rolled out their hot pink & blue cylindrical truck at Bite Club this summer. The warm weather menu featured several ceviche renditions (incl. the "Bebe's special" w/ apple, walnut & fennel), and for the winter temps, they're brainstorming a twist on the Peruvian dish lomo saltado (a marinated beef dish).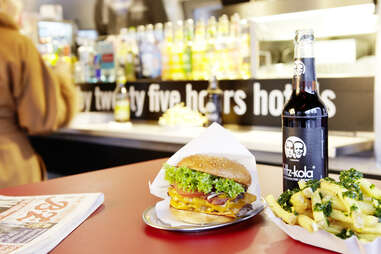 Burger de Ville
This burger-peddling Airstream trailer was opened by the forthcoming ritzy 25h Berlin/Bikini hotel as a way to sugarcoat their massive Ku'Damm construction site. Don't worry if you develop a habit for their Black Angus patties; when the hotel opens next January, the truck will carry on, operating on the hotel's terrace.
Vatos Tacos
Helmed in part by a Texas-born music producer, Vatos Tacos offers up a short & simple menu of spicy tacos & quesadillas. They rock out in a vintage milk truck, occasionally hosting DJ nights & offering Mexican beer to wash it all down. The truck's set to park in the Möbel Irold garage on Thursdays and Fridays during the winter, so you'll be able to get your Mexi-fix even when Berlin's snow covered.
Bunsmobile
Before becoming one of Berlin's favorite food trucks, this yellow 1986 GMC truck was used both by the U.S. Army back when Tempelhof airport was a military base & also on the awesome TV show Balko (seriously, click the link, you won't regret it). It's now the mobile unit for a Canadian couple, who offer up a menu of French-inspired burgers, grilled cheese & pork belly sandos. The truck is usually parked at Urban Spree, but also makes appearances at Bite Club, Nowkoelln Flowmarkt, and a few festivals.
Heisser Hobel
These guys just nabbed the Best Overseas Trader Award at the British Street Food Awards 2013 in London, so they kind of have some mad street food cred. Get a taste of it & their old-school German comfort food w/ a bite of Allgäuer Käsespätzle, traditional handmade noodles slathered in three different cheeses produced on the family's Bavarian dairy farm. You can track down the vintage trailer at Südstern's Saturday market, the Nowkoelln Flowmarkt, Bite Club, and Street Food Thursdays; double check their Facebook page to see where they're headed.