It can hard to keep up with the constantly shifting culinary landscape of Berlin, unless that is, you just happen to have an accessible, informative, and frankly gorgeous-looking guide to the 11 best new restaurants of the year... which you do! Read on for the best almost-dozen new eateries to hit the city this year...
Neukölln
Located in an industrial backlot in Neukölln, the one-time site of a 100-year-old distillery that still pumped out liquor until the 1970s, the setting of Eins44 is surely half its charm. Calling itself "Kantine Neukölln", its industrial design contributes to the feel of a large factory cafeteria feeding the hungry workers. The menu, however, is anything but proletarian. A cauliflower appetizer becomes something special when paired with lemon salt and hazelnut, while Iberico ham with sweet potatoes abuts halibut with lavender and buckwheat.
Charlottenburg
French food in Berlin tends to be overpriced and stuffy, or still just too German in taste, but Lamazère hits all the right notes. It's located in a decidedly unhip part of town (just across from the S-Bahn Charlottenburg stop in Western Berlin), but foodies from all over the city have been making the commute to experience Régis Lamazère's oeufs cocotte, cassoulet, confit de canard, and rillettes du saumon.
Mitte
We know, we know, not another burger joint, right? But this one comes to Berlin after a successful run in Reykjavik of all places, where founder Tómas Andrés Tómasson opened his first outpost in the 1980s and has now expanded to six Iceland locations, two in London, and one in Copenhagen. That probably makes him one of the oldest beef slingers in the business, but the burgers are juicy, greasy, and spot-hitting -- and be sure to get a milkshake; Tommi's is one of the only places in Berlin selling the real deal: thick, dense, and delicious.
Kreuzberg
Named as a playful complement to Prince Charles, the popular club next door, Parker Bowles is the latest restaurant to take up the cause of neue Deutsche küche or "new German cuisine". That means inventive takes on German and Austrian standards using fresh, local ingredients. Clever dish names like "Welcome to Vienna" (Wiener Schnitzel of course) and "Jean-Jacques - Scallop" add to the charm, and their recent addition of a very colorful, very tasty Latin-themed brunch called Papi Crunch is not to be missed.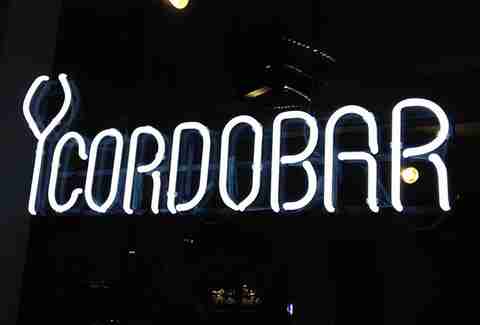 Mitte
This one calls itself a wine bar, but don't be fooled: alongside its encyclopedia-sized list of vino from around the world, Cordobar is also serving up some of the most exciting, innovative, adventurous cuisine in town. Think vanilla-marinated tomatoes that come in their very own Campbell's soup can (Warhol would be proud), grilled Brussels sprouts paired with smoked eel and a piquant liquorice syrup, or intense smoked ice cream with black currants and ginger served... in an ashtray. The owners are enthusiastic wine experts who will guide you through their collection -- many bottles are displayed on shelves or peeking out of cupboards mounted on the walls -- without once overselling or trying to point you towards the most expensive bottles. A daily list of their recommendations, almost all of them €30 or less, is a great place to start.
Prenzlauer Berg
Like in most big cities, Japanese in Berlin usually means sushi -- or some rather sad variation on it. Not so at Hanage, which serves up the beloved Japanese snack called okonomiyaki. Somewhere between a pancake and an omelette, the okonomiyaki can be customized with any number of delicious umami toppings. Egg, leek, scallion, minced meat, kimchi, and a number of sauces are just the beginning; if the rather large pancake doesn't fulfill your cravings, you can also order fried chicken on skewers or onigiri rice balls. Then, there's ice cream and mochi for dessert.
Prenzlauer Berg
Shan-Shan combines some of the most authentic Chinese around -- Nanjing specialties from a Shanghainese chef -- with something else insatiable foodies like best: a secret location. Well, not exactly a secret, but rather an unexpected surprise, Shan-Shan is actually the restaurant of a pretty nondescript guesthouse in Prenzlauer Berg, serving up breakfast to weary travelers every morning. Call ahead to order the authentic Chinese feast, then swallow your skepticism as you walk into the City Guesthouse Pension Berlin (if that is its real name) and prepare to be amazed.
Kreuzberg
Nudo takes its inspiration from the largely undisputed fact that Italian food is best when it is simple -- and made from the freshest ingredients, of course. The restaurant's menu changes every night depending on what's available, and, it must be stressed, there is only one menu: four courses for a very reasonable €25. This place isn't for the picky eater, but actually, it is perfect for those who have high expectations when it comes to authentic Italian. Rejoice at the paper-thin octopus or beef carpaccios, the tagliatelles with seafood or truffles, and the tagliata di manzo, an Italian sliced beef dish that, by all rights, should cost more than €25 all by itself.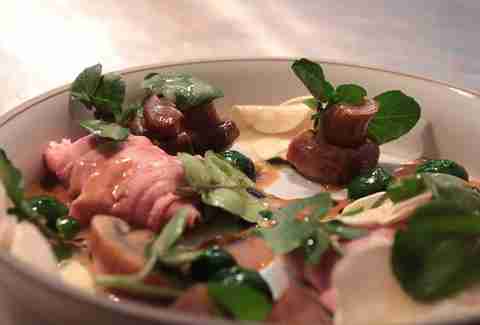 Schöneberg
Martha's focus is on farm-to-table, employing German ingredients, most of them local, to create some of Berlin's most forward-thinking plates. Playful appetizers include duck "sashimi", a poutine made with kimchi jus, and octopus with crunchy chorizo and a lovage aioli. A dish of homemade noodles is topped with braised ox cheeks, oyster mushrooms, and a poached egg, and the cod appears encased in a light tempura batter and sprinkled with paper-thin radishes and wild herbs. Accompanying it all is an impressive wine list of mostly German and Austrian bottles.
Mitte
Making vegan headway in a city where the wurst still reigns supreme, and in a country that boasts a truly astonishing amount of pork consumed per capita, DALUMA offers cold-pressed juices, smoothies, and healthy vegan dishes in a calming, white and wood interior just around the corner from Weinbergspark in Mitte. As you might guess, there's a lot of talk of "superfoods" here, and patrons can get quinoa or lentils topped with a number of fresh vegetables and herbs, or a salad with homemade dressing and a shot of aloe vera or wheat grass on the side.
Charlottenburg
Sure, Berlin's done Israeli before, but never with quite this big a bang. Housed on the top floor of the 25hours Hotel, which anchors the new Bikini Berlin concept mall in the suddenly hip Zoo area, NENI offers upscale Israeli cuisine with an unbeatable view over the city's rooftops. Oriental-style pickled salmon and tuna fish sashimi share the menu with Israeli classics like baba ganoush and homemade falafel, but it's the hummus that really shines: presented on a three-tiered plate, three types of hummus come plain and creamy, a lovely purple color spiked with red beets and horseradish, and a deep golden yellow with curry and mango.