Martina Trovato
Martina Trovato
It's been a monumental year for Berlin's restaurant scene. Multiple venues explored uncharted territory and broke ground with new and interesting concepts. Gluttonous pop-ups and feasting events sprawled throughout the city. All-nighters were held with shared plates and bottomless booze (followed by hangover brunches... and more booze).
Chances are you've had one or more of the above experiences at one of Berlin's intrepid new restaurants that opened in the past year. And if you haven't, fear not. Below we've listed them out for you. In no particular order, here are Berlin's best restaurants that opened in 2016.
Neukölln
Opened in August, Berlin's first dessert bar is dazzling diners with its tasting menus supported by experimental, highly stylized cocktails. You can also order a la carte, and just because final courses are the only option here don't expect a sugar bomb spread. Head patissier René Frank -- formerly of the three Michelin-starred Restaurant la vie in Osnabrück -- employs natural sweetness from fruits and veggies, fused with unusual ingredients such as fermented tofu and black garlic.
Mitte
Einsunternull opened fairly quietly, but quickly grew to critical hype. And even made the Michelin guidebook, earning its first star this month. Following in Berlin's trend of highly seasonal and regional restaurants, this Mitte eatery upped the ante by going even more experimental -- strange seasonings from ramson to anise, and unheard of plates such as three-day cooked beetroot flavored with elderberry and rose. Understandably it's a pricier menu, with the evening six-course starting at €77.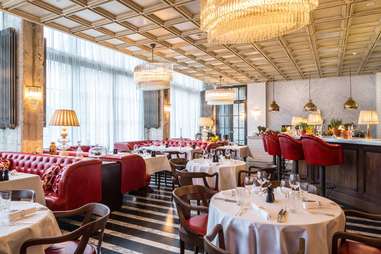 Mitte
A visit to this Italian fine dining restaurant (one of Berlin's best) never disappoints, thanks to its upscale comfort food and a cozy, stylish interior. Settle into a plush red leather seat, and choose from a generous wine menu and a list of satiating pastas, pizzas, and salads. The classic calamari, roast pumpkin and goat cheese salad, and the lobster spaghetti (featuring a perfect kick of chili) are all, quite simply, amazing.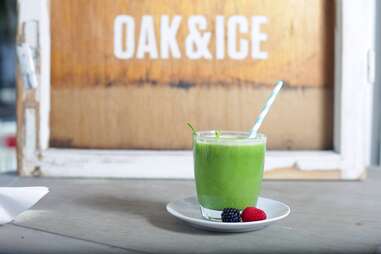 Prenzlauer Berg
Despite doing very little marketing, this café was raved about amongst food blogs this summer for its ice creams, with ingredients and flavors that ranged from vegan and sugar-free to gorgonzola and buckwheat. Scoops will be available through winter too, and Oak & Ice also started offering weekend brunches cooked by Little Joy (think healthy but indulgent, from super power porridge to roasted cumin cauliflower). Watch Facebook for regular supper clubs and vegan pop-ups from well-known Polish chef Julia Bosski.
Kreuzberg
Lode & Stijn, a pair of young Dutch chefs, have created a contemporary bistro as multicultural as Berlin itself. The menu is made up of fresh, seasonal delights influenced from the various European kitchens the duo have separately worked in. Pavlova cake, beer tartar, and of course the signature Dutch bitterballen are a few options from the bar snacks and four- and six-course tasting menus. It's also one of Kreuzberg's more contemporarily designed restaurants, with an open kitchen, shiny wood decor, and not a decrepit flea market table in sight.
Kreuzberg
Soup is finally having a starring moment at The Panda Noodle, a new pan-Asian ramen joint located centrally in Kreuzberg at Lausitzer Platz. Build-your-own bowls start with noodles and can be gussied up with a variety of toppings and sauces from miso to kimchi, tofu avocado pickle salad, sesame sauce, and more (most of which, is vegan-friendly). With plastic lights and anime/Asian pop posters everywhere, it's the perfect kitschy kudos to authentic street food hawker stands.
Kreuzberg
Gone are Berlin's days of jellies from mediocre bakeries. Brammibal's opened its brick and mortar artisan donut shop in May, after traipsing the street food market circuit. Donuts are vegan and gluten-free, and come in funky flavors such as matcha, salted caramel hazelnut, and banana peanut butter. Watch Facebook for updates on what's coming fresh out of the oven, and the odd all-call for half-priced "leftovers".
Prenzlauer Berg
Opened last month by a founder from hummus haven Yafo, Mrs. Robinson's marries a sit down gourmet experience with two of Berlin's most current foodie trends -- bao buns and sharing plates. This Asian-inspired restaurant goes one better than the craze however, with a simple but indulgent list of multiple baos (deep-fried soft shell crab and buttermilk fried chicken) and rotating specials such as soft oxtail gyozas and edamame ice cream.
Schöneberg
Panama's menu -- fresh regional food with Latin flare, as the name suggests -- is solid, but why you'll really go is for a tropical escape that's provided by its interior. Opened in summer, Panama ranks as one of Berlin's most beautiful restaurants with an "urban garden" vibe that's certain to stay popular as temperatures dip. Spread over two floors of a former factory building, its design is rich and carefully thought through, from a multitude of lush exotic plants to colonial-style wicker furniture and yellow splashes.
Neukölln
Big Sur is the new incarnation of Gorilla Barbeque's popular food truck. But there's so much more at this restaurant-cum-bar than the fully-loaded burgers spotlit at local food events. Big Sur's rustic, California-inspired menu includes buttermilk chicken, epicurean salads, and a weekend brunch menu of poached eggs and more to assuage any hangover. Starting January, Big Sur will be open late six days a week.
Sign up here for our daily Berlin email and be the first to get all the food/drink/fun in town.