Berlin Berlin is within a three-hour flight of over 35 countries, but sometimes that's a little too much to ask. After all, you can eat the best from virtually any country on the planet without leaving town. When you want to take your tongue on a world tour, here's where to go... More Stuff You Will Like
Recommended Video
Acquired Taste: Blood Rice Cakes With Timothy DeLaGhetto and Justina Valentine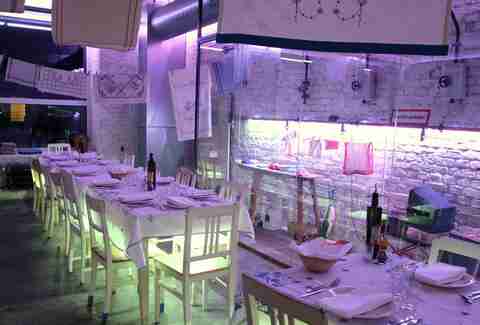 Neukölln   What you're getting: Set menu Sure, there are loads of Italian spots in Berlin, but none that offer the surreal, semi-secret atmosphere, the convivial vibe, and the amazing deal of Lavanderia Vecchia. Set in an old launderette (hence the name) in a back courtyard in Neukölln, this place offers endless plates of delicious appetizers, a pasta course, a fish or meat course, and coffee, dessert, a digestivo, and half a bottle of wine, all for less than the wine would cost you in many restaurants. The open kitchen and cavernous space festooned with aprons, handkerchiefs, and all manner of vintage linens complete the experience. Continue Reading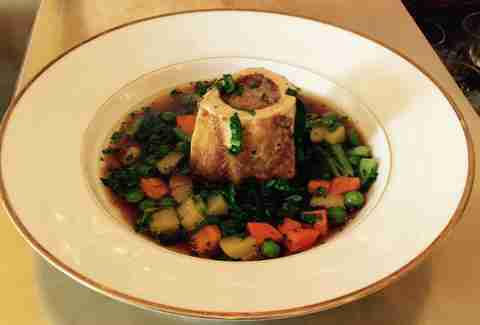 Charlottenburg   What you're getting: Oeufs cocotte Let's face it: French food can be dull, even in France. Credit Régis Lamazère for bringing the talent of his father, famed French chef Roger Lamazère, to the city of his mother, a born Berliner. Red wine flows abundantly here, and the fish, pork, and entrecote plates are simply stunning, but you won't start with anything other than the oeufs cocotte -- a little pot of baked eggs and chives -- if you know what's good for you.
  Friedrichshain   What you're getting: Tacos de nopal con queso or tacos arbacoa Expats have long bemoaned the lack of good Mexican food in the German capital. A while ago, Maria Bonita came along and introduced Berlin to good Mexican food. If Maria Bonita introduced it, however, then AGÜEVO! perfected it. A long list of mezcals and a tall, cool michelada bring the festive atmosphere and keep the party going, but it's all about the authentic food at this place, with tacos, quesadillas, and sopes filled with lamb, pork, or cactus, and finally -- finally -- chilies that actually pack a punch.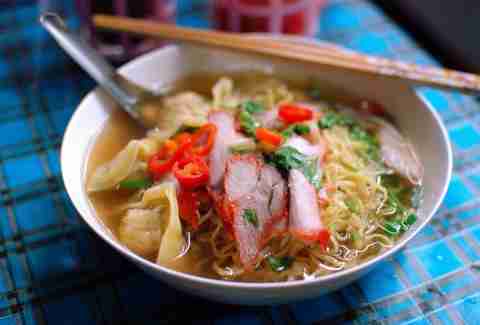 Charlottenburg   What you're getting: Green papaya salad and a curry This place doesn't look like much from the outside. In fact, it doesn't look like much from the inside either. Basically a glorified cafeteria with unadorned tables and extremely low lighting that does anything but make you want to stay awhile, this place just happens to serve the best Thai food in town. It's fresh, super spicy, and varied -- just point to the things that look good and ask what's best. They'll warn you that everything is too spicy for you, but pay them no mind. And always have the green papaya salad.
  Prenzlauer Berg   What you're getting: Bhelpuri salad and keema matar dosa The first (and to date only) restaurant to bring a semblance of authenticity to a city full of creamy, bland "curries," Chutnify is great with the flavors, even greater with the prices, and has a stylish, creative, and colorful interior to boot. The bhelpuri salad with puffed rice, peanuts, and pomegranate seeds is a revelation if you're used to Berlin's drab salads, and the keema matar dosa with minced lamb, green peas, and a selection of chutneys is that perfect mixture of savory and sweet. Make sure to get a kulfi ice cream for dessert.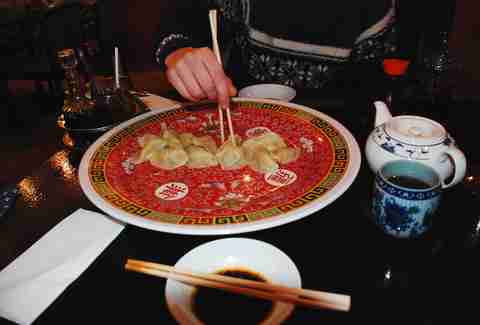 Prenzlauer Berg   What you're getting: Plates of 20 or 40 jiaozi Everyone knows when you just want dumplings -- and lots of them -- you head to this unassuming corner spot in northern Prenzlauer Berg. A decade in, Wok Show shows no signs of abating, or of declining in quality or upping its prices. Plates of 40 jiaozi dumplings still cost less than 10 euros, and the divine fillings include pork and celery, lamb and spinach, and a lovely vegetarian mixture with egg. The kicker is the black vinegar for dipping -- so good you could drink it straight. Come with 10 people, order at least four plates, and be prepared to order four more.
Best Japanese: Sasaya
  Prenzlauer Berg   What you're getting: Sushi There's a reason it can take weeks to get a reservation at Sasaya: it serves the best sushi in a city not known for good fish. A smattering of creative rolls pad out the classics. Then there are small plates like roast beef rosa and marinated eggplant, as well as the standby soba and udon noodle soups. What makes Sasaya special, however, is not just the fresh, expertly crafted sushi and the excellent flavor combinations, but also the comfy, Japanese-style window booths that encourage you to relax and enjoy a slow, languorous, special experience.
Best American: Mogg 
  Mitte   What you're getting: Pastrami sandwich The former Mogg & Melzer has now turned into Mogg, but the menu of this American-Jewish delicatessen hasn't changed. That means it's still dishing out some of the most amazing comfort food in the city, like the sky-high Reuben, the pastrami sandwich big enough for two, the matzo ball soup, and the Israeli breakfast staple shakshuka. Unlike most so-called sandwich shops in Berlin, which add one slice of meat or cheese to a stale roll, along with a wilted piece of lettuce, Mogg does it right: packing its sandwiches so chock-full of home-cured meat you can barely get your mouth around them. But do try -- it's worth it.
  Charlottenburg   What you're getting: The set menu for two or three people What started out as a dirty storefront concealing a hole-in-the-wall restaurant in Wedding has become a dirty storefront concealing a hole-in-the-wall restaurant in Kreuzberg and a huge, cafeteria-style space in a brutalist building in Charlottenburg, of all places. The food, however, remains the same: authentic, greasy, spicy, and entirely satisfying. Get the set menu for two or three people (there's a good chance that even if you're four people, it will be enough for you) to taste specialties like kimchi pancakes, Korean fried chicken, bibimbap, and bulgogi all at once. Followed by self-cooked Korean BBQ for dessert, of course.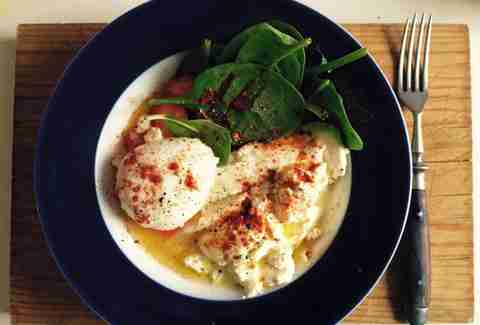 Best food truck: The Future Breakfast Various locations
What you're getting: Eggs Benedict

Getting a decent breakfast in Berlin has become easier lately, but trust The Future Breakfast food truck to really perfect it. By their own admission, the owners base their offerings on exactly what they would want to eat after a hard night out, and there's nothing better than enjoying their perfectly poached eggs (still a rarity in Berlin) dressed up with market-fresh ingredients like pickled fennel, smashed tomatoes and sorrel pesto, or wild mushrooms.
  Prenzlauer Berg   What you're getting: The lunch special Let's face it: Berlin isn't really an expense account kind of city. Nevertheless, Filetstück manages to fill a certain high-end niche without all the pomp and circumstance that would accompany a steak meal in a more expensive city. Its cuts are truly top notch, including Irish, Pomeranian, and Freesian dry-aged beef, and its wine list well curated. The lunch special (for the non-bankers among us, which in Berlin means everybody) is a steal at less than 20 euro for the steak of the day, a side dish, and a drink.
  Mitte   What you're getting: The three-course menu If you're looking for a high-end, meat-free meal in Berlin, Cookies Cream was, is, and hopefully always will be the place to go. Although the club downstairs has now closed, the restaurant is still in full swing, dishing out inventive dishes with unusual ingredients like Parmesan dumplings, seaweed caviar, and fermented cucumber. Get the very reasonable three-course menu to taste a dish from each section of the menu, or if you're really hungry, the four-course classic menu. One thing's for sure: you'll never see plain old ordinary tofu at this veggie temple.
Best burger joint: The Bird
  Prenzlauer Berg   What you're getting: Da Woiks burger The burger trend has really exploded in Berlin, but the one that started it all is still doing it best: with its established Prenzlauer Berg and newer Kreuzberg locations, the Bird is still setting (cholesterol-clogged) hearts aflutter with its premium German beef patties on an English muffin, graced with indulgent toppings like cheese, bacon, onions, and mushroom (our favorite, Da Woiks). Come for the burger, stay for the inevitable party that results when the waiters decide everyone in the joint needs a free shot... or several.
Sign up here for our daily Berlin email and be the first to get all the food/drink/fun in town. Giulia Pines is a Berlin journalist who has made herself insanely hungry by writing this. Follow her at @GiuliaPines.