The official Berlin steakhouse power rank
Germans in general are famed for their love of the noble hog (in all things schnitzely, wursty, and Eisbein-ey, which is pork knuckle by the way, and it's delicious), but everybody loves a good steak, and these seven spots are where Berlin's savviest meat-seeking denizens go when they're after a bovine upgrade, all power-ranked for your pleasure.
Katherine Sacks
7. The Bird
Prenzlauer Berg
This Prenzlauer Berg joint is a cult fav w/ American expats & those looking for a good ol' fashion Yankee-style steak. The beef comes via Iowa's cornfields, giving it that GMO crave-worthy flavor & dry aging for 30 days = a perfect tender bite. The place is also insanely popular for their (deliberately) super-greasy burgers.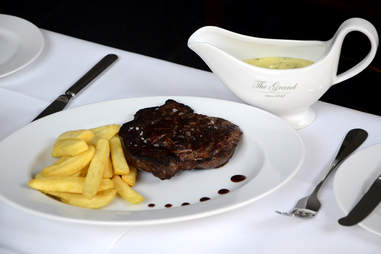 The Grand
6. The Grand
Mitte
This beautifully laid-out 170yr-old chow-house uses an American grill fired up to 800°C to instantly scorch the protein, giving it "perfect caramelization". They don't import the Iowan corn-fed, but you can sample beefs from the Alps, Ireland, Canada, and Australia instead.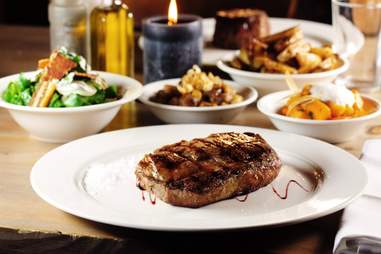 Filetstück
5. Filetstück
Prenzlauer Berg
One of Berlin's top choices for meat, this tiny 26-seat resto offers a fine-dining take on steaks, but chandeliers & fancy bar aside, the place still has plenty of the city's relaxed vibe. The menu is heavy on the bovine w/ a rotating filet of the day to back up a tentpole menu of three week dry-aged rumps, ribs, and entrecotes.
Katherine Sacks
4. FleischLust
Prenzlauer Berg
With a name that literally means "meat-lust", the motto at this lounge-like restaurant is "grill'n chill" (which thankfully refers to a general attitude, rather than an actual cooking technique). The vibe is understandably pretty laid back, w/ a DJ on the weekends & a two-for-one cocktails happy hour daily. The cow cuts come by way of an American chef, and their T-bone weighs in at an impressive 500 grams.
Brooklyn Beef Club
3. Brooklyn Beef Club
Mitte
Forget about medium or (shudder) well done. This steakhouse channels the attitude of the namesake NY neighborhood w/ their own temperature-scale, done by color. So, order the beef (aged U.S. farm-raised Black Angus, no less) pink, red, or dark red, which they'll call "blue" just to further confuse the issue. The bar's slinging 170+ whiskeys, and their wine list is all-Napa.
To Beef Or Not To Beef
2. To Beef Or Not To Beef
Schöneberg
Despite sounding like the semi-philosophical musings of an angry rapper, this west Berlin spot is actually an Italian-style steakery, with beef imported from the famous Tuscan butcher Dario Cecchini. Skip the classic sirloin steak & expand your steaky horizons with the Panzanese; a tender cut from the inside of the leg, and one of the reasons this place is so far up the list (alongside the sleek interior, the delicious Italian wine, and the heated slates the steak is served on to keep it warm).
1. Grill Royal
Mitte
Grill Royal gets points for its celeb appeal (George Clooney & Matt Damon are fans), the mod art décor, Spree River location, and the Bond-esque classy feel of the space. The restaurant also boasts one of the largest selections of steaks in Berlin, including beef from Argentina, Australian Wagyu, and Omaha Angus -- for the best experience, Chef Michael Böhnke suggests ordering several different cuts/types of meat for a taste-test comparison.