When the very word Berliner means donut, you know food is going to be important to the city -- so we took a deep dive into the café culture, artistic flair, nightlife, and large international communities of Germany's capital to find the best eight restos it has to offer…
Recommended Video
Please Don't Hang Up: The Best Things to See, Eat, and Do in Seattle, WA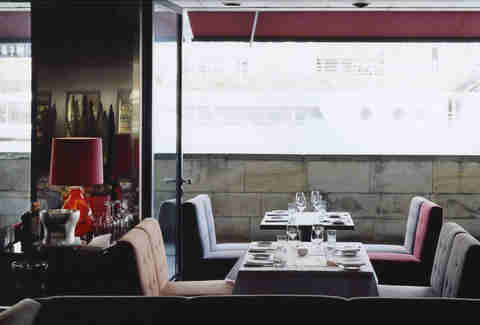 Grill Royal Friedrichstrasse 105b; +49.30.28879.288
The place locals profess to loathe (while nonetheless packing into) and visitors are dying to try, this snazzy steak-and-fish house is the starring figure in restaurateur Boris Radczun's empire. The pop art décor, aged steaks, and Spree River-side location is a favorite with the likes of Clooney & Damon.
Restaurant Tim Raue Rudi-dutschke Strasse 26; +49.30.25937930
If you're looking to impress, this is the place to do it -- Chef Tim Raue is one of Berlin's favorite foodie rag-to-riches stories (having worked his way from a '90s street gang to 2 Michelin stars), and his pan-Asian restaurant near Check Point Charlie is just the right amount of cool. For the ultimate in baller, book the Krug Table, which of course pairs the chef's tasting menu with copious amounts of Krug Champagne.
Max und Moritz Oranienstrasse 162; +49.30.69515911
For a taste of Old World German cuisine, head to this Kreuzberg restaurant, which has been serving traditional fare like Wiener Schnitzel and Eisbein (pork knuckle) for 100-plus years. Wash it all down with the house lager, Kreuzberg Molle. Having survived both World Wars, the building drips with German kitsch, from the century-old furniture to the deteriorating artwork; the evening gypsy jazz band performances add to the allure.
Borchardt Französische Straße 47; +49.30.81886262
This brasserie has been attracting the power dining elite since opening in 1853 (World War II blasted the original location, but the restaurant quickly resurfaced in a reconstructed location next door). The menu of schnitzel, steaks, and raw bar selections is served in the stately 150-year-old restaurant space which inludes marble columns and restored mosaics. The Gendarmenmarkt location is a favorite with everyone from Barack Obama to Mick Jagger, and's therefore the perfect place to get sticky fingers.
Kimchi Princess Skalitzer Straße 36; +49.030.1634580203
Inspired by Korean street style, this dark restaurant is like an underground fortress of Asian deliciousness. If the exposed ceilings, neon lights, and metal stools don't feel urban enough, the barbecues -- small propane cookers brought tableside -- ought to do it. In case you don't want to shell out to DIY Bulgogi, the Japchae noodle salad is pretty rock-star, and for a quicker bite, you don't even have to cross the road to find sister restaurant Angry Chicken (it's next door), where you can chow down on their ultra-spicy wings.
Cocolo Ramen Gipsstrasse 3
This tiny ramen spot (set inside sushi-slinger Kuchi) handles some of the finest Japanese in Berlin -- the small tasting bar offers only a handful of seats, and there's always a line, but the place garners a cult following for good reason: the mostly ramen menu is fantastic. Try the earthy Miso, the spicy TanTan, or the mother of all pork goodness, the Tonkotsu.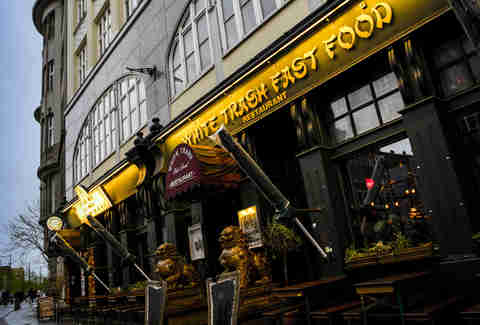 White Trash Fast Food Schönhauser Allee 6-7; +49.030.50348668
Not only does this Prenzlauer Burg resto offer a menu of gigantic, gloriously stuffed, artery clogging burgers, the spot doubles (triples?) as a tattoo parlor, cinema ("where you can smoke"), and club with an endless rotation of live shows, DJ nights, parties, and over 400 bands a year. Don't be confused by the Chinatown décor outside the entrance -- it's part of the Quentin Tarantino-esque campy style. Menu highlights include their "gay French farmer" smoky pea soup, and the Marquee de F**k burger, which allows you to get sadistic with your own gut with its combo of Raclette cheese, bacon, and cornichons.
Big Stuff Smoked Barbecue Eisenbahnstraße 42-43; +49.030.01636290413
Truly dedicated to the smoke, the Big Stuff team tore a hole in the Markethalle Neun hanger ceiling to install their state-of-the-art Southern Pride smoker, which pumps out glistening pulled pork, pork belly, and beef brisket over the weekends. The lines cue up fast and furious for this Kreuzberg favorite, so get there early.
Sign up here for our daily Berlin email and be the first to get all the food/drink/fun in town.