So, breakfast in Berlin is kind of a big deal, partly because of the crazy awesome club scene (necessitating huge, hangover-assuaging morning meals), and partly because of the amazing beer scene, necessitating huge, hangover-assuaging morning meals. Nobly helping the capital's denizens sort the wheat from the chaff, we tracked down the city's finest breakfast spots.
For an impressive breakfast tower:
Anna Blume
At this Prenzlauer Berg favorite, the brunch arrives on a three-tiered tray brimming with marinated veggies, meats, and cheeses, plus a substantial portion of scrambled eggs. Also? There's a cake display. For breakfast.
Café am Neuen See
Ease your tired eyes with the picturesque setting of the Tiergarten and the Neuen See (that's "lake" in German), while easing your empty belly with a massive breakfast tier, stocked full of jams, spreads, cold cuts, cheeses, and some soft-boiled eggs. Added bonus -- after breakfast, you can ride around the lake in a rowboat.
Café Napoljonska
Offering a slightly more manageable two-tiered tray, this spot's breakfasts are just about delicious enough to compensate for the fact that the walls and tables are all pink.
For some old-school charm:
Café Einstein Stammhaus
If you're looking for crazy professional, just-the-right-side-of-snooty waiter service, the smart money's on West Berlin's Café Einstein Stammhaus, a fav of morning-meal-connoisseur, Oskar Melzer. They've got a serious breakfast tray, delicious omelets, and a full bar with a morning-available cocktail list, if you're feeling frisky.
Cafe Wintergarten im Literaturhaus
Just around the corner from West Berlin's ritzy shopping street Kurfürstendamm is the Literaturhaus: a repurposed turn-of-the-century villa that doubles as a bookshop. Choose between the serene, headache-friendly garden courtyard or the atrium dining room for breakfast options that include the standard mix of meats, cheese, and eggs, as well as waffles, smoked salmon, and seasonal specials.
Café Rix
This 19th-century Neukölln ballroom was restored in the '80s into a restaurant, but you can still get that Old World feel during breakfast in their leafy courtyard or in the gold-stuccoed dining hall, from which brunch (including their special, consisting of Parma ham, turkey breast, salmon, coppa, emmentaler, mozzarella, cooked egg, honey, marmalade, and a baguette) is served until 5p. Finally, someone who gets it.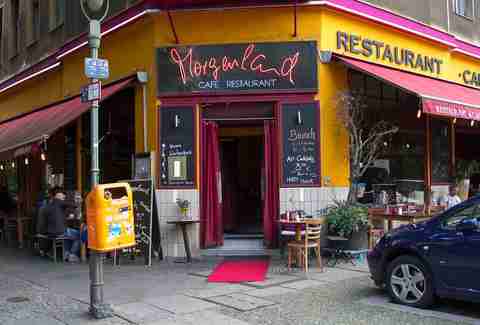 If you want to go all out buffet-style:
Café Morgenland
Kreuzberg's Café Morgenland has a reputation as the city's best brunch because it totally puts out (an amazing spread). Expect a variety of exotic dips, eggs, and lots of flatbread at this Turkish/Middle Eastern spot, which constantly replenishes the Sunday brunch table. Reservations are pretty essential, unless you want to go super early and get in line.
Schwarze Pumpe
For a decent spread of cheese, breads, and muesli, plus some scrambled eggs and speck (German bacon, which is far bigger than the name suggests), Schwarze Pumpe offers all of this for a mere 5€ on Sunday, and completely beats anything else you'll find for that price. Tucked off a quiet street not far from Rosenthaler Platz, it also turns into a neat dive later on in the day.
Pappa e Cicca
It's a bit pricey, but this Italian resto offers a popular Sunday brunch w/ all-organic chow and a variety of antipasti, Italian spreads, and eggs cooked to order, as well as ethnically sourced meats & fish.
For Bavarian Treats:
Brezel Company Berlin
As the name suggests, this place can't spell pretzel pumps out the warm doughy treats Southern Germany is best known for, as well as regional classics. Try the Weißwurst: two sausages swimming in a mild broth and topped with a bread knot (sure, it sounds odd, but it's legitimately delicious).
Alpenstück Bäckerei
Next door to their fancy restaurant of the name same, the Alpenstück bakery offers up delicious baked goods from Southern Germany & Austria -- along with sweets, tarts, several breakfast trays of meats and cheeses, plus those awesome pretzels. It's also one of the only places in Berlin that you can find the tasty Hamburg specialty Franzbrötchen, which is a sort of flattened cinnamon roll that will do nothing to help flatten you out.
Schwarzwaldstuben
The kitsch level is cranked to 11 here, with a dining room filled with deer statues, woodland knick-knacks, and other Black Forest junk, but they also specialize in Swabian cuisine (Southern German & Austrian goodness), and for breakfast, that means sweet brioche rolls, big bowls of bircher muesli, and more of those platters of meats and cheese. Man, no one in this country has heard of Froot Loops.
And a little bit of American flavor:
California Breakfast Slam
This Neukölln spot throws out ridiculous takes on favorite flavors, like Rocky Road pancakes, a Bacon & Banana Marshmallow Fluff sandwich, and deliciously normal Huevos Rancheros.
Atlas Pancakes
When you're sick of the meat/cheese/bread platters, this place will take care of you with fluffy pancakes, scrambled eggs, and breakfast burritos. This Kreuzberg café doubles (triples?) as a gallery and music venue, which means brunch can easily turn into the rest of your day's fun.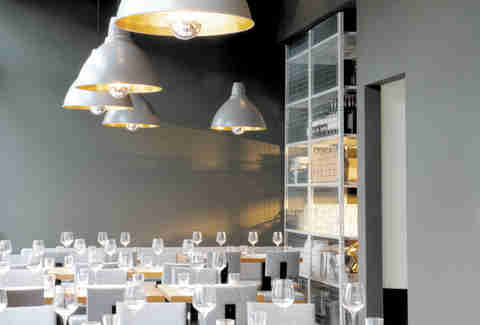 Chipps
From the owners of Berlin's favorite underground club and veggie resto Cookies/Cookies Cream, this place is the go-to for eggs Benedict, omelets, and pancakes.
Sign up here for our daily Berlin email and be the first to get all the food/drink/fun in town.