Germany's capital is notorious for doing quite a number on the ol' physique. What else do you expect from a city that thrives on nightclubs, greasy but delicious kebabs, and sitting on benches all day pounding beer? But, believe it or not, Berlin is one of Europe's best cities for eating healthy. Just about every restaurant in town has various options for vegetarians and vegans alike, and there are even a few clean-eating and raw food spots that have recently opened. Here are the best places for getting your Berghain bod back while staying completely sated:
Friedrichshain
Berlin's first clean-eating restaurant is famous for doing vegan bowls that are anything but dainty. Breakfast and lunch are essentially heaps of colorful and organic ingredients. Take the California Bowl, for example; a pyramid of sliced avocado, fried sweet potato, lemon quinoa, and apple-carrot salad slathered in coriander salsa and superfood dressing.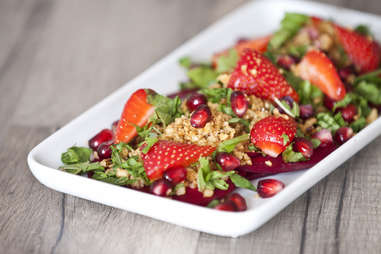 Prenzlauer Berg
If you haven't had a taste of the raw food trend yet, it's time to mosey over to P'Berg, Berlin's first fully raw vegan restaurant. Even the "well done steak" crowd will find something tasty to get into here, from smoothie bowls to smashed avocado on buckwheat. If you're ready to jump right on the bandwagon though, the gluten-free pizza with cashew cream cheese, mushrooms, and hemp seeds is delicious -- or try the €14 tasting plate, with five mains served tapas-style.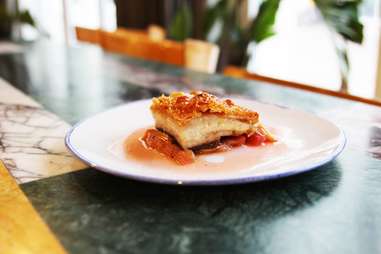 Mitte
The Store is one of Berlin's best daytime hangouts for numerous reasons. It has big, comfortable sofas that are perfect for work, as well as an all-day menu that's always pulling new surprises. Tack on a juice bar, indulgent brunch options (the English muffin with poached eggs, bacon, greens, and house-made hot sauce is a definite game-changer), and rotating soups and salads, and it's no wonder that even Soho House members end up hanging out here on the ground floor all day.
Mitte
This Friedrichstraße restaurant was the first in Berlin to make vegetarian cuisine less granola and more sophisticated and sexy. It's three-course gourmet menu starts at €44, and is served in a dimly lit basement with white tablecloths, slick art, and industrial touches. Dishes change according to what's fresh and seasonal around the region, but the Parmesan dumplings are always a mainstay to look forward to.
Mitte
Pantry's good for some of Berlin's most adventurous and sustainable gourmet dining. Its specialty is Iberian-Pacific dishes with a little German and Asian flair. So when you see a dish called "Red Velvet" on the menu, be aware it's not iced cake but a smooth curry coconut soup with crayfish and veggies (although that's probably for the best anyway). Dishes are light and fresh, with lots of wild herbs and roasted nuts, and filled with fresh fruits like pomegranate and pomelo to brighten up flavor.
Kreuzberg
In the heart of Kreuzberg, mere steps from Schlesi, this vegetarian café offers a bunch of healthier takes on all the fatty street food nearby. It even has a vegan currywurst! What Rootz is best known for is its renowned vegan baking and high-piled veggie burgers, although there's also a cheesy quesadilla loaded with corn, red pepper, and broccoli that's pretty rad too.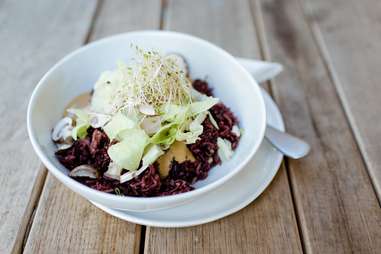 Mitte
Daluma is Berlin's hipster detox headquarters, with a wide spread of clean meals, snacks, and desserts you can feel good about wolfing down. Here you can design your own beautifully layered acai bowls, breakfasts, and salads by choosing between pasta, lentils, and so on with toppings like almond-lime, tomato, and herbs. For brownie points, get your munchies to-go and enjoy them picnic-style on the sprawling greens of Volkspark am Weinberg.
Kreuzberg
Viasko's a Berlin institution -- a rustic basement with wood furniture and the best damn vegan buffet table you've ever laid eyes upon. For €13, dig into a plate of cooked (and raw) salads, tiny sandwiches, dips, vegetable lasagna, cakes, and more… and then score seconds, and thirds, and so on. Because it's such a hit, reservations are a must.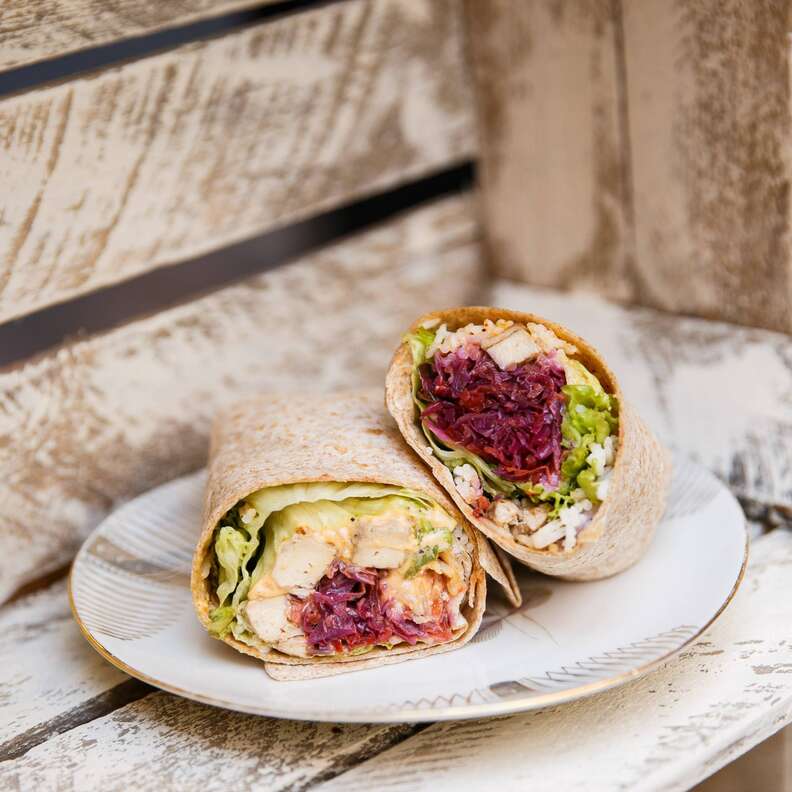 Friedrichshain & other locations
Berlin's biggest veggie café chain -- with its four locations -- always hits the spot. Its salads make for the perfect grab-and-go, as they're served in plastic containers with layers of quinoa, chickpeas, and tons of other vegetables. Its main location is right on Warschauer Straße, just a short walk from the station and Berghain -- because nothing speeds up recovery from a 12-hour techno party better than a detox fruit smoothie.
Sign up here for our daily Berlin email and be the first to get all the food/drink/fun in town.