There's a popular German saying that goes, "Berlin is not Germany." Well, we checked a map, and it's true. It turns out there's a lot more to this great country than its capital city, and while you might not see so many facial piercings or billows of weed smoke on street corners, you will still find some stunning restaurants...
Recommended Video
This Burger Has a Pizza Bun
Munich
What you're getting: Dim sum
Of all the fusion cuisines that could work, Bavarian-Asian doesn't sound like one of them. But alas, Fei Scho is proving even some foodie purists wrong. The menu all-stars are steamed dumplings, filled with German meats like schweinekrustenbraten (crispy pork) and pork goulash, and a bunch of side sauces, pickles, and salads.
Frankfurt
What you're getting: Butch
Heroes' homemade, high-stacked burgers and comic book décor have made it a Frankfurt institution among geeks and foodies alike. There are over 30 burgers on the menu (including fancy fixings like fried eggs, guac, and oyster mushrooms), but the classic Butch is always a safe bet.
Baiersbronn
What you're getting: The lunch menu
Baiersbronn may be a Black Forest village populated with 16,000, but it's one of the fine-dining capitals of the world. In 2007, this eight-seat dining room became the second local establishment to land three Michelin stars. Restaurant Bareiss' lunch menu is a €125-a-head splurge that's tough to feel guilty about.
Hamburg
What you're getting: Matsu-Sushi
Master Chef Hideaki Morita's vibrant sushi platters are, as the Japanese would say, the "Plain of High Heaven." Formally trained in Tokyo, Morita has slice-and-dice skills that are certified to even prepare fugu, a poison fish that can be lethal if done up wrong (unfortunately, it's illegal in Germany).
Leipzig
What you're getting: Saxon farmer pan
Auerbachs Keller has been slaying German food and wine since the late 16th century. Goethe was a regular, and even wrote about it in Faust I. Today, Auerbachs falls on the touristy side but quality persists. Try the traditional Saxon farmer pan served in the dining room Großer Keller. The dish consists of potato-sauerkraut gratin tossed up with apple, pepper, and marinated pork neck steak.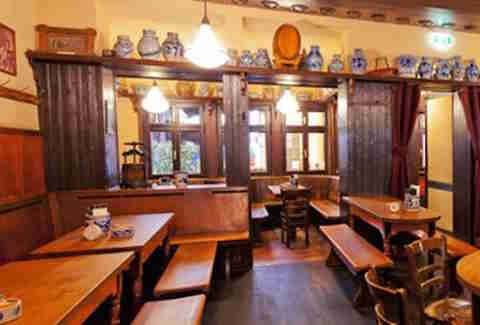 Frankfurt
What you're getting: Apple wine
Get whatever schnitzel and sausage you want here, but dear God, don't forget a cold stone jug of apfelwein. There's no beer at this rustic wooden inn and if you even try to order it, prepare for a scolding (and everything does sound scarier with a German accent).
Munich
What you're getting: Grilled avocado
Although Berlin's got the national monopoly on good vegan restaurants, Gratitude in Munich brings serious competition. Its anti-minimalist portions are amazing, like the signature dish: a big ol' grilled avocado stuffed with fresh organic herbs and veg.
Hamburg
What you're getting: Big breakfast for two
In Café Paris' Art-Deco saloon and butcher's hall, you can enjoy a feast fit for French (and German) royalty. The "big breakfast for two" with cheeses, meats, salmon, bread, fruit, and more is a guaranteed food baby.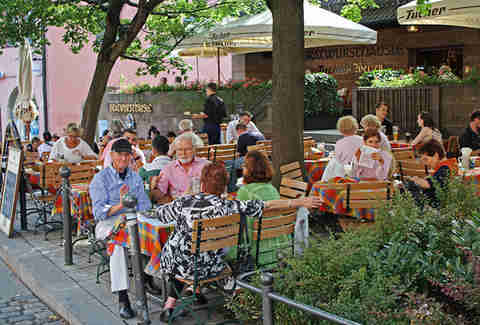 Nuremberg
What you're getting: Original Nuremberg Bratwurst
These roasted sausage links may look like your average Denny's breakfast, but don't let that fool you. Seared on a beechwood grill in sets of six, eight, 10, or 12, the juicy, smoky goodness of these babies is totally unbearable.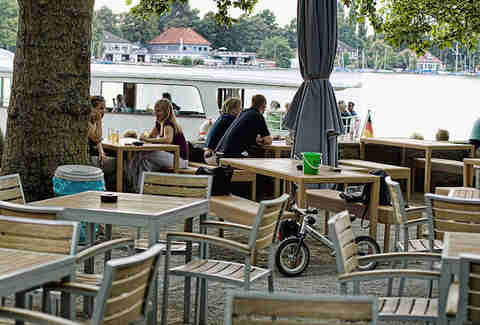 Hannover
What you're getting: Anything fish
This restaurant overlooking the Maschsee is perfect for a romantic candlelit dinner, either out on the breezy outdoor terrace or from behind floor-to-ceiling glass inside. The menu changes seasonally, but the tunafish carpaccio and salmon trout are both terrific options.
Sign up here for our daily Berlin email and be the first to get all the food/drink/fun in town.