Recommended Video
This Fried Bologna Sandwich Is a Southern Classic
Kreuzberg
Cocolo has two locations, but only the Kreuzberg one's opens for lunch -- and good thing too, because diving into one of these savory noodle bowls makes for a pretty spectacular break in the day. Steaming hot and seemingly bottomless, every ramen also includes a free drink between noon and 3pm. Do yourself a solid and get the homemade lemonade.
Neukölln
This homey Neukölln deli does "fast food" that you can feel good about later -- soup, salad, and other warm and cold dishes with vegetarian/vegan options. This winter, look out for meatballs galore including turkey-spinach ones and mini-meatloaves stuffed with cheddar. The lunch boxes and utensils are made from environmentally friendly, biodegradable material too.
Mitte
Get to Sabzi well before its 4:30 pm closing -- chances are all of the daily dishes will already be on the verge of selling out. It's Mitte's answer to a hearty, delicious Persian lunch, so think lots of vegetables loaded into thick sauces flavored with curcuma, almond, and peanuts, always with the offer of a dollop of yogurt.
Kreuzberg
Musashi's interior's not much (unless you're into sumo wrestling, in which case you'll find the wall posters to be delightful) but it does serve some of Berlin's best sushi for a reasonable price. The Vietnamese ladies working here are always smiley and friendly, too, which is a bonus.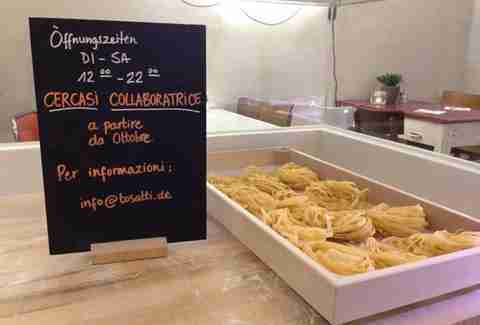 Prenzlauer Berg
This Prenzlauer Berg eatery known for its big storefront window is the ultimate destination for satisfying a gluten craving. Owner Matteo Tosatti makes his yellow pasta fresh by hand every day (no machines used here, folks). There are usually only four dishes to choose from, each topped with a simple sauce that's oh so delicious.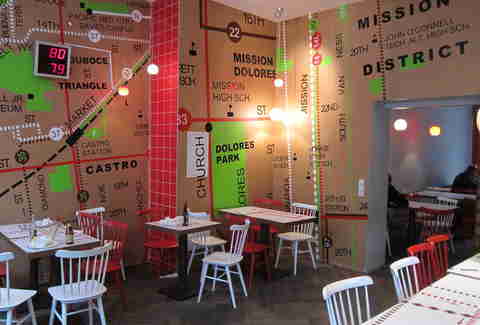 Mitte/Schöneberg
OK, so how Dolores matches up to Berlin's other burrito joints is a point of contention -- but for a quality lunch run, it's got them all beat. The California-themed eatery is always busy (an undertone of techno music also keeps the ambience upbeat), but somehow you'll always somehow manage to get a seat. Promise.
Kreuzberg
This Vietnamese café only offers two lunch specials (there's a regular menu too, but trust us, you want that lunch special), so choosing is always quick and painless. Usually it's a chicken curry with tofu option for vegetarians or a soup or Asian salad, depending on the time of year. That simplicity means you'll never go starving for long after sitting down.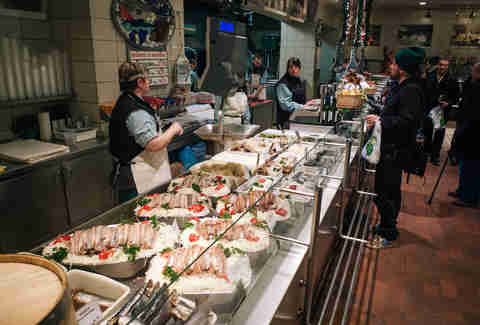 Charlottenburg
Rogacki's lunch counter is an 80-year-old institution (you might even recognize it from the Berlin episode of Anthony Bourdain's No Reservations) that always hits the spot. The ladies in hairnets may not be known for cracking a smile, but after you taste their fish filet, it'll be as the Germans say, egal ("whatever").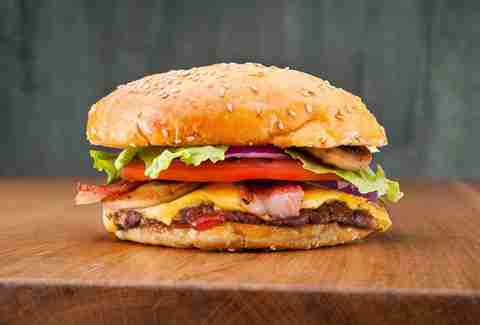 Kreuzberg
Burgermeister is pretty much the most central location for a burger run. Since it's located in the U-Bahn's former toilet, your ETA between exiting and having a hot patty in hand is usually limited to minutes. Unlike some of Berlin's other burger joints, it also tends not to go overboard with the toppings, which can be a good thing on a lunch break: the chance of spending the day with grilled onion stains is considerably minimized.
Sign up here for our daily Berlin email and be the first to get all the food/drink/fun in town.
Barbara Woolsey is a Berlin writer who feels like she's cheating on lunch whenever she has brunch. Watch the drama unfold at @BarbaraWoolsey.