The 9 best Italian restaurants in Berlin
Berlin's Italian scene may not be the best in Europe (that comes from a place a just liiiitle farther South), but it is pretty excellent -- and nowhere is that better demonstrated than at these nine places...
Wedding
The décor at Da Baffi makes this small restaurant feel simultaneously both cozy and strikingly modern. Offering a limited and regularly changing menu means that the chef can use the freshest and most seasonal ingredients, and he takes full advantage -- booking is highly recommended.
What you're having: The menu changes weekly, so get a recommendation (but follow it with their mainstay warm chocolate cake with a liquid chocolate center).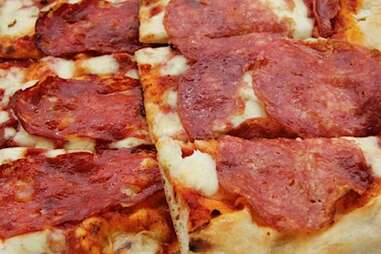 Prenzlauer Berg
Situated near Prenzlauer Berg's Kulturbrauerei, Grande is perfect for those short of either money, time, or both; a slice costs a mere €2.30, and as they're already part-cooked, they're hot and ready to eat in just a couple of minutes.
What you're having: If you're just after a snack, go for a slice, but if you have friends/issues, go for the whole pizza, which by the way, is very nearly 1m long.
Neukölln
Lavanderia Vecchia is currently one of the hottest tickets in town, so you'll need some luck, perseverance, or planning to get a reservation. Dinner is a four-course set menu -- including half a bottle of wine -- for €58 per person, and it's all served up in a dramatically lit former laundry in a Neukölln hinterhof (back courtyard).
What you're having: The set menu means you're having what's on offer that night, but expect antipasti like burrata & bresaola, followed by classics like gnocchi, cannelloni, fish, etc.
Mitte
I Due Forni is almost as well known for rude and slow service as it is for great pizza. Run by a group of Italian punks (that's not a euphemism, they're literally punks), the walls of this cavernous pizzeria on the border between Mitte and Prenzlauer Berg are covered in graffiti... but the pizza is fantastic.
What you're having: There's a rotating specials board, but you can't go wrong with their version of the diavolo.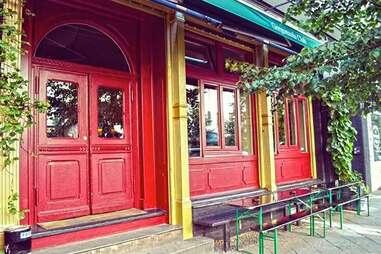 Kreuzberg
An extensive, yet straightforward menu with a selection of antipasti, pasta, and pizza is supplemented by the specials board in this simple, but stylish restaurant in Kreuzberg. If you've got room left for dessert, you can choose from the usual suspects: tiramisu & panna cotta.
What you're having: A pre-dinner cocktail. Würgeengel next door serves a mean daiquiri, and as it's run by the same people, you can even drink your cocktail in the restaurant.
Kreuzberg
The brightly coloured signage (lit neon pink at night) and the pink door almost demand you enter Villa di Wow and you'll be glad you did. They sell New York-style pizza by the slice (made with a deliberately thin, foldable crust) and it's incredible. You can also get 28cm pizzas or the whole 50cm pizza if you're feeding an army. Get a slice to go in Summer; the Landwehr Canal is at the end of Ohlauer Strasse and there you can enjoy one of the most Instagrammed views in Berlin.
What you're having: They openly admit their NY-style pepperoni is made from authentic American sausage they "smuggled through customs".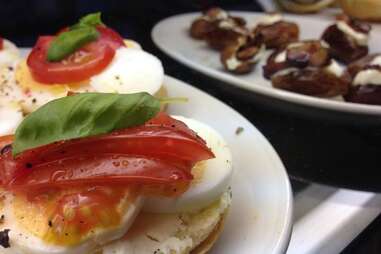 Neukölln
La Pecora Nera is a cozy little osteria that serves specialities from the North Italian region of Veneto. The former airport-turned-public park, Tempelhofer Feld, is just around the corner so you can refuel after a day of kite surfing, or skating, or doing none of those exhausting-sounding things.
What you're having: Vegetarian specials on Tuesdays, fresh fish on Fridays, and their "real Venetian Spritz happy hour" every day from 6pm.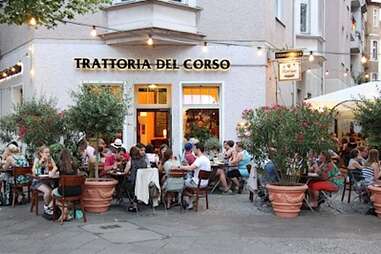 Friedenau
If you're willing to leave the tourist trail and venture out to Friedenau, you'll get your reward at Trattoria del Corso. The pizzas are huge and delicious and, as most cost less than €8, represent pretty exceptional value, too. There's also a range of salads and pasta dishes, and don't forget to check out the chef's current recommendations.
What you're having: If you like your food with the kick of chillies, you'll love the spicy pizza oil and you can even buy a bottle to take home with you. Throw some on their speck-/pepperoni-/salami-loaded Messicana.
Prenzlauer Berg
Despite its size, (seating for 110 indoors and 80 outdoors), Cenacolo somehow keeps a comfortable and welcoming atmosphere. The food here is classic Italian -- cooked to order, well-presented, and authentic in flavour, and including the likes of grilled beef, garlic prawns, and bruschettas.
What you're having: The winner here is the Medaglioni Al Pepe Verde -- a succulent medallion of pork fillet in a cream and green pepper sauce, served with rosemary potatoes and a selection of fresh veggies.