When it comes to good food, Berlin boasts an embarrassment of riches... and many of those riches are cheap. Like, under €10 cheap. So we compiled a list of all the best food in the German capital that sits under that deliciously low bar. And since this is Berlin, many of them are even under €5. Enjoy...
Kreuzberg
What you're getting: Everything!
Sure, this is an obvious one to start with. But where else can you get a taste of pretty much every world cuisine under one roof, all for €10 or usually, much, much less? There's Big Stuff Smoked BBQ, with plates of meat for under €10 and pulled pork or brisket sandwiches for €6 or less. There's Bao Kitchen with its succulent Taiwanese bao buns (€5). To top it all off, you can get a scoop of ice cream from Rosa Canina, a Prenzlauer Berg favorite that has set up shop in the market hall, or a gourmet ice cream sandwich from Zwei Dicke Bären (€4).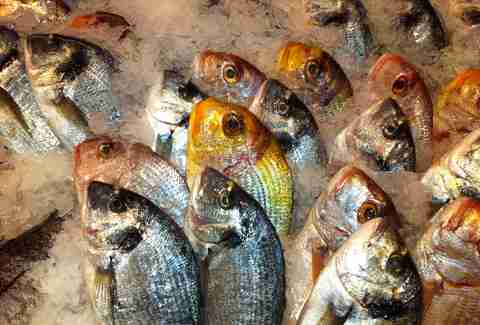 Charlottenburg
What you're getting: Fish soup, €4.50
Another Berlin institution, this bustling indoor market has an older, more established crowd and employees who really know how to turn on the "Berlin charm" (it's up to you whether we're being sarcastic or not). It's the place to go for fresh or smoked fish, including an outstanding selection of herring, and one of the best lunch counters in town. The fish soup comes in a wide, shallow bowl with a tower of white fish in the middle, topped with a mountain of dill. 
 
Kreuzberg
What you're getting: Half chicken, €8.30
Some complain that the price has gone up, but that's almost inevitable at a place this good, beloved by so many. Die Henne has been around long enough to see the Berlin Wall rise and fall literally outside its door, but it's stayed true to its one-and-only menu item: the crisp, golden, and addictively tasty half chicken (if you don't count the slaw and potato salad sides). If it didn't come with a slice of thick, spongy, brown bread to wipe your plate clean, you'd probably use your tongue.
Mitte
What you're getting: Classic bánh mì, €4
Hard to believe, but before this place opened in Mitte in 2010, it wasn't even possible to get a bánh mì in Berlin -- unless you were prepared to make your own. Now, Cô Cô is one of the best places to stop for a bite off of bustling Rosenthaler Platz. Its sizable bánh mì sandwiches are a filling, yet light lunch on a warm day. The classic is of course the one to start with, but the deli-style setup means you can simply point to different toppings and see what combo works best for you. 
 
Wilmersdorf
What you're getting: Everything!
Every weekend in warm weather, Southeast Asian families gather at this unremarkable park in central Berlin's Southwest corner to socialize, play card games, and cook up a great deal of slurpy, slippery, fried and grilled goodness -- all of it under the radar, of course. The best part? Everything seems to cost either €2 (fried dough balls dipped in vanilla sauce, grilled meat on a stick, Vietnamese coffee) or €5 (a heaping plate of green papaya salad, a seafood noodle soup full of lemongrass, a generous helping of ripe mango and sticky rice), so you can go with a picnic blanket and relatively little money, and still walk away stuffed.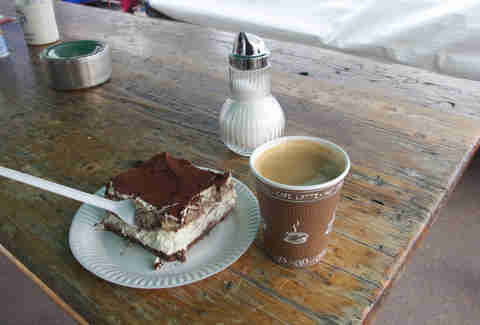 Schöneberg
What you're getting: Tim Sum from the Thai Truck, €1.10 each, or pelmeni, €4
One of the best biweekly markets in town (taking place every Wednesday and Saturday), this is also one of the best places to grab a tasty and unusual lunch. Perennial favorites are the Thai Imbiss aka "Thai Truck" and the pelmeni stand. The first sells wonderfully fragrant Tim Sum dumplings, spiked with ginger, lime leaf and hoisin sauce, among a host of Thai curries that are some of the most authentic -- and authentically spicy -- in town. The latter does a mean dish of mixed pelmeni, soused in warming broth and topped with sour cream, dill, and hot sauce.
Prenzlauer Berg
What you're getting: Keema Mattar Dosa, €8.30
There seems to be a so-called "Indian restaurant" on every corner in Berlin, but not like Chutnify. The newest establishment on this list, Chutnify has earned the grateful adoration of the locals by serving South Indian street food to a population hungry for the real thing. The appetizers could satiate a ravenous crowd on their own, but the crisp, plate-sized dosa is a thing of beauty -- especially when filled with succulent marinated pork, tandoori chicken, or, in the best of the bunch, a mixture of ground lamb and peas.
Charlottenburg
What you're getting: Mixed meze plate, €6.90
This unassuming hole-in-the-wall on busy Kantstrasse often gets overlooked for its Chinese, Thai, and Japanese neighbors, but a quick glimpse in the window is all it takes for passersby to realize they've been missing out. Counters sit overflowing with Middle Eastern mezes, grilled vegetables, rice, meat dishes, and flavorful dips. A plate of the warm dishes is already low-cost, but you'll realize what an amazing deal you're getting when the friendly proprietress picks up a second plate and asks you what salads and dips you want: it turns out one plate actually means two here, and everything on them is bound to be fresh and delicious.
Neukölln
What you're getting: Everything bagel with cream cheese and smoked salmon, €5
For a long time, it was true: Berlin was painfully devoid of New York's most crucial breakfast staple. In the last few years, however, a couple of establishments have stepped up to fill the void (and not one of them is named Dunkin' Donuts). Two Planets is perhaps the best, boiling and baking its bagels every morning to get that chewy inside and golden, crusty outside Berlin's international crowd so craves. Even better, though, is the fish, which is sourced directly from Glut & Späne -- Berlin's first sustainable fish smokery with its own devoted following over at Markthalle Neun.
Kreuzberg
What you're getting: Döner im Brot, €3; lentil or chicken soup, €2.50
This Kreuzberg institution serves up döner the way they're supposed to be -- with real lamb instead of meat paste, fresher veggies, and more flavorful sauces. The fact that they still cost only €3 is also a small miracle. If one somehow isn't enough for you, finish it up with a lovely, warming lentil or chicken soup and you're still only out €5.50.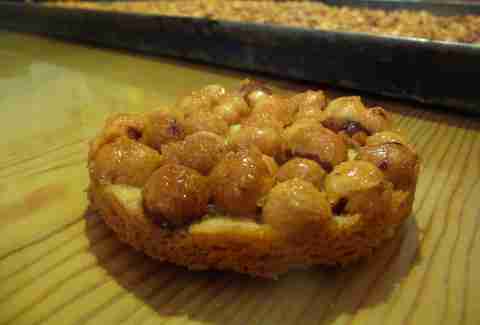 Wilmersdorf
What you're getting: Kranzstange, €2.50
It's not quite a meal, but for the size of it, it could be one. The kranzstange at Weichardt-Brot, a legendary bakery in West Berlin that was the first to operate according to Demeter organic methods, is worth making room in your day and your stomach for. At once chewy and flaky, this pastry is spiked with raisins and bits of marzipan, covered in glaze, and traditionally baked in a ring (hence the "kranz" in its name, which means "crown" or "wreath" in German), and then cut into pieces. Try to get here at the beginning of the day when it's just come out of the oven -- and before it's all gone.
Mitte
What you're getting: Bento box, €6.50
This quaint little Mitte café takes the classic bento box and splits it in four, serving rice, salad, tempura, gyoza, and a variety of marinated meats in elegant little dishes stacked on top of each other, which you can then take apart and arrange in a typical bento box shape. It's only €6.50 and also comes with miso soup, but if you still have room and change left over for one of their wonderful desserts, get one of the cakes and cookies baked with matcha or a piece of mochi wrapped in a cherry leaf.
Neukölln
What you're getting: Biscuit sandwich €2.90-€3.90
Cabslam has transformed itself from a floating weekend breakfast place into an all-day comfort food extravaganza with its own lovely, canal-side home. Burgers and mac & cheese grace the menu in the evenings, but breakfast is the time to come for a quick fix, with buttermilk biscuits that range from cheap to cheaper and come with a variety of morning staples like turkey sausage, ham and cheese, or veggies to accompany the organic eggs.
Kreuzberg
What you're getting: Afghan Mantu €7.00
Located right across the street from Markthalle Neun, this Afghan restaurant has certainly piggybacked on its popularity, no doubt attracting just the kind of picky, worldly, and curious eaters that populate events like Street Food Thursday. Weekly dishes like salads, meat samosas, and flavored rice are always fresh and reasonably priced, but locals are especially fond of the Afghan Mantu -- succulent dumplings with either ground meat or vegetarian fillings that are so special, the restaurant serves them only on Fridays and Saturdays.