The 11 Best Cannabis Edibles of 2018
Gone are the days when "edibles" exclusively meant stale brownies wrapped in cellophane that you bought in the parking lot before a String Cheese Incident show. In the year of our Lord 2018, in states where cannabis has been legalized (hopefully, yours), there are mass-produced snacks -- and even beverages -- that would make Betty Crocker and Willie Nelson proud. There are edibles that are so good, you'll want to eat a dozen [VERY IMPORTANT PRO TIP: DON'T DO THIS]. And now, the dosage and effects are regulated and clear, meaning if you are responsible, "freak outs" should easily avoidable.
Here are 11 brands that are making the best edible cannabis products in the business. Hopefully, one day, everyone in America will be able to go to a local dispensary, pick up some gummies, wash them down with some cannabis soda, and top it all off with a nice bar of chocolate and a stoney-bologna sandwich for good measure. Till then, you might just have to live vicariously through the Interweb. Or take a road trip.
Baked Bros' Sour Kush Kids won the brand the much-coveted Best Product award at 2014's Cannabis Cup. And while they remain the brand's trademark edible, Baked Bros has expanded their operation to include worms, bears, rings... and basically every other gummy vehicle imaginable. They also make an infused THC syrup that can be eaten by the spoonful. And yes, it is much preferable to cough syrup. Or sizzurp. Or Grandpa's Old Cough syrup.
Standout product: Their Sour Kush Kids remains one of the industry's standards... and the best thing that Baked Bros does.
The delightfully named LOL Edibles specializes in making THC-infused variations of popular snack foods that just barely seem to avoid copyright lawsuits. They have cereals like Frooty Loops and Cap'n Munch. They have Cheetos-esque puffs in both regular and "hot." Basically, they've made sure potheads don't need to take their Cheetos and weed separately, and that wake & bake sessions can be accomplished without any baking at all. Just add milk.
Standout product: "Frooty Loops," for obvious reasons.
Lord Jones
Be warned consumers: these decidedly fancy-sounding gummies don't actually contain THC, but it's non-intoxicating, potentially medicating (lamer) cousin, CBD. While the merits of CBD are debatable, Lord Jones posits that their edibles -- with oils sourced from high quality domestically grown plants -- have the potential to relieve pain, anxiety, and even migraines. Think of these more as medicine than fun-time snacks. But to their credit, they are still delicious. Even better than Flintstones Vitamins.
Standout product: Lord Jones All Natural Old Fashioned High CBD Gumdrops. It's a mouthful. In more ways than one.
Kush Nuts ditch the sweet-centric tastes of most edibles and opt for the savory. They infuse a rotating menu of strains with cashews and almonds, seasoned with rosemary, olive oil, garlic, and sea salt -- available in both indica and sativa varieties. Kush Nuts are probably the "healthiest" snack on this list and certainly the edible best suited for a lovely picnic lunch where everyone wears white linen and holds croquet mallets.
Standout product: They really only make one thing (Kush Nuts). Luckily, it's veery good.
Founded in 2010, Kiva has steadily become one of the most recognized and widely available brands of edibles in the nation. Kiva was one of the first companies to truly embrace combining quality food with regulated doses of THC and/or CBD. They put an emphasis on having products made by real, professionally trained chocolatiers, and have a constant nose for innovation. Right now, in addition to their ubiquitous chocolate bars, their roster of edibles features mints and chocolate drops, with both new(er) products containing only fractions of the potency of a full chocolate bar. But if you want the full effect, you can always eat a handful.
Standout product: The classic milk chocolate bar might be the best in the entire business.
Kaneh Co. is what would happen if your mom opened a bakery and also somehow became Seth Rogen. It's a gourmet edibles company focused solely on baked goods. They have brownies. Blondies. Cookies in varieties from confetti to lemon sugar to red velvet. All infused with high-quality THC. This is certainly one of the scenarios where the products would be amazing... even if they didn't get you high. But just to be clear, they do get you high. Please don't forget that and go for another blondie. It's all about self-control.
Standout product: It's all good, but the s'mores brownie, in particular, is a slice of hedonism that knows no equals.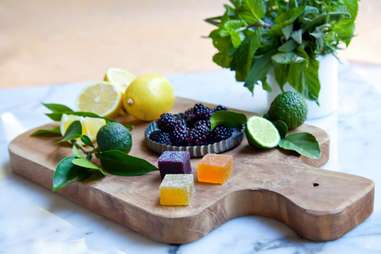 Like so many of the companies on this list, Garden Society uses fresh ingredients and chef-inspired recipes in their products. But unlike most companies, it's Garden Society's mission to provide a low-dose alternative to the edibles currently on the market. So basically, if you want to try eating your cannabis but are scared of pulling a Maureen Dowd and embarrassing yourself, Garden Society is at your service, sir or madam.
Standout product: Their gummies are indeed yummy, but their Bliss Blossom milk chocolate bites are a little tastier. Your call.
Formed by actress, advocate, and amateur potter/supernatural conduit Whoopi Goldberg and OM Edibles founder Maya Elisabeth, Whoopi & Maya is a cannabis brand specifically designed to help women alleviate pain caused by menstrual and PMS symptoms While the multi Cannabis Cup award-winning company has traditionally dealt with infused topical lotions and ointments, they've recently got into the edibles game with their Savor line, featuring infused raw cacao. While the brand is female-centric, the product is obviously for everyone. So no, trying it will not insult your delicate masculinity, dudes.
Standout products: Right now, the Savor line only contains the raw cacao, in THC and CBD varieties.
Like Garden Society before it, Cloud Confections makes low-dosage edibles by design, in the form of chocolate-covered blueberries and espresso beans. With each "bite" containing 2 milligrams of THC (most store-bought edibles contain 10 milligrams, FYI), you can dose yourself steadily to keep a low-flying high. Or, gobble down a handful. The main thing here is control. And in this case, it is quite literally in the palm of your hand.
Standout products: The gourmet milk chocolate blueberries are one of the most distinctive-tasting edibles on the market. And we mean that in a good way.
Punch takes the opposite approach of a Cloud Confections or Garden Society and makes sure their chocolate bars contain a metric shit-ton (slight exaggeration) of THC. You see, they pack a punch... get it? Obvious puns aside, their bars come in flavors like milk chocolate, dark chocolate raspberry, and strawberry cheesecake, and have doses of either 225 milligrams or 150 milligrams. Simply put: don't mess around with these unless you know what you are getting into. This is not amateur hour.
Standout product: Peanut butter dark chocolate bar. Enough said.
To round out the list, we're steering into the liquid variety of edibles... so, technically, drinkables. Whatever you want to call them, Keef has a line of spiked sparkling water and sodas in flavors like cola, orange soda, Blue Razz, and root beer. If you really want to have a day, spike your already spiked Keef Cola with some whiskey and cancel every plan you had for the next eight hours. You may lose some friends, but it will all be worth it.
Standout product: The blood orange-flavored Sparkling is refreshing and intoxicating. The THC addition is just an added (welcomed) plus.
Sign up here for our daily Thrillist email and subscribe here for our YouTube channel to get your fix of the best in food/drink/fun.
Wil Fulton is a Staff Writer for Thrillist. He can't stop staring at his hands. Follow him @WilFulton.