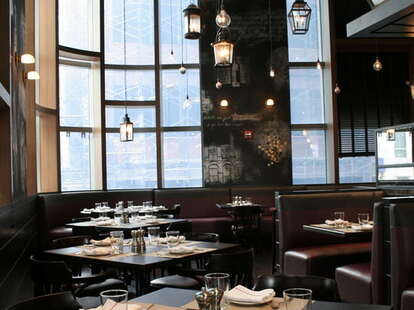 When it comes to Bar & Grills, some are more bar, some are more grill, and a rare few are just ampersand-y. But each is 100% American, including BLT Bar & Grill
The newest offering from the BLT empire, B&G's plays up its American roots, serving three meals a day in an airy, bi-level mod-tavern lit by hanging lanterns & Edison bulbs, and filled with slate columns featuring hand-drawn pictures & quotes, antique mirrors, and "ebonized" wood floors, so now they're HUGE! Lunch includes adventurous pizzas from the Taleggio- & fennel-aided Lamb Bolognese to cream/bacon/black pepper/arugula Tarte Flambee; pastas like pappardelle w/ short rib ragu; and sandwiches from pork belly & speck Cubans to balsamic onion & 'shroom-topped Shaft's Blue Burger -- take a bite and then watch your mouth.
Dinner adds on snacks like tabasco'd deviled eggs, the Hooligan Grilled Cheese w/ double smoked bacon, and spicy grilled octopus, plus entrees like Moroccan-spiced lamb chops, rotisserie chicken w/ Cabernet honey, and salmon w/ lemons, cornichons, and capers, its involvement in the latter of which suggests it's wild
The wine list's beefy, with close to 100 bottles mostly under $100 and 15 by the glass, cocktails split between classics (Pimm's Cup, Negroni, Hemingway Daquiri...) and house (Golden Slumber: Glenfiddich, Benedictine, Orgeat, and fresh lemon), and beers run from Belgium's Chimay Red Label to Colorado's Fat Tire, which the rest of America now has too, thanks to all our Bar & Grills.