Eager to mix things up after over 20yrs of pouring suds in the FiDi, the folks behind the popular pub have overhauled the menu and gone all-in on jack/eight suited burgers, unveiling an awesome assemblage of over 14 artery-cloggers sided by five specialty dogs. Behold: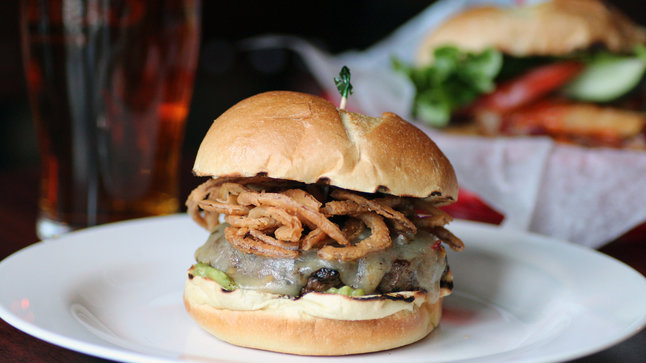 Start slowly with a pint of suds and this signature Coogan, a Jack cheese- and fried onion-topped bison burger slapped on a mound of guacamole.

Likely named for what William Weld would've been called had he gotten into the Senate race, this Carpetbagger's loaded high with fried oysters, grilled mushrooms and a layer of bleu cheese.

Take a brief respite from spiking your blood pressure to massively clog your arteries instead, with this handsome bacon-wrapped Pork 'N Pork dog topped with slaw and, of course, BBQ pulled pork.

And finally, before you hop on that last ferry to Hingham, grab this Commuter to go, loaded with bacon, fries, and their special Tavern sauce.