Chicken skins and white chocolate apple cake in Back Bay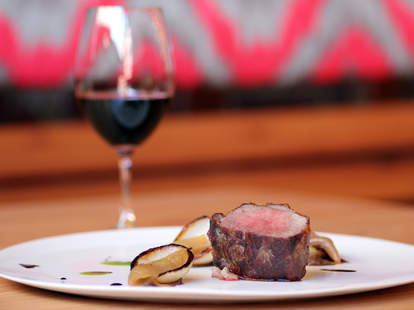 For those times when you'd rather let someone other than Papa Gino order dinner for you, L'Espalier alum Alex Crabb's taken the Back Bay's former 47 Pizza+Pasta and morphed it into a rustic 41-seater that serves a "be cool because this is what you're going to get" three-, five-, and eight-course tasting menu accompanied by an optional wine pairing
Prepare to call down the thunder as you snag one of five seats at the red elm bar, situated so close to the open kitchen, you'll have no choice but to Thor with approval at each new dish they bring out (and yes, we know that's Zeus)
Before you focus on the food, enjoy a glass of red from an assemblage of small-batch wines mostly focused on Austria, France, and Italy, but "peppered here and there with a trickster new world beauty.
Once you sit on this long pine bench made from old floor boards, then you can focus on the food.
Like these crispy chicken skins w/ braised celery and black garlic gnocchi.
In case you think the server forgot your silverware, well, they didn't. Just open the drawer in the table, and you'll see all the proper utensils. Also, don't steal it or whatever.
And now that you don't have to eat with your hands, make your Papa proud by taking down this thyme/oil-seasoned lamb in a red wine reduction.