Put an end to your breakfast versus lunch dilemma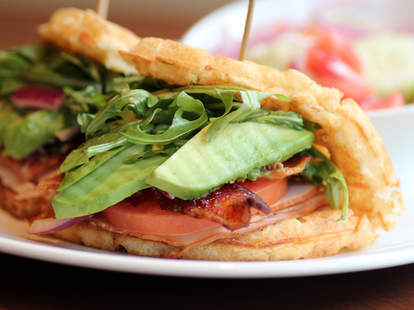 Because brunch only happens on the weekdays during Sex and the City reruns, the evil genius behind Newbury's only chocolate-slinging restaurant's unveiled a menu that diabolically combines breakfast and lunch in the form of "savory" waffle sandwiches.
After taking down the handsome turkey club w/ Dijon (pictured top), impress the girl you kind of made out with on New Year's Eve by following it up with another folded waffle, this one stuffed full of roast beef and Gruyere
If you think eating with a fork is kind of money, you probably had a Swingers poster in your freshman dorm, and'll likely dig this herb-infused waffle piled high w/ sliced chicken, spice-sugared bacon, and goat cheese
From there, lay to waste your very specific New Year's resolution to "eat fewer peanut butter and banana chocolate crepes sided by flasks of milk chocolate ganache" by devouring this, wait for it... peanut butter and banana chocolate crepe sided by a flask of milk chocolate ganache.
Finally, wash it all down with this sea-salted caramel milkshake topped w/ whipped cream, and ensure on your way out, you'll be Carrie-ing a few extra pounds.