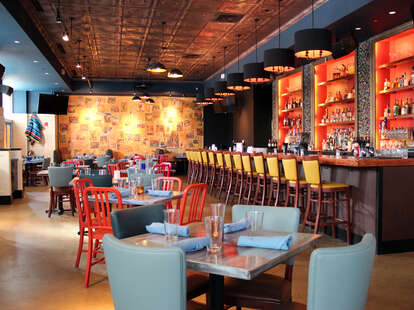 Not happy with the state of, um, Happy's… Chef Michael Schlow decided to hit the reset button, ditching giant meatballs and graffiti'd walls for panchos and tequila. To wit:
Sequester a chair at the (top-pictued) bar before ordering up a shot of one of 70 tequilas in the house
Or snag a chaise and impress your friends with this fun fact: Schlow's wife painted this mustachioed dude
This faux-finished wall is covered with classic Mexican film posters. One of them may or may not be called Blood Pact
If you don't want the "street tacos" filled with chipotle carnitas or spicy shrimp and bacon, take down these cotija-topped beef enchiladas w/ a red chili sauce.
Then wash it all down with one of 15 cocktails, like a ghost chili-infused Hot N'Skinny or this 1800 & Citronge number dubbed The Graduate.