The way we see it, nobody knows food better than chefs. And while we all love to eat what they cook, we're also fascinated by what they're into when they actually do the eating. You know, when they're not working and are dining out. That's why we asked 12 of Boston's best to dish on their favorite meal around the Hub. Here's what they said:
Tom Borgia
Chef at Russell House Tavern
Favorite dish: Steamed Black Mussels at Mistral
"I was part of the opening team at Mistral, and what makes this dish unique is how it's been executed flawlessly for almost 20 years. It's so well balanced: smoky, sweet, acidic, and briny, all at once. Soaking up all the leftover stuff with the bread is amazing."
Recommended Video
This Restaurant Reinvented the McGriddle
Favorite dish: Throwback Korean BBQ tacos at Moonshine 152
"These lived on the menu back when the space was Franklin Southie; at the time Asia [Mei] was chef. It's thin slices of salty crisp pork topped with lightly spiced kimchee and fresh Asian pear, all wrapped in a grilled flour tortilla and served with a what is most likely a house-made Sriracha. Give me a few orders and some High Life, and life is grand."
Patrick Gilmartin
Executive Chef at River Bar
Favorite dish: Small veal Parm and a slice of Sicilian pizza from Bob's Italian Foods in Medford
"The 'small' size is the key because it comes on tremendous Scali bread. It's everything I like in great food: made with care and without any pretense. Because it's also a butcher shop, their veal cutlets are superior to most sub shops. It's my go-to meal in the Somerville/Medford area; they pump out a ton of killer sandwiches, pastas, and pizzas. There's no seating, so I often grab a sub and take it down to the river and share with my dog. It's my vote for best sandwich in Greater Boston."
Favorite dish: Anything at Oishii's South End location
"I love everything there, and whatever Chef Ting Yen makes -- I'll eat. But my favorite dish is what I usually order for dessert, which is not really a dessert at all. It's a cucumber cone stuffed with spicy tuna and topped with tempura flakes. It's great to watch Yen and his sushi masters show off their knife skills by hand carving a paper thin sheet of cucumber, which they then fold into the shape of an ice cream cone. Then they fill it with barely warm sushi rice and spicy tuna tartar, and top it off with a shower of crispy tempura bits. The combination of the cool cucumber, spicy tuna, and crunchy tempura may just be my favorite bit of food I've had in Boston."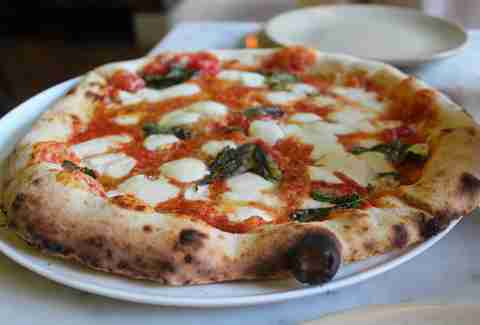 Favorite dish: Pizza from the late-night menu at Pastoral
"I love going after a Saturday night service with my team, and we usually order a veal meatball pizza, a short rib pizza, and a funghi pizza. My personal favorite is the veal meatball, because the meatball is delicious, and the dough is the best in the city. There's something special about sitting around the table and sharing a pizza with the team after a long day."
Favorite dish: Lobster ravioli at Scampo
"Scampo always is spot-on perfect and fun every time I go (which is often). Recently, I had a nice, simple lobster ravioli; it was cooked in pasta water, tossed in clarified butter, and topped with a beautiful Parmigiano-Reggiano. It was perfection."
Favorite dish: Matthew Gaudet's St. Louis pork ribs with a whiskey/eel glaze and a dried shrimp & crispy chickpea crumble at West Bridge
"I love pork and especially ribs. But what I love about these ribs is that they're next level: tender, sweet, [and have] that nice bite from the whiskey & the crispy chickpeas. The texture in your mouth is awesome. And who doesn't love messy finger food! "
Favorite dish: Fried chicken at Sarma
"It is utterly addictive... Cassie is such a talented chef and her fried chicken -- perfectly seasoned and flawlessly fried -- is everything you want the dish to be. The finish of a sprinkling of dried green harissa is just awesome."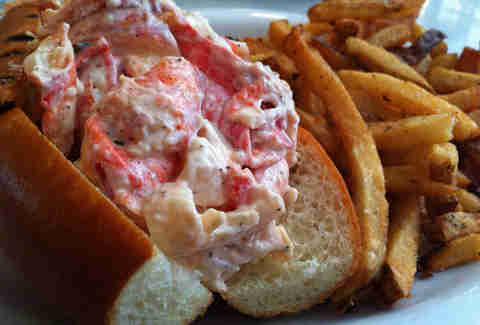 Favorite dish: The lobster roll at Neptune Oyster Bar
"It never goes off the menu, and it epitomizes New England. Order the bun toasted, with light mayonnaise."
Favorite dish: Farro Casarecce with Rabbit at Giulia
"It's last meal worthy."
Kim Prosise is a Boston-based travel and lifestyle writer who likes to write about food almost as much as she likes to eat it.