Boston We already told you about the best pizza in every Boston neighborhood, but sometimes you actually have to leave the Hub and you'll still need to feed that slice craving. So, we've expanded our horizons to include the entire Commonwealth of Massachusetts. The whole damn thing. From Amherst to the North Shore, and from Cape Cod to Worcester, here are our picks for the top 14 pizza joints in all of the Bay State.
Somerville and Cambridge What you're getting: The Secret Pizza and the clam and bacon Since A4 made its K2 (Kendall Square) debut in 2011, it's been on countless top-pizzas lists both in Boston and across the country. Good PR team, sure. Better pizza makers, absolutely. Maybe it's their pillowy, yet charred, crust made from a 12-year-old sourdough starter, or maybe it's their handcrafted cheeses that never seem greasy -- whatever it is, A4 has found a winning formula. More Stuff You Will Like
Recommended Video
This Burger Has a Pizza Bun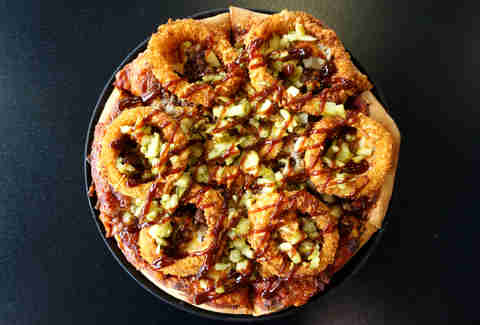 Braintree   What you're getting: Lord of the Rings Twenty signature pies. Twenty signature sauces. THAT is what makes Easy Pie no ordinary pizza shop. Chef and owner, Spiros Stogiannis, wanted to set his pizza parlor apart from the rest with outrageous and extreme flavors, and he succeeded. Highlights include the Mac Daddy (ground beef, Thousand Island sauce, onions, pickles, and lettuce... it's a Big Mac... ON A PIZZA!!!), the Sweet Chili Bang (sweet chili sauce, crispy chicken, and bacon), and the Lord of the Rings, which is topped with shaved steak and deep-fried onion rings. Continue Reading
  Kendall Square   What you're getting: The Kendall and The Middle East Thin, crispy, cracker crust -- that's all we need to say about Emma's Pizza. But we won't stop there. No, this iconic spot has been around since 1962, moving from Revere and West Cambridge before settling in Kendall Square. It's cozy, and there can be a wait, but it's worth it -- grab a glass of red wine, take a walk around the block, or just study the menu and decide if you're gonna mix-and-match The Kendall (roasted red peppers and caramelized onions) with the People's Republic (crispy smoked bacon and scallions).
  Newton   What you're getting: Blue Ribbon and The Brooksy What's the secret to a crunchy crust on the outside but a soft, doughy inside? A 900-degree, coal-fired oven, that's what. Apparently, the pizza can be cooked in an insane 2-3 minutes, melting the cheese without overcooking the toppings. Prior to Max and Leo Candidus opening their fittingly named brick-and-mortar four years ago, this pair of identical twins used to cook their pizzas in a coal-fired oven onboard a trailer, which they drove around town.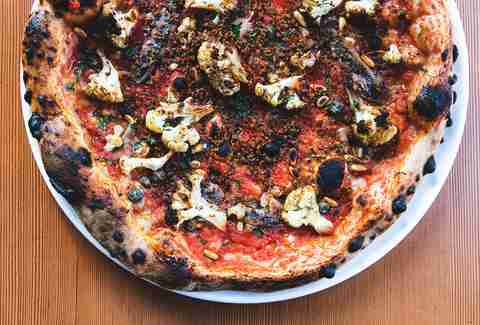 Waltham   What you're getting: Prosciutto & arugula pizza, then Nutella pizza Mix Old World, Italian, nonna-approved recipes with a chic modern vibe and, well, welcome to Charcoal Guido's. Located on Moody St (as you would expect in Waltham), this spot boasts an open kitchen and a red/black décor designed to mimic the glow from the charcoal briquettes and wood-fired oven. Its specialty: perfectly thin, charred, Neapolitan pizzas. Also, it's one of the few places you can have pizza for dinner... and dessert (the Nutella pizza is a must!).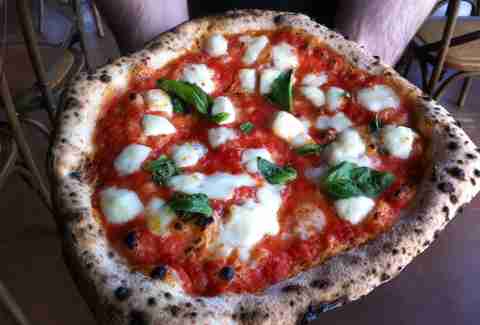 Worcester   What you're getting: Pistachio pizza Imagine being so crazy about authentic Italian pizza that you actually travel to Italy to get certified as a professional pizza maker by the Italian government. Almost as crazy as living in Worcester, right? (Kidding!) Well, that's exactly what owner Greg Califano did before opening up Worcester's Volturno. His pizzas follow precise guidelines when it comes to the rise, the char, and even the types of tomatoes and cheeses used. Short of hopping a flight to Naples, it's as close to a true Neapolitan pizza as you can get in Central Massachusetts.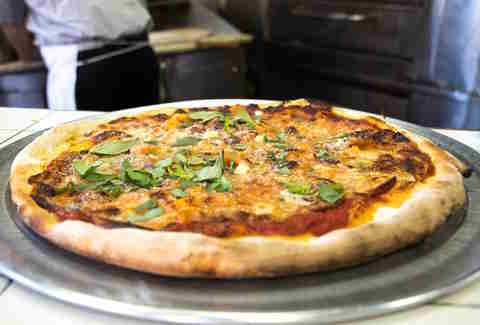 North End, Somerville
What you're getting: Chicken ranch

A perennial contender for best pizza in Boston's North End, this tiny hole-in-the-wall is tucked away on Salem St (although it's now also available at Assembly Row in Somerville) and plates ginormous slices -- like each slice is a quarter of an 18in pie. Locals rave about the authentic feel, chewy crust, and traditional toppings.
Amesbury, Davis Square, various other locations
What you're getting: Punctuated Equilibrium OK wait, it's a chain, we know, we know -- but honestly, it's a crazy-good chain. And a chain that, only 17 years ago, was a single local Amesbury shop making handcrafted, organic pizzas with fresh and local ingredients before ANYONE else was. If you're a pizza lover who can't process cheese (sad, but there are many) and/or you enjoy bowling while you eat pizza and drink craft beer (Sacco's Bowl Haven in Davis Square), Flatbread is your spot. You can also find them across Greater New England.
  Lowell   What you're getting: Sausage rabe and Buffalo chicken pizza Worth the trip to Lowell even if you didn't get stuck on jury duty in Middlesex County, this pizzeria serves over a dozen signature pies alongside two-dozen rotating selections of beer on tap. It's located on the corner of Palmer and Middle St in Downtown Lowell, an area that's looking much better as the city continues to focus on revitalization, urban development, and undoing all the PR damage that resulted from the theatrical release of The Fighter.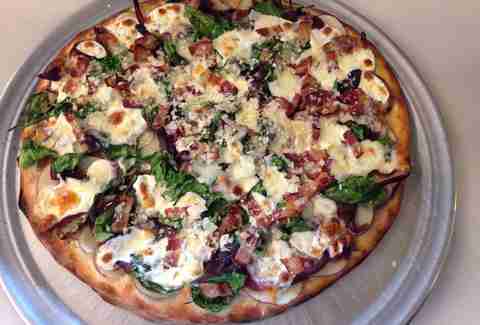 Salem   What you're getting: Field of Dreams A friendly, passionate staff and top-notch, gourmet pizzas put Salem's Amazing Pizza squarely on the list. Pardon the pun, but this place serves "amazingly" light and chewy organic pies made with only the freshest ingredients. Also, get this, if you order takeout -- don't be surprised to find your pizza uncut when you get home. The staff recommends letting the pizza "rest" after cooking and suggest that it be cut at home for the best flavor and texture.
  Nantucket   What you're getting: The Rustica It can't always be lobster rolls and clam chowder for folks out on the Cape and Islands. Sometimes you crave a crispy, wood-fired crust topped with cheese, crispy pancetta, and natural sausage (imported from a well-known meat market in New York that shall remain... OK, it's Esposito's, are you happy?). For those times, you go to Pi Pizza. Owner Evan Marley has been practicing the fine art of making pizzas since his high school days in Concord and Pi (yes, like 3.14 pi) serves a curated lineup of wood-fired Neapolitan pizzas topped with shrimp, clams, and the aforementioned fancy sausage.  
  Springfield   What you're getting: Margherita You know a pizza shop is a hit when "party size" (28 slices) is a menu option. This third-generation Springfield pizzeria opened in 1958 by Nicola and Edda Caputo, who came from Italy with the dream of, you're never gonna believe this... opening a pizzeria in America. #truestory. They did, and today Red Rose Pizzeria continues to serve their amazing pies in three basic varieties: margherita, primavera, and spicy Buffalo. Best part, they still use the same 50-year-old dough recipe from when the shop opened. If it ain't broke...
Amherst, Belchertown, Easthampton 
What you're getting: The BBQ steak & bacon with provolone and cheddar You don't have to be a hungry UMass student at 2am on a Friday night to love the wacky combinations at Antonio's. This popular New York-style spot serves its pizza by the slice and in, like, a thousand combinations of toppings. OK, maybe not that many but A LOT, from grilled calamari and mayo, to spicy chicken quesadilla and BBQ steak burrito. The perfect reward for all that studying, right?
 
  East Boston and Peabody   What you're getting: Homemade sausage pizza Santarpio's pizza is one of 50 eat-before-you-die items on our
Boston Food Bucket List
. Case closed. It's been around since 1903 (it started as a bakery) and makes some of the best, old-school, none-of-the-fancy-stuff pizza in the city -- just a sturdy crust, good sauce, and toppings, which include the restaurant's famous homemade sausages.
Sign up here for our daily Boston email and be the first to get all the food/drink/fun the Hub has to offer.
Christina Ng is a Boston-based food and recipes writer. She's one of those annoying girls who has to take a picture of everything she eats. Follow her @EastMeetsKitchn or see what she's cooking in the kitchen at EastMeetsKitchen.com.