5 reasons to go to the Bacon and Beer Festival
Beer. Bacon. It's not just their convenient alliterative properties that make them a fine pair. They're both delicious. They're both beloved. And they're both responsible for the larger pants you'll be needing to purchase, because on Sunday, June 7th, you can get your fill of this dynamic duo at Eat Boston and The Fenway's Fifth Annual Bacon and Beer Festival (2:30-5pm) on the 5th floor of the Landmark Center parking garage. Here's why you need to get a ticket immediately:
1. It's BACON. And BEER. While this point should be obvious, it is essential and exciting enough that it bears repeating. 
Robert Gill
2. Your favorite restaurants will be there. More than 40 of them. From newer players (Ribelle, Alden & Harlow) to the tried-and-trues (Trina's Starlite Lounge... you know what, just check out the list), local hotspots will slice, smoke, and sizzle some serious swine (courtesy of Zoe's Meats) -- and then make inventive dishes that (most importantly) you get to sample.

3. Your favorite breweries will be there, too. You should probably hydrate after all that salty, bacon-infused craziness. Fortune smiles upon you (again), because 25+ New England brewers (Clown Shoes, Blue Hills, Foolproof... and more!) will pour cold beers and ciders to quench your mighty thirst. This will help you eat more bacon. And then drink more beer. And so on.
Robert Gill
4. Your gluttony is actually helpful. Feel better about yourself (even if you're going to feel worse physically) as proceeds help raise funds for Community Servings and Lovin' Spoonfuls. Also, this year will feature the first "Beast In Show" people's choice award for attendees' favorite participating restaurant and brewery. Each winner will have a $1,000 donation (made in their honor) given to the local charity of their choice. Now wipe that pork fat off of your face and give generously.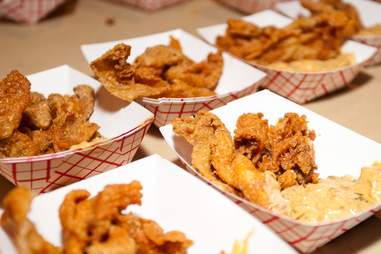 Robert Gill
5. It only costs $47. You can have all the bacon and beer you want until they run out. 47 bucks gets you in the door so you can get your hands on crispy pig parts and brews. Give a little extra to the cause (see Reason #4) and be a "Baller" for $75. Shot caller tickets are not available. Get those tix (on sale Friday, May 16th at 10am) before they're gone and you're really sad and skinny. Bonus: the event T-shirts are excellent.