Where to Get the 6 Most Super Bowl-Worthy Chicken Wings in Boston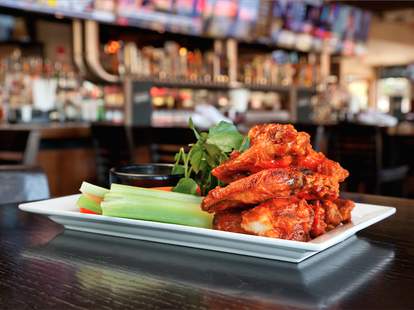 Courtesy of Dan Watkins for Tavern in the Square
Wings and football go together like the Pats and playoff victories. So in order to prepare the proper gridiron experience, we've plucked the six best wings you can get in Boston, whether it's Super Bowl Sunday or one of the 364 other days that don't matter as much.
Allston
Foodie-hipster haven Deep Ellum has two tantalizing wing choices worthy of multiple wetnaps: zippy Buffalo and the much zippier Maple Habanero BBQ. Match them up with one of 63 beers (like Idle Hands Brunhilda) and/or a signature cocktail (barrel-aged Hanky Panky).
South End
The comfort-food kings at Estelle's doth decree that you need next-level wings from their Southern-inspired outpost. Start off nice and easy with BBQ wings coated in a peach-basil BBQ beer glaze to go with your South End Sweet Tea. For the slightly insane, turn up the heat with Hot-As-Hell Wings scorched by wicked hot BBQ sauce and served with buttermilk ranch. If you still need some Buffalo in the mix, try the Buffalo Brussel Sprouts drizzled with blue cheese.
Cleveland Circle
You're probably at SA PA to fill up on chewy banh mi and slurpy pho, but the Party Wings are morsels of fresh Saigon-style goodness that are not to be missed. Choose between Hoisin BBQ or Sriracha Honey Lime. The former is sweet and oh-so sticky, the latter is spicy and extra gooey. Note: wings are available at the Cleveland Circle location only… for now. DX menu changes will be coming soon.
Chinatown
There are many reasons to visit Shojo (mmm… duck fat fries), but its new wings will keep you coming back for more. Aptly named "If You Like It Put a Wing On It," these beauties are braised in Sapporo and finished with honey-oyster sticky-icky glaze. If you're lucky, it might be cranking out special wings, too, such as Boba-Fett Buffalo Wings that are twice-fried and sauced with Sriracha-lime.
Natick
Skybokx 109 is very serious about its wings, and you should seriously get some. Today. This gastrosports mecca offers both bone-in or boneless tenders with six different flavors: classic Buffalo, spicy Thai peanut chili, zesty honey mustard, sweet teriyaki, an even sweeter bourbon-glazed, and garlic Parmesan. Add ample TVs and 43 beers and you really won't need to go anywhere until March Madness is over.
Multiple locations
There're three fried bird options on Tavern in the Square's elevated pub-food menu. Ode To Buffalo comes standard (blue cheese, celery, carrots) while Angry Ale gets funky with a spicy beer glaze, bread & butter pickles, and roasted garlic ranch. For the adventurous, Mongolian Barbecue features crispy garlic, ginger, and soy tastiness accompanied by kimchi and caramelized pineapple.
Sign up here for our daily Boston email and be the first to get all the food/drink/fun the Hub has to offer.