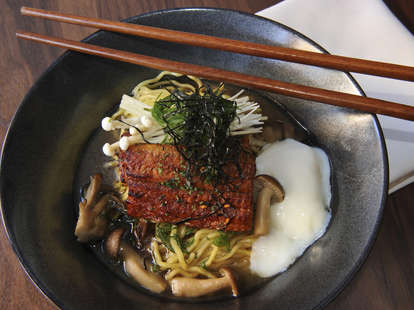 Between the recent opening of Allston's ramen-heavy Inaka and the launch of the Hub's first ramen delivery service, it's pretty clear that the noodle craze isn't going anywhere soon. Which is why we've put together this handy list of eight of the best spots to get your slurp on
Uni Sashimi Bar370 Commonwealth Ave; Back Bay; 617.536.7200By far one of the Hub's most popular late-night eats, the first-come-first-served, 11p ramen action at Ken Oringer's Uni (downstairs at the Eliot Hotel) features hand-written cardboard menus, pork buns, and cold Japanese beer. Oh yeah: and tasty $10 bowls of noodles
Yume Wo Katare1923 Massachusetts Ave; Porter Square; 857.265.6586Although currently closed for the Summer, this cozy, only-open-for-dinner, Porter Square spot is insanely popular and peddles bowls of pork ramen to long lines that stretch down the block. Like every night. Seriously; bring a Nancy Drew book.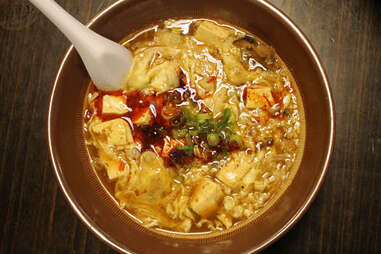 Sapporo Ramen
1815 Massachusetts Ave; Porter Square; 617.876.4805
Ensuring that Lesley students never go without ramen, this cash-only food court spot in Porter Exchange's Little Tokyo brings an authentic noodle game with 10 choices that range from house kim chi and curry, to sesame-flavored Tan Tan Men and the popular spicy miso w/ ground pork.
Boston Ramen Noodle Company
"Boston's first and only ramen noodle catered/delivery service", the aforementioned BRNC launched earlier this Summer and does exactly what it says it'll do: bring quite possibly the easiest food to make ever directly to your door so that you don't have to make it. We'd ask how you sleep at night, but the answer is most likely "thoroughly satiated", since the ramen is delicious.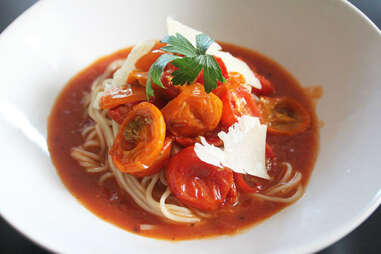 Guchi's Midnight Ramen
Debuting last January to the Hub's rabid, ramen-starved masses (many of whom were ready to storm the proverbial noodle factory when tickets sold out in mere minutes), this near-impossible-to-get-in, late-night pop-up from some of the crew at O Ya is credited with helping start the madness. It takes place sporadically, so you have to keep tabs on their Twitter account if you want in.
Myung Dong 1st Ave
90 Harvard Ave; Allston; 617.206.3229
Specializing in Korean street food, this Allston hangout from the owners of Buk Kyung I and II does a spicy (and cheap) Mandoo Ramen with pork dumplings, scallions, sliced carrots, and egg drop.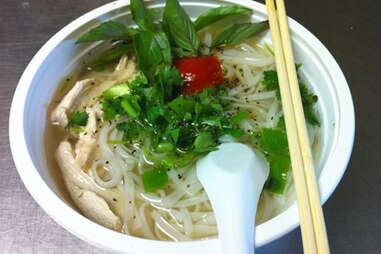 Momogoose and Fugu
And yes, you can even now get your ramen from a food truck. Two, in fact. While they did recently debut a brick-and-mortar outside South Station, Momogoose's still serving four styles (beef, BBQ chicken or tofu, chicken wonton) around town. Meanwhile, mobile Asian street food specialists Fugu have added to their menu Mazemen, a Japanese ramen that's lighter on the broth (in this case, pork) and topped w/ scallions, menma, kimchee, corn, and onsen tamago.