Brunch: it's that meal you get when you don't quite want breakfast but you don't quite want lunch either. Or maybe you've already had breakfast and fully plan on having lunch, but you're just looking to slide something in between because you completely lack self-control. It's your world. Either way, when it comes to Boston's best hybrid morning-afternoon eating (and drinking!), you won't do better than these dozen spots.
Kenmore Square
They offer one of the best selections of oysters in the city, and the opportunity to wash them down with some of the best cocktails. And possibly a couple of lobster rolls. The service is on point, and the interior might actually make you take your eyes off that Jonah Crab omelette and the giant homemade biscuits.
Back Bay
The Salty Pig knows full well there's no wrong time of day to scarf down irresponsibly large amounts of charcuterie and local cheeses. Just make sure you leave real estate for their pork belly hash with bacon braised greens and a couple of runny over-easy eggs. Also, the beer list here makes it perfectly acceptable to start your day with a brew.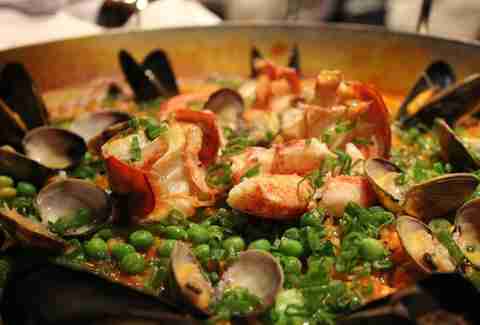 South End
Toro's award-winning tapas menu is just as good at brunch as it is at dinner, but you'd be remiss not to take advantage of AM-specific offerings like their Chilaquiles de Pollo covered in avocado, crema, Cotija cheese and an optional egg that you're obviously getting because you aren't an animal. Also: griddled banana bread with foie gras toffee. And what's better than a refreshing Bloody Maria? How about consuming them by the pitcher? Why yes, that is better.
South End
Boasting one of Boston's only jazz brunches, The Beehive starts buzzing (!) early -- an advance reservation is an advisable move. Their menu skews more towards the savory side of the brunch spectrum, including the spectacular Eggs Shakshuka (also worth ordering just as an excuse to say "Shakshuka"), consisting of poached eggs, North African sausage and Moroccan-style tomato sauce over polenta.
South End
This is the spot to over-indulge on both drinks and dim sum. Fried egg banh mis with sweet soy bacon, stuffed baos, and tea smoked ribs are all worth loading up on. Bonus: no need to worry about sleeping in, Myers + Chang has one of the latest brunches in the city (runs until 530pm), so it's good for those nights when you were up until 530am.
Allston
This is one of Boston's few true 7-days-a-week brunch menus. The BBQ Breakfast brings together the most satisfying elements of... BBQ and breakfast, with braised pork shoulder, cornbread, and mustard aioli all combined with a runny egg. Try it with a Cafe Sancho (Karma Roasters coffee with reposado, agave, mole bitters, and Mexican chocolate whipped cream).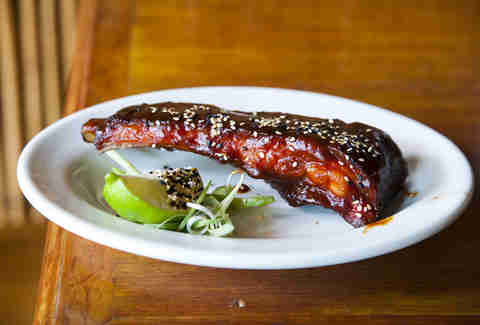 Cambridge
Their Make Your Own Bloody Mary bar is legendary, but once you've finally sorted out all the accoutrements you're adding to your creation, you can grab South of the border breakfast creations like Ancho-Molasses Grilled Hangar Steak with chimichurri, potato-poblano hash, cheesy scrambled eggs, and griddled cornbread with guava butter. Maybe spring for a Kitchen Appreciation Special: a six pack of PBR tallboys that goes to the hardworking team of cooks, because that was a lot of food they just made you.
Somerville
Crispy-fried chicken sausage, house-smoked sockeye salmon hash, and a breakfast Daiquiri? And yes, there is an egg-topped, brunch-friendly burger as well as crazy good house-made doughnuts.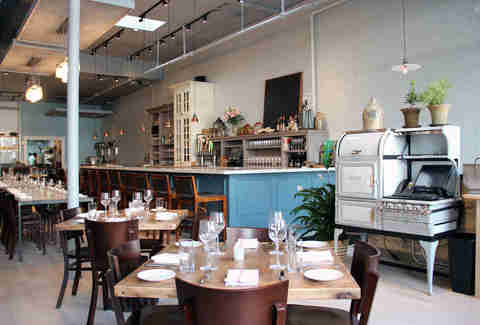 Cambridge
Puritan and Company has everything you'd expect from a traditional New England brunch and much more -- red flannel hash, sourdough griddle cakes, and one of the best croissants in the city. Most tempting of all, the Provisions Table is filled with a rotating selection of fresh pastries that will make you want to try each and every one.
Cambridge
Brunch cocktails, high quality coffee, and constantly rotating baskets of goodies made for the table by resident pastry wizard Katie Kimball? That's a pretty strong start, and that's before you even begin implementing plates like the appropriately named Hot Mess, a skillet packed with home fries, bacon, breakfast sausage, cheddar, scallion, and caramelized onions topped off with a couple of farm eggs and banana pepper relish. Bonus, those farm eggs can also be used to breakfast-ify the pizza of your choosing.
Somerville
There's a White Russian made with chocolate Nesquik. There's "Golden Grahams" toast with malted milk whipped cream. The towering piece of sweet corn bread piled high with a heaping scoop of melting butter is what dreams (and diabetes) are made of, and that's before you even attacked the fried chicken and waffles with hot pepper syrup. There's now ample reason to get yourself to Somerville on a Monday for their service-industry focused brunch.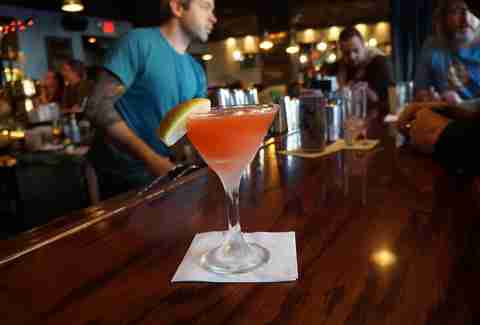 Somerville
Beignets, smoked pork hash, and Patron XO and coffees keep this spot perpetually packed with faithful regulars. Don't let the line scare you away -- once you've made it inside, you'll see what all the fuss is about: live bluegrass music makes the must-get shrimp and grits taste that much better in this laid back, Southern-ish Somerville spot.
Sign up here for our daily Boston email and be the first to get all the food/drink/fun the Hub has to offer.