Where to Get the Absolute Best Pizza in Boston
<strong>Galleria Umberto | </strong>Sonya Highfield/Thrillist
No matter how many restaurants open in Boston, all we really want is a hot, cheesy slice of pizza. (OK, and maybe some steak and beer, too.) But above them all, pizza rules. Luckily for us, this city has some great pies being offered in nearly every single neighborhood. Whether we're looking to the crust type or pizza shape to satisfy our craving, there's definitely no issue finding a good slice in Boston. Having said that, these are the best.
Courtesy of Picco
Best crust
South End
Picco's crust is the best in town for one main reason: it's not too thick, and not too thin. This is the greatest spot on Tremont Street to get your slice of bubbly, crusted pizza alongside some craft beer (and even ice cream). It's somehow managed to perfect the crust of every pie so that it's substantial, yet still light, airy, and crispy. We don't know how they do it, but really, that's not our job. We're just there to indulge.
Best chain pizzeria
Harvard Square (& other locations)
This Portland-based transplant has made its way across Boston, cleverly appearing first in college spots and then expanding into the 'burbs (hang tight, East Arlington, it's coming). The chain is known for its unique toppings: the mashed potato, bacon, and scallion pizza is a favorite, but you should really try the vegetarian butternut squash, ricotta, and cranberry.
Best pizza for the lactose intolerant
Seaport
If you've got a severe aversion to cow's milk, Babbo's goat cheese pizza with pistachio, red onion, and truffle honey will surprisingly hit it out of the park. The pies are all made with organic wheat flour (100%!) and California tomatoes. It's located in the Seaport district of town, making it a perfect draw for the business crowd during the workweek. But your best bet is to stop by on the weekends, as it's usually pretty open.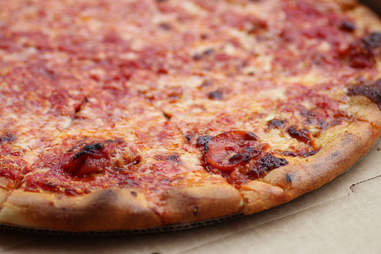 Dave Baldwin/Thrillist
Best old-school pizzeria
East Boston
Santarpio's has been around since 1903, so when we say "old-school," we mean it. You can throw artisanal out the door, because what you get here is your classic, crunchy, cornmeal-dusted crust, a sweet, plummy tomato sauce, and traditional toppings like Italian mozzarella, onions, peppers, mushroom, and sausage. It's a real pizza parlor-lover's pizza parlor.
Best <em>thin</em> crust
Cambridge
This is not your average Neapolitan thin crust. The crusts at Emma's are almost like crackers, making it a great choice for anyone who likes a good crunch with their pies. The menu is full of classic favorites, like The Click & Clack (artichoke hearts, Kalamata olives, roasted red peppers, sauce, smoked mozzarella) or The Kendall (roasted red peppers, caramelized onions, rosemary sauce, mozzarella). But really, there are over 25 pizzas available -- not including the build-your-own choices -- so you'll have to take a good look at what's offered.
Dave Baldwin/Thrillist
Most affordable pizza
North End (& Somerville)
Ernesto's is known throughout Boston's North End for its gigantic 18in pies, and for the fact that patrons get a real deal for their dollar (an 18in margherita sells for just $16). For those ordering by the slice, a piece of cheese pizza sells for $4... which, OK, isn't terribly cheap. But when you realize each slice is a quarter of the 18in extra-large pizza, the math works out.
Best pizza with a side of char
Newton (& Fenway)
When you cook in a 900-degree coal-fired oven, you can expect a little bit of char... which definitely isn't bad thing, especially when you accompany that with a thin, fluffy crust and toppings like pepperoncini, sopressata, and mortadella. If you like a crunchy pie, Max and Leo's is your stop.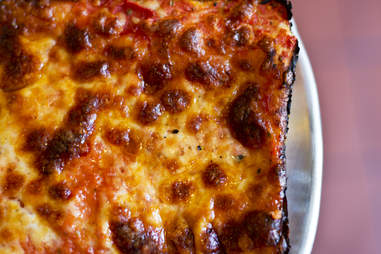 Sonya Highfield Photography
Best Sicilian slice
North End
The Sicilian at Galleria Umberto is great for three reasons: it's cheesy, the crust is t.h.i.c.k., and it has the perfect amount of chew for those of you who are tired of thin crust. But a warning: make sure you get there early. The shop shuts down once all the pies are sold.
Best restaurant pizza
Back Bay
Charcuterie may be The Salty Pig's forte, but when this place started putting its house-made pig parts, sausages, and prosciutto on dough and cooking it in a brick-fired oven, a new favorite was created. This place serves up one incredibly unique pizza that's quickly become a local must-try. Even if you're not from the area, you should stop by and test it out.
Sign up here for our daily Boston email and be the first to get all the food/drink/fun the Hub has to offer.
Christina is a Boston-based food & recipes editor. She's one of those annoying girls who has to take a picture of everything she eats. When she's not wreaking havoc in the kitchen or taking pictures of food, she's out visiting her favorite open-air markets. If you're interested in following her crazy adventures or want to see what she's cooking up, check out her website, EastMeetsKitchen.com.