Sometimes you have to embrace the fact that every awesome night out has to come to an end eventually. Or does it? When you're desperately in need of late-night sustenance, these late-night joints are here for you.
Ribelle
Washington Square
Recently named one of Bon Appetit's top 50 best new restaurants, (and more exclusively, one of Thrillist's 33 best new restaurants) Ribelle is now running a weekend-only late-night menu. Pizza and subs are served between 11p-1a on Fridays and Saturdays, and while the toppings & fillings change based upon that day's menu, chances are you won't be disappointed.
A4 Pizza
Union Square
The A4 outpost in Union Square serves up half-priced slices of a rotating selection of pizzas daily from 11p until whenever they run out. Take a seat at the bar and make some tough choices; to play Super Mario Brothers or Tetris? To sip on a whiskey or Fernet? To eat just one slice or... actually that's not tough, you're clearly having more.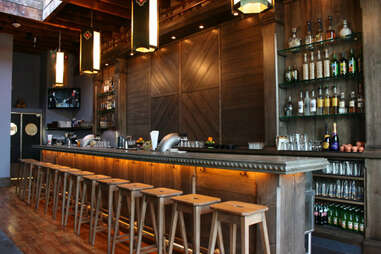 Lone Star Taco Bar
Allston
If you're going to be anywhere in Allston late-night, this is where you want to be. Splitting space with sibling spot Deep Ellum, they both share the same wall, the same owners, and an equally tempting cocktail/draft list. Plus, both kitchens stay open until 130a every night. Deep Ellum has one of the best, constantly changing beer selections in the city, perfect to pair with their semi-famous beer cheese dip. For those nights when you just want tequila and a taco, Lone Star has you covered.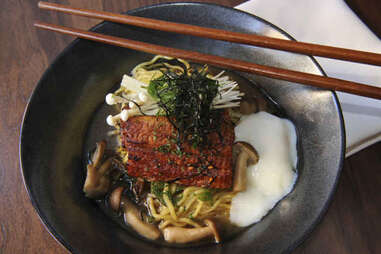 Uni
Back Bay
Every Friday and Saturday at 11p, Uni turns into a late-night ramen shop. Located inside of Clio in the Eliot Hotel, Uni offers shishito peppers, steamed buns, and (of course) ramen to go along with their extensive cocktail list. Seats are first come, first served -- so be prepared for a potential (worthwhile) wait.
Franklin Cafe
South End
The Franklin Cafe is a perfect late-night South End reprieve; it's small, it's dark, and best of all, they serve the full menu until 130a every night. With a great cocktail list, must-have steak frites, and a a bunch of other deliciousness on their revolving menu, it's hard to find a better bite this late in the evening.
South Street Diner
Waterfront
The only 24-hour diner within city limits, the South Street Diner is a great place to grab a stack of pancakes (and a beer!) and hunker down for some top-flight people-watching. Dimly lit and divey with all the mandatory diner staples, it's the place to go when you want breakfast before you go to bed.
Eastern Standard
Fenway
With a menu that gets scrawled out nightly at 11p on the mirrors behind the bar and is served until 130a, ES is undoubtedly one of the city's go-to destinations for quality late-night food. While the menu rotates nightly, be on the lookout for flatbreads, pig parts, and their signature roasted bone marrow.