2014 is already a couple of weeks old, which means you've already dropped a few pounds from your increased workout regimen, finally buckled down and applied to grad school, made a commitment to flossing daily... oh who are we kidding, you're the same lazy, floss-avoiding guy you always were. Might as well embrace it and treat yourself to one of these 13 Hub hotspots ready to welcome you with open-arms, that may or may not be full of truffled lobster rolls...
Recommended Video
The Comeback on the Chesapeake
State Park
Kendall Square
Hungry Mother fans rejoice! Chef Barry Maiden (James Beard finalist) and co-owner Alon Munzer launched the Southern-infused State Park located in Think Tank's former shell. The dynamic duo's new "more-on-the-casual-side" spot features rib-sticking eats (pork sammies, fried chicken, pickled eggs), big boy drinks (cocktail pitchers, "shot and a beer" mash-ups, an all-magnum wine list), and some seriously worthy distractions (pool, pinball, tabletop shuffleboard, a jukebox) to keep your hands occupied when they aren't feeding your face.
Row 34
Fort Point
ICOB alums (Chef Jeremy Sewall, Skip Bennett, Garrett Harker, Shore Gregory), along with Chef de Cuisine Francisco Millan, pay homage to New England's seafood tradition with their early 1900s-style working man's oyster bar (William Howard Taft fat jokes = still funny). Dedicated to locally sourced fresh catches, the bivalve kings go deep with selections like shrimp sliders, grilled swordfish with bone marrow butter, and deviled crab toast. There are 24 craft-dominated draft lines plus a substantial bottle cellar for chasing those oysters down.
Ward 8
North End
First-time restaurant owner Nick Frattaroli's going rogue in the North End with his American-brasserie-meets-comfort-food neighborhood hangout (in the vacated Nebo space). Executive Chef Kenny Schweizer (Bristol Lounge at the Four Seasons) has delivered a menu with highlights such as Carpetbagger Carpaccio (beef carpaccio wrapped around a fried oyster and a pickled scallion) and their Lobster Roll (with black truffle mayo!). Classic libations come in funky glasses (not like Elton John's) courtesy of bar manager Mike Wyatt (Eastern Standard).
Fairsted Kitchen
Brookline
Inspired by Frederick Law Olmsted's nearby Victorian-era estate, owner/operators Andrew Foster and Steve Bowman (also the sommelier) pair a communal/comfy atmosphere with their contemporary American cuisine in Washington Square. Chef Scott Osif (Executive Chef at Nantucket's Galley Beach) coaxes subtle flavors with Middle Eastern and European spices to create dishes such as pig head lettuce wraps, duck fat-fried potato cakes, grilled wagyu zabuton, and braised oxtail or chateaubriand for the table. Pro tip: book two tables, one for each.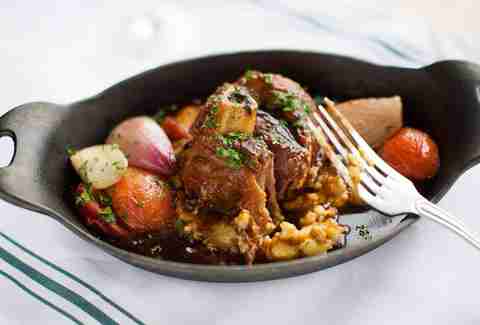 Gather
Seaport
Because everyone thinks better on a full stomach, the Briar Group fuels the creative set at Gather, nestled inside District Hall (Boston's new innovation/collaboration center). Modern American fare rules the menu with the likes of bite-size chicken and waffles and duck fat-fried chicken wings (for smaller ideas), or lamb osso bucco and veal shank and sage gnocchi (for massive brainstorms... or maybe just food comas). And there's a late night menu from 11p-1a (before the all-nighter). Bonus: the minimalist industrial room offers views facing the ICA and the harbor.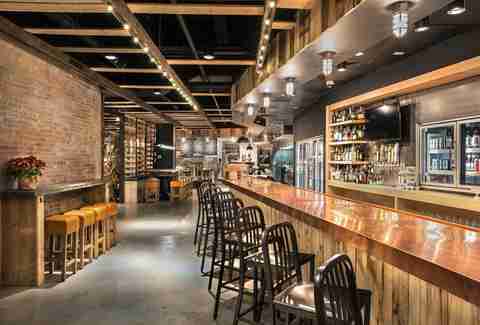 Commonwealth
Cambridge
Chef/owner Steve "Nookie" Postal (veteran chef at Fenway) fills every inch of his massive, 6500sqft farm-focused restaurant/market hybrid with local goodness. Inside you'll find a dining area, a bar and lounge, a raw bar, a market, and a 10-seat chef's table, all stocked with wares from NE farmers, fishermen, cheesemongers, and other purveyors. There're also a roof deck and patio seating (once the weather is no longer so soul-crushing). Try the grilled RI squid with La Quercia prosciutto or the Berkshire Pork Porterhouse (Porkerhouse?) chased with a craft cocktail or brew.
Del Frisco's Grille
Chestnut Hill
Follow that sizzle to the back side of The Street (overlooking Hammond Pond, no less) and you will find the warm and inviting Del Frisco's Grille and these cheesesteak egg rolls. Executive Chef Layne Coppell (Legal Sea Foods) serves up regional bites like Berkshire pork meatballs and East Coast fish tacos. There's also weekend brunch with decadent choices: red velvet Belgian waffles and chicken fried steak & eggs with chorizo gravy. Also of note: the desserts are MASSIVE.
Ostra
Back Bay
The latest culinary adventure from the Columbus Hospitality Group (Mistral, Teatro, Mooo, etc.) is a contemporary Mediterranean seafoodery focused on fresh ingredients and light preparations to showcase the natural flavors of each dish (like grilled Spanish octopus, salt crusted branzino, and native skate wing Milanese). Be sure to check out the plush, grand piano-equipped lounge. Be sure not to croon sexily upon it like Michelle Pfeiffer.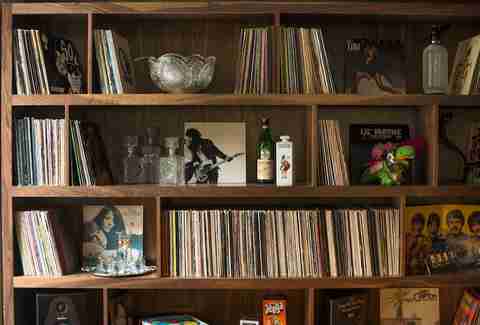 Highball Lounge
Downtown Crossing
This '60s/'70s retro family rec room at Nine Zero Hotel has small bites (Korean fried chicken nuggets, crunchy dried ramen and pastrami chilii), fantastically named cocktails like the Rubber Band Man (spiced rum, cognac, Cardamaro, Benedictine), and board games galore. Challenge your friends to endless rounds of Battleship while you sink some drinks. Everyone wins. Except you. At Battleship.
Mei Mei
Audubon Circle
The award-winning Mei Mei Street Kitchen food truck team goes pro with a brick-and-mortar to bring their inventive modern Chinese-American eats into the dining room. Siblings Andy, Margaret, and Irene expand on their original menu to serve small plates (Kung Pao chicken dip, confit beef toungue) and larger offerings like a John Crow Farm pork chop & belly combo served with steamed buns, miso cabbage, cranberry hoisin, and tart apple jelly that serves between two and four. Don't worry… the coveted signature Double Awesome scallion pancake sandwich is on the menu. Probably should have opened with that, just to put your mind at ease. Stop being so anxious!
SlowBones Modern BBQ
Burlington
Summertime and grilling are already a distant memory, but the smokers are still going strong at SlowBones just so you can get your St. Louis rib/ pulled pork/ brisket fix all year long. You can thank Steven "Kip" Kolow (founder and former owner of Boston Market) as he returns to the industry with home-style Southern comfort food ranging from bare bones and plates (feeding you) to party platters (feeding your crew) with all the requisite fixin's (i.e. smokey beans, Memphis chopped slaw, house-made cornbread, and Panko-crusted mac 'n cheese).
Dirty Water Dough Co.
Back Bay
Because you love that dirty water, you should also want it in your pizza crust. Seriously -- except at this new 'za dispensary on Newbury (once Upper Crust, then Proper Slice), the dirty water is actually a Cape Ann Brewing Company IPA custom-made for the shop that gets added to the hand-stretched dough. And, yes, they also have it on tap (the beer, not the dough). Choose from classic pies, design your own, or try one of their concoctions: Steak 'n Cola (with cola marinated steak), The Fenway Frank (with real Fenway Franks), or Mac Cheesy (MAC AND CHEESE PIZZA crowned with Ritz Crackers and Cheez-Its, which is genius).
Tornado Restaurant & Lounge
Malden
Because Malden needs cool places, too, owners Shanie Leung and Jenny Le present Asian-inspired tapas (plus a few entrees) in a modern, cozy lounge. Chef Michael Chang (veteran sushi-meister) channels the traditions of East and Southeast Asian cooking and then adds some twists for unique combos. Get down on some corn on the cob (with fried garlic, goat cheese, and Asian BBQ sauce), foie gras (with goji berry jam, pickled radish, and golden raisins), and Snow Crab Cake Fritters (with wasabi-cucumber dip).