Why yes, this is the first Boston lobster roll crawl ever
Back in May, we mapped out an epic 11-stop "Boston on the Big Screen" pub crawl of bars that've starred in popular Hub movies. This round, we're eschewing the silver screen for classic crustaceans. One afternoon, seven of the city's best lobster rolls. It's something you'll tell your grandkids about, as they play video games hidden in their sunglasses.
Dave Baldwin
Stop #1: Alive & Kicking
269 Putnam Ave; 617.876.0451
After hopping the Red Line to Central Square and meandering down River St, you'll kick things off in Cambridgeport, where -- after noting how you just don't hit Coast Cafe nearly enough -- you'll happen across another obscure culinary hole-in-the-wall on Putnam Ave: Alive & Kicking Lobsters. Grab a picnic table and a bottle of their signature raspberry lime soda before settling in to enjoy this light-on-the-mayo lobster "sandwich" on buttered scally bread that's been toasted in a convection oven.
Stop #2: Island Creek Oyster Bar
500 Commonwealth Ave; 617.532.5300
Head over the BU bridge and down Comm Ave to Kenmore Square, where you'll be rewarded with the gourmet stylings of Ethel's Lobster Roll, which's mixed with creme fraiche and dill pickles and served on a rosemary roll alongside kettle chips and cole slaw.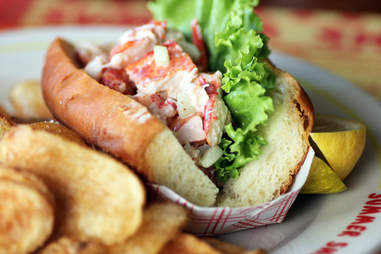 Dave Baldwin
Stop #3: Jasper White's Summer Shack
50 Dalton St; 617.867.9955
From here it's only a quick jaunt over to Dalton St, where you can bowl a few games at Kings before getting back to the task at hand: taking down Jasper's chopped cucumber-laced crustacean classic.
Stop #4: Pauli's North End
65 Salem St; 857.284.7064
Hop the Green Line to Haymarket (or do yourself a favor and walk off those first three rolls) and hit the North End, where Pauli's peddles New England's largest (and priciest) lobster roll: a 24in, 1.5lb battleship of a sandwich dubbed the U.S.S Lobstitution. Although, assuming you'd like to continue this crawl, perhaps you should opt for their traditional roll in a hot dog bug instead? Just a thought.

Stop #5: Neptune Oyster
63 Salem St; 617.742.3474
While you're in the 'hood, pop around the corner and enjoy quite possibly the Hub's most renowned lobster roll, which's served on a toasted brioche one of two ways: cold with mayo or hot with butter.
Stop #6: James Hook & Co.
15-17 Northern Ave; 617.423.5501
Meander along the waterfront until you run into this family-run-since-1925-just-don't-ask-about-the-sketchy-fire-a-few-years-back seafood stand on the Ft. Point Channel, where, despite the fact that they're shipping over 50,000lbs of lobster daily, they still have the time to whip up their simply dressed (a little mayo, a little celery) but nonetheless award-winning rolls.

Stop #7: Yankee Lobster Fish Market
300 Northern Ave; 617.345.9799
If somehow you're not currently throwing up into the Channel, roll down Northern Ave into the Seaport to your final stop, another long-standing, family-run landmark where you can enjoy a classic split-top lobster roll with fries and slaw -- or maybe mix it up with a lobster club sammie -- while soaking up some sun on their patio.

And now that you've had seven lobster rolls, perhaps you should go home. Immediately. You've had quite the day.