Brian Poe's badass creation for the Search for the Most America-est Hot Dog needs your vote
If you, like the Founding Fathers, believe that America is about hot dogs and wild boars and deer and m-fing potato skins, you have a responsibility to yourself and your country's future to vote for Chef Brian Poe (Tip Tap Room, Poe's Kitchen at the Rattlesnake) and his fantastic creation, the All-American Buck Hunter, in our Search for the Most America-est Hot Dog. But, if you'd first like to see how to make the MOST AMERICA-EST HOT DOG EVER INVOLVING POTATO SKINS, well, scroll down.
Dave Baldwin
No doubt after taking down and field dressing the buck himself, Poe seasons the fresh venison dogs and fires up the grill.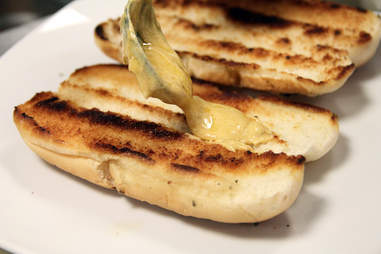 Dave Baldwin
Don't forget to toast your buns. Ever. Once toasted, though, they're slathered with a honey Dijon mustard and a basil/lime ketchup.
Dave Baldwin
Now he mixes up a black truffle, chervil & onion slaw very, very quickly. So quickly, in fact, it almost couldn't be captured by the naked eye.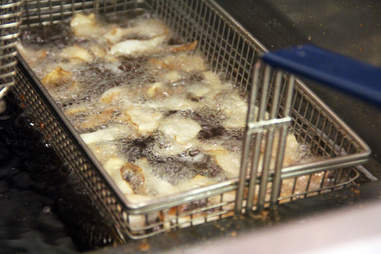 Dave Baldwin
When the deep fryer is gurgling, you know good things are happening.
Dave Baldwin
Assuming deer dogs on their own aren't exotic enough for you, Poe ups the ante by sauteéing this alluring plate of wild boar bacon...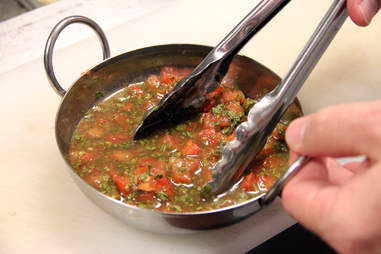 Dave Baldwin
... which he then generously mixes with a serrano chili/tomato relish.
Dave Baldwin
And applies in a heavy dose atop the dogs, which already boast a solid layer of the aforementioned speedily mixed slaw. Think that's all? Guess again. While you were contemplating the answer to that question, Poe was adding freshly chopped jalapeños and truffle shavings!
Dave Baldwin
Rounding the final turn, Poe dusts the potato skins with salt and dehydrated blue cheese...
Dave Baldwin
… and then uses them to build a giant mountain, the top of which he finishes with a sprig of parsley.
Dave Baldwin
Ladies and gentlemen, there you have it: Chef Brian Poe and the most patriotic wild boar bacon/venison dog you've ever tried to eat while humming the national anthem. Fifteen others from across the country are trying to compete with this, so you should probably check theirs out, too. Then vote for this one.