Dave Baldwin
Dave Baldwin
Fresh on the heels of Dunkin' Donuts' Glazed Donut Breakfast Sandwich and the Krispy Kreme Sloppy Joe, the dudes at Beacon Hill's Griddler's Burgers & Dogs have upped the ante by boldly unveiling one of the most certain to be misconstrued for the purpose of making "hilarious" sex jokes "creatively" named sandwich hybrids in recent Hub history, a "Please, just don't get it on my face, you know, because of the name?", fried egg-topped burger on a maple bacon donut, dubbed the Bronut. High-fives all around!
Looking for the Bronut on the menu? Oh, you won't find it there. It's limited edition for the time being, available only on the weekends for $6.
Baked in house by their pastry chef at sister-spot Forum, these Courtney Love hole-free donuts are infused with maple and shaped to look very bun-like. When it comes to taste though, they're all dessert.
Let's get the .25lb Angus burger and fried egg on the griddle.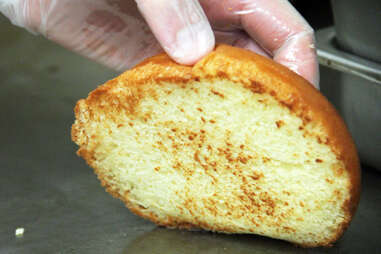 Gotta toast up that donut just right.
… before moving on to the over-hard egg. Want yours with a runny yolk? They can do that, too.
Here's where they take things up a notch by dunking that lightly toasted donut top in a vat of warm maple bacon glaze. Another high-five.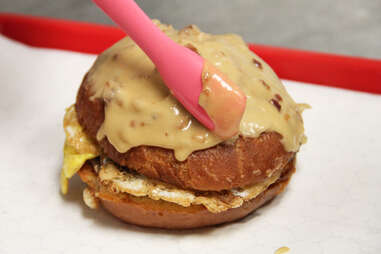 Just to make sure there's enough, they spread some more around, all nice and even-like.
And the money shot... a delicious Bronut plated with a side of chipotle-drizzled sweet potato fries. For your own peace of mind, the calorie count is not included.